Oraciones por la Paz, noviembre 12 de 2015
Por favor oren por el Equipo de Solidaridad
con los Pueblos Indígenas, quienes hacen parte de un acompañamiento a cazador@s
haudenosaunee que están realizando una recolección de venados en el Parque
Provincial de Short Hills, en cercanías a St. Catherines, Ontario. En el
pasado, protestantes contra la cacería han sido abiertamente racistas e
intimidatorios, así que el Equipo y aliad@s locales esperan ofrecer una
presencia positiva, demostrar apoyo a los derechos que se desprenden de
tratados, e intervenir para desescalar tensiones. 
Fotografía epistólica* para el domingo 15 de noviembre de 2015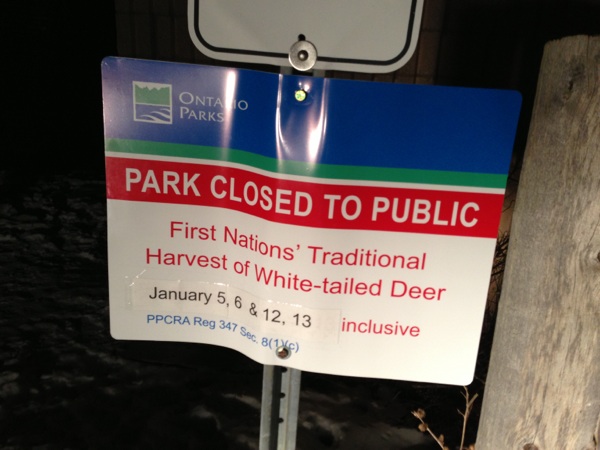 Foto: Parques de Ontario. Parque cerrado al
Público. Recolección tradicional indígena de venados de cola blanca.
Enero 5-6
y 12-13.
 "Busquemos la manera de ayudarnos unos a otros a tener más amor y a hacer el bien." (Hebreos 10: 24) 
*epixel: a snapshot-epistle to the churches related to and appearing  

with a text  from the upcoming Sunday's 
Revised Common 

Lectionary readings.