We're now Community Peacemaker Teams
Our new name reflects our growth as an organization with an unwavering commitment to nonviolent peacebuilding.
January 13, 2022
We have a new name. Christian Peacemaker Teams is now Community Peacemaker Teams. 
For thirty-five years, CPT has committed itself to the transforming power of nonviolence through activism grounded in partnerships with local peacemakers worldwide. We are excited to announce this name change as it better reflects who we are. We have grown in membership and partnership, and after multiple years of consultation with our community and partners, we only thought it fitting to live into our growth. 
We chose the word community because it reflects the diversity of our membership. Everyone at CPT is encouraged to bring their expression of spirituality or faith or what motivates them to the work of peacebuilding while grounded in our shared values of equality, human dignity, justice and peace. Community also reflects the essence of our work. It evokes a sense of togetherness and solidarity with our partners and within CPT while highlighting the openness and accountability central to our work. 
Our name change also recognizes our journey of undoing oppressions. As an organization that seeks to address structures of power and privilege, it is important that our language be inclusive and life-affirming. In the CPT community, all are welcome to partner with us toward collective liberation. 
Our mission remains the same: building partnerships to transform violence and oppression. We will continue the strategic work of long term relationships and partnerships with people and communities fighting for justice. Our commitment is unwavering in challenging and dismantling the systems of power, violence and oppression that prey upon the most vulnerable among us: this is the basis of our work.
We are excited about our growing membership and living into our diversity where the sacred is recognized and revealed in many traditions and tongues, identities and images, colours and cultures. 
We're grateful for our community that has supported us in finding this new name that embodies and reflects who we are and for walking with us into this new chapter. 
We hope you are as excited as we are for a larger table where we can celebrate our partnerships and build new alliances as a  community working together for justice and collective liberation.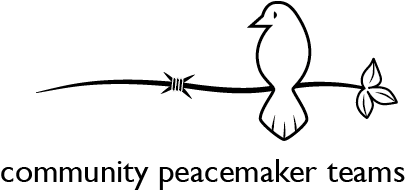 Frequently asked questions