Solidarity Raffle with CPT Colombia
July 18 to August 31, 2022
Win a special basket full of 100% Colombian products manufactured by people committed to fair trade, solidarity and peace! Get your solidarity ticket NOW!
Since arriving in Colombia in 2001, our work has focused on accompanying social organizations, small farming and mining communities — victims of the armed, political, economic, and social conflict in the Middle Magdalena and Northeast Antioquia regions — in their promotion and defence of Human Rights and their peaceful demands to remain in their territories. 
This RAFFLE is a reflection of our solidarity. It is a sign of our commitment to stand together with the communities and social organizations in Colombia, who are resisting and working towards a better future.
Enter the raffle and help us build a more decent and dignified world for everyone!
Thank you to each of you for buying a raffle ticket Solidarity Raffle with CPT Colombia to win a gift basket from Colombia. We raised close to 3000 dollars. Now the fun part.
On September 2, 2022, at 4 PM Colombia time (5 PM EST), we will pick out the winning raffle live on Facebook. Join us and keep your ticket ready.
Some of the items in the Solidarity Basket
Beer, cap, coffee and essences from La Roja Cultural House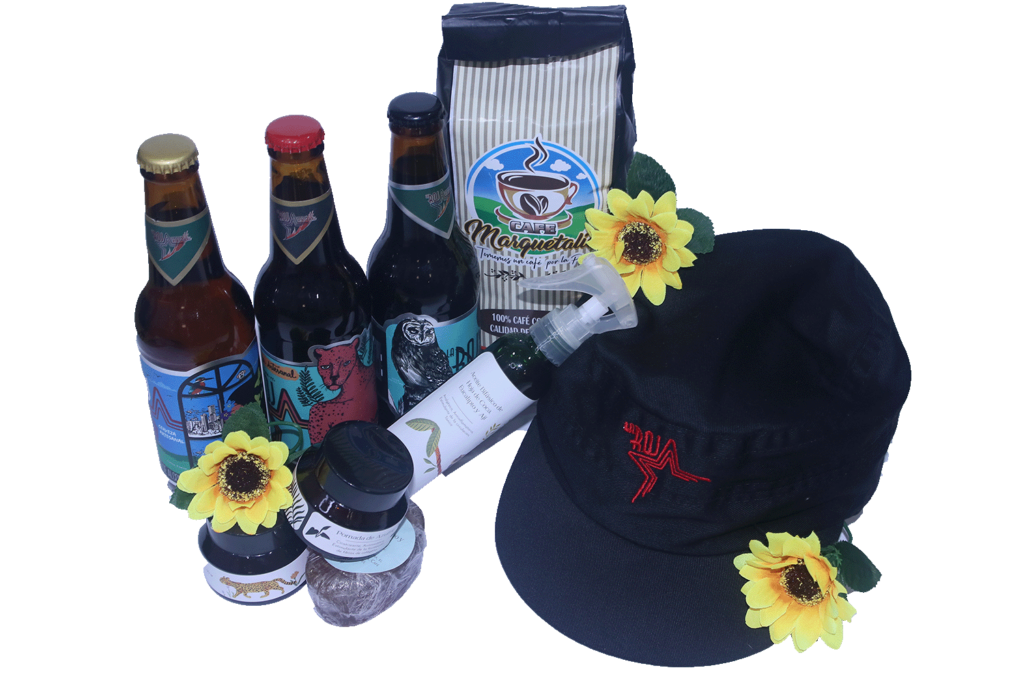 The La Roja Cultural House is a space which gathers several peace initiatives and where ex-combatants of the FARC incubate alternatives to war in their products and peacebuilding endeavours.
Beer: Brewed in the Territorial Space for Training and Reincorporation (ETCR) located in the village of La Fila in the municipality of Icononzo, Tolima, this beer is part of a special edition, with the label art designed by Colombian women illustrators and artists (La Niña Isabel, Daniela Márquez, Karen Pineda, Bastardilla, Lizeth León).
Cap: Designed by men and women of peace and made with hands that contribute to reconciliation.
Marquetalia coffee: The Marquetalia coffee roastery is located in the reintegration space of El Oso in the municipality of Gaitania, Tolima and is made up of 270 former FARC combatants. This coffee has hints of chocolate, citrus and panela. 
Essential Oils: Essences of the Mountian is a project dedicated to producing and distilling natural cosmetic products and handmade herbal first-aid kits. The initiative is located in Anorí, Antioquia and is run by the Cooperative for the Economic and Social Development Northeast Antioquia – COOMULDESNA.
Fruits of Peace is a space for the commercialization and distribution of products of FARC ex-combatants of the Corporation for Reincorporation and Reconciliation – CORPORECONCILIACIÓN. 
Coffee: A mixture of aroma and vital energy, this special edition commemorates five years since the signing of the Peace Agreements and highlights the courage and perseverance of those who today continue to bet on peace and reconciliation. It results from the collective work of 1,026 signers of the Peace Agreement.
Epifanía beer: The first LGBTIQ+ community-produced beer in Colombia. It is brewed in Bogota by lesbian women as a tribute to diversity. It is an aromatic and refreshing wheat beer.
Tropical Cofee and Epiphania Beer of Fruits of Peace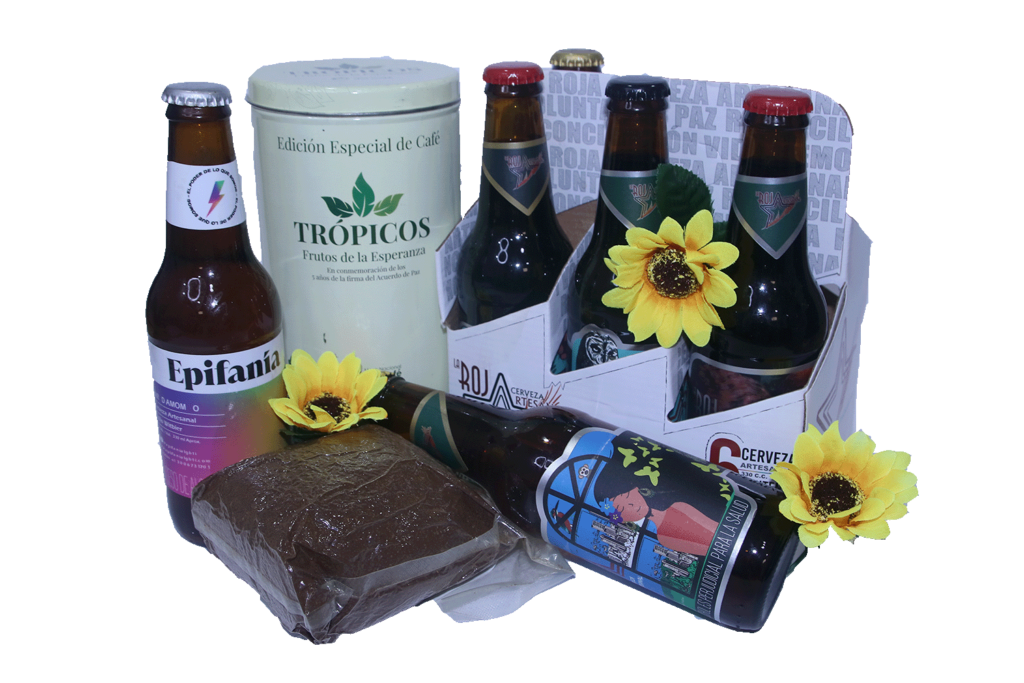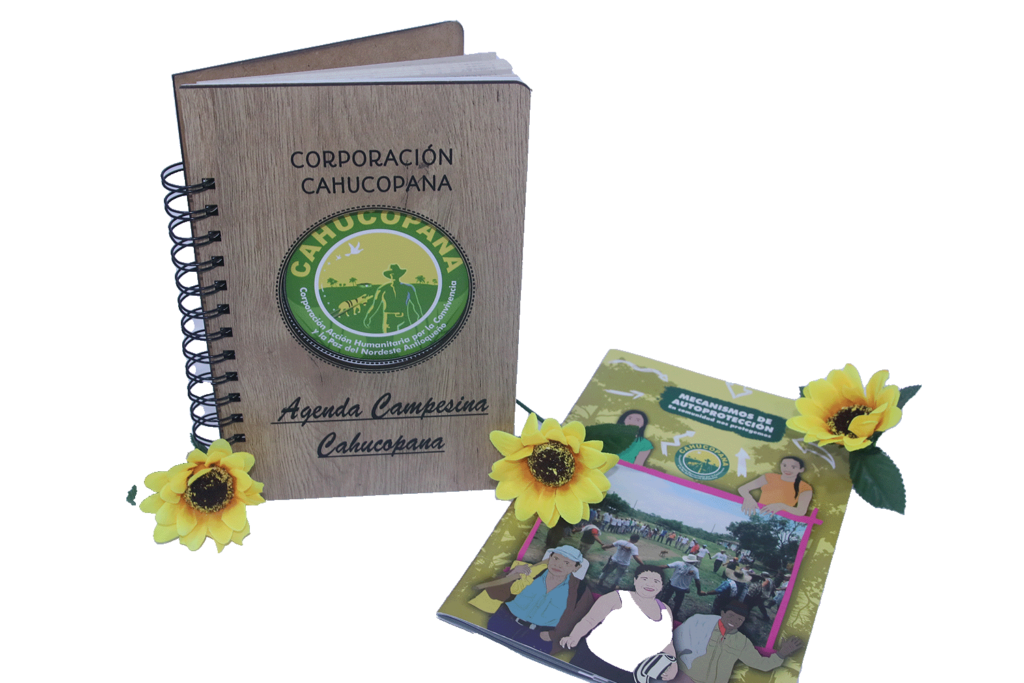 The mission of CAHUCOPANA – the Corporation for Humanitarian Action and Peaceful Coexistence of the Northeast Antioquia is to promote human rights, denounce violence and the ongoing humanitarian crisis. They offer training to those who defend and promote the human rights of the farming and mining communities in Northeast Antioquia, a region forgotten by the state.
The cover of this planner is carved in wood. Its pages represent the essence of the organization's work born in the region in response to the violence. This planner is not only an organizer but a symbol of resistance and memory.
The Cooperative for Peace -Cooagropaz- is a farmer's organization that was born in 2018 as a result of the signing of the Peace Agreement. It currently has more than a thousand members: signatories of the agreement, farmers, victims of the armed conflict and many others. They are committed to the country's reconciliation and contributing to improving the social fabric and the quality of life of their communities. 
Cooagropaz makes chocolate from cocoa grown in the municipality of Tello, Huila. They also produce honey and organic ground panela made in Isnos, Huila.
Organic chocolate, panela and honey from COOAGROPAZ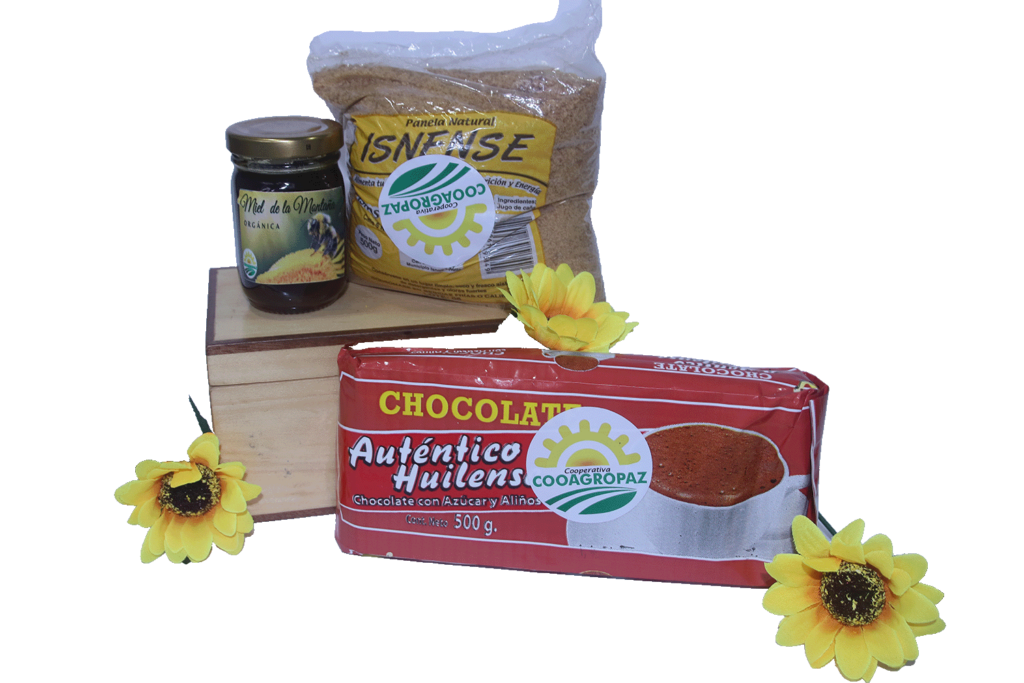 Planners, a mug, pens and bracelets of the OFP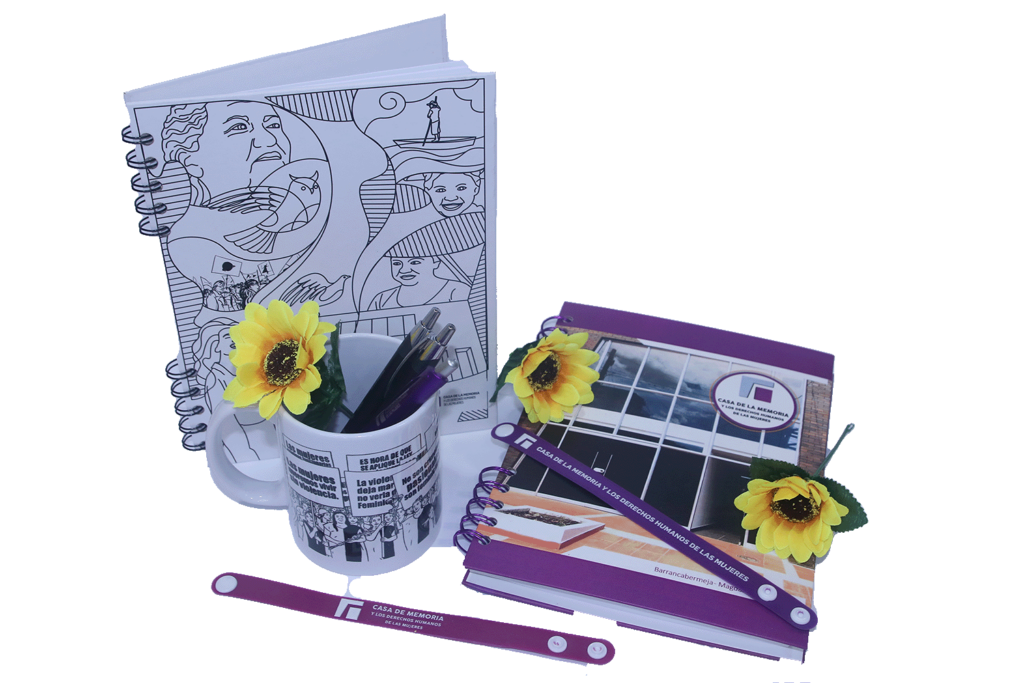 The Popular Women's Organization (OFP), a CPT partner organization, is a grassroots women's social organization born 50 years ago in the municipality of Barrancabermeja. The OFP is a defender of women's human rights and has a presence in seven municipalities in three departments of Colombia.
Like many other organizations, the women of the OFP took up the struggle for life and respect for human rights by working together to protect food sovereignty and equality in the context of armed conflict, which was causing fear and the destruction of the social fabric.
These products represent a milestone in the defense of women's Human Rights and an achievement in the exercise of holding the memory of women. These items represent the House Museum of Women's Memory and Human Rights, located in Barrancabermeja, a first of its kind in Colombia. 
Tawakkül is a word of Arabic origin that means complete trust in Allah (God). Tawakkül is a social and inclusive initiative within the textile sector which ensures the use of 100% Colombian fabrics. FARC ex-combatants make all garments to contribute to the peace and reconciliation process. 
This shirt has on its front the Arabic word سلام, SALAM, which means PEACE. 10% of the sales of the SALAM clothesline are donated to CPT.