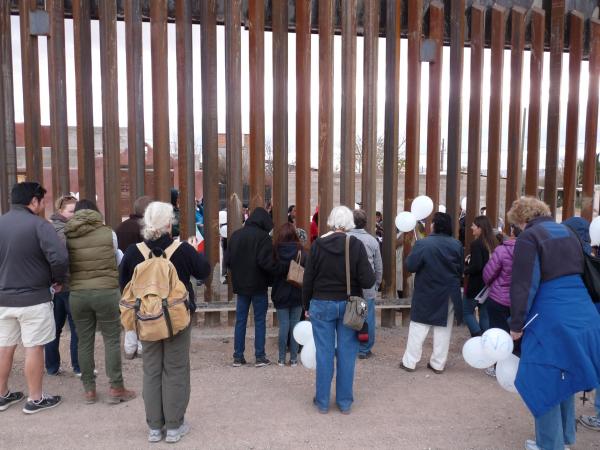 Oremos por les solicitantes de asilo que esperan en Agua Prieta, Sonora, quienes llaman a las puertas de los EE.UU. solicitando entrar del frío, el hambre, y la enfermedad y la violencia. Oremos por les voluntaries de ambos países que brindan apoyo a estas personas. Oremos por les trabajadores de Aduanas de los EE.UU. que están parades en la puerta, y oremos por les funcionaries del gobierno de los EE.UU. para que puedan encontrar una manera de darles la bienvenida.
Cada Diciembre en Douglas, AZ, y Agua Prieta, Sonora, ocurre una posada binacional a ambos lados del muro fronterizo que separa las dos ciudades. Una posada tradicional de Navidad Mexicana es la recreación de María y José buscando un lugar para quedarse (posada) en Belén. En una casa tras otra, un grupo de personas que representan a la sagrada familia es rechazado, hasta que finalmente en la última casa, son recibides en una celebración con pan dulce (pasteles) y chocolate caliente. En cada parada, la gente afuera de la casa y les que están adentro cantan una canción de llamada y respuesta.
La gente de afuera canta:
In the name of Heaven  En el nombre del cielo
I ask of you shelter        os pido posada
La gente de adentro responde:
There's no inn here,  Aquí no es mesón,
Go on with you         sigan Adelante
En la posada binacional, las personas del lado Mexicano del muro cantan a les del lado estadounidense, pidiendo entrar. Cada vez, la respuesta es que no te queremos en nuestro país.
La gente en México canta:
In the name of Jesus                      En el nombre de la Jesus
I ask for your compassion           Pido tengan compassion
La gente en los EE.UU. responde:
Do not come with your misery   No vengas con tu diseria,
Do not come to bother us            Ni vangas a molestar.
Además, en cada parada, alguien de cada lado lee las Escrituras y da una breve meditación sobre dar la bienvenida a extrañes, construir puentes o amar a nuestros vecines. Luego, en la última parada, les Mexicanes responden que a pesar de que no son bienvenides en los EE.UU., le darían la bienvenida a les del otro lado en México. Luego, todes van al Centro de Recursos para Migrantes para la celebración con pan dulce, chocolate caliente y ponche Mexicano.