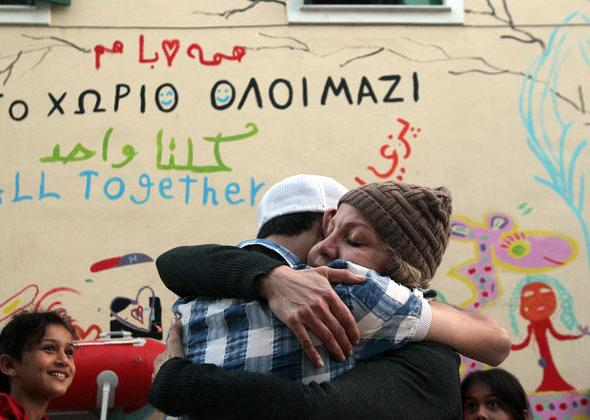 Διαβάστε στα ελληνικά | Read in English
Más de 160 organizaciones Griegas e internacionales, personas académicas y otres actores de toda Europa instan a las autoridades griegas a revocar la decisión de cerrar alternativas dignas en el alojamiento de las personas refugiadas en Lesbos.
Atenas, 30 de Septiembre del 2020 – Nosotres, les abajo firmantes, pedimos al Ministro de Migración y Asilo, Notis Mitarakis, y a las autoridades locales de Lesbos que deroguen su decisión de poner fin a las operaciones de las instalaciones de PIKPA y Kara Tepe para solicitantes de asilo vulnerables en la isla de Lesbos. Las autoridades no solo deben revocar la decisión de cerrar estas instalaciones, sino que en este momento de gran necesidad, deben fortalecer y proteger aún más todas las soluciones alternativas dignas para la vivienda y la protección de les solicitantes de asilo.
En los últimos cinco años, PIKPA y Kara Tepe han albergado a personas vulnerables que escapan de las deplorables condiciones de vida en el Centro de Recepción e Identificación (RIC) de Moria, un lugar peligroso donde la salud y la seguridad de les residentes estaban continuamente en peligro. La decisión de cerrar estas instalaciones se produce solo unos días después de que una serie devastadora de incendios quemó el Campamento Moria hasta los cimientos, dejando a más de 12,000 mujeres, hombres y niñes sin acceso a refugio, alimentos y agua.
Aunque se ha establecido un nuevo campamento de «emergencia» en la isla, que actualmente alberga a antiguos residentes del campamento de Moria, muches de les que firmaron y que están presentes en el terreno informan de importantes lagunas en la protección, en el acceso a la electricidad, en el suministro de agua y al saneamiento, la seguridad y la protección. Mientras las condiciones en los RIC sean indignas para les seres humanes, se necesitarán respuestas alternativas para proteger a les más vulnerables. PIKPA y Kara Tepe deberían ahora, por todos los medios, continuar ofreciendo soluciones de alojamiento y protección que sean apropiadas, especialmente para les más vulnerables, incluyendo a les niñes no acompañades y a niñes separades, a las madres solteras, a las víctimas de tortura y malos tratos, a hombres y a mujeres sobrevivientes de casos de género y de violencia sexual y, a personas con discapacidad.
PIKPA, un espacio de solidaridad abierto y auto-organizado, ha brindado servicios y asistencia esenciales a las personas refugiadas en Lesbos desde el 2012. En el 2016, el Alto Comisionado de las Naciones Unidas para los Refugiados (ACNUR) otorgó el Premio Nansen a los Refugiados a una de las personas co-fundadoras de PIKPA, en reconocimiento a su trabajo salvando vidas y proporcionando un refugio seguro para les más vulnerables durante la 'crisis' de personas refugiadas en el 2015. Hoy, PIKPA acoge a niñes no acompañades, a madres solteras y a personas que han sufrido tortura o malos tratos, así como a muchas personas con vulnerabilidad alta. Les sobrevivientes de tortura y malos tratos sufren de dolor físico crónico durante años después de su abuso y síntomas psicológicos como ansiedad, depresión, retraimiento y auto-aislamiento, estrés postraumático conocido como PTSD, etc. PIKPA ofrece un espacio digno y seguro para les sobrevivientes que, de otro modo, sufrirían un trauma continuo en un entorno inseguro. 
Kara Tepe ha sido dirigida por el municipio con una capacidad de más de 1,000 personas. Ha ofrecido condiciones de vida humanas a les solicitantes de asilo vulnerables y a las familias que fueron trasladadas allí desde Moria, incluyendo padres o madres solteres, las personas con discapacidad y muchas familias con problemas de salud. Ha sido elogiado por su infraestructura y su atmósfera de comunidad.
A pesar de no tener claridad a dónde serán transferides les residentes actuales de PIKPA y Kara Tepe, les firmantes mostrados abajo tienen la convicción de que ir al nuevo campamento de «emergencia» pondría en peligro su salud física y mental y, debe evitarse a toda costa. Además, PIKPA y Kara Tepe podrían acoger y proveer de mejor manera a las personas que están más «en riesgo» que actualmente residen en el nuevo RIC de Lesbos. Esto sería especialmente importante para las personas con discapacidad, por ejemplo, ya que en este momento, no hay letrinas accesibles en el nuevo RIC.
Instamos a las autoridades nacionales y locales de Grecia a:
Detener inmediatamente el cierre de PIKPA y Kara Tepe y, apoyar y realzar aún más sus contribuciones destacadas. Al mismo tiempo, las autoridades deben buscar soluciones acordes con las normas de derechos humanos para el funcionamiento del nuevo campamento temporal en Lesbos, persiguiendo el objetivo final de su descongestión continua y proporcionando estándares adecuados en términos de seguridad, agua, saneamiento y asistencia médica a todes les residentes, hasta que todes sean trasladades a unas condiciones de alojamiento más seguras y dignas".
Firmantes:
A Buon Diritto Onlus
ActionAid Hellas
Agir pour la paix
Aid Brigade
AITIMA
Amnistía Internacional
Anders Wachsen
ANTIGONE – Centro de Información y Documentación sobre Racismo, Ecología, Paz y No-Violencia
Are You Syrious (AYS)
ARSIS – Asociación para el Apoyo Social de la Juventud
Asociacion Pro Derechos Humanos de Andalucia  (APDHA)
Asociación SINGA España
Association européenne de défense des droits de l'Homme (AEDH)
Babel Day Centre
Basta Violenza alle Frontiere
Be a Robin
Better Days
borderline-europe e.V.
Calais Action Brighton
Casetta Rossa
Catch a Smile asbl
Centre Avec asbl
Centre de formation Bienenberg
Changemakers Lab
Choosehumanity
Chorleywood4Refugees
Equipos Cristianos de Acción por la Paz
Equipos Cristianos de Acción por la Paz Países Bajos
Church and Peace
Coexistence and Communication in the Aegean
Collectif de soutien de l'EHESS aux sans-papiers et aux migrant-es 
Collectif pour une terre plus humaine
Collective Aid
Comité de Solidarité avec le Peuple Grèce de Lyon
Coordindora de Barrios
CPT – Aegean Migrant Solidarity
CRIBS International
CRID – Centre de recherche et d'information pour le développement
Diotima
Danish Refugee Council (DRC)
Defence for Children International
Defence for Children International – Italia
Defence for Children International – Países Bajos
Defence for Children International – Grecia
Defensa de Niñas y Niños – Internacional, DNI España
Défense des enfants International Belgique
Député Wallon (Belgique)
Destination Unknown campaign
Distribute Aid
Doctors Worldwide
Donate4Refugees
ECHO for Refugees
ECHO100PLUS
Ecological Movement of Thessaloniki
European Institute for Progressive Cultural Policies
ELIX – Conservation Volunteers Greece
ENAR – European Network Against Racism
ENOUGH IS ENOUGH – rehabilitate Human Dignity
European Women's Lobby
Everyday, just a smile
Fenix – Humanitarian Legal Aid 
Firetree Philanthropy
Firetree Trust
Fondation Danielle Mitterrand
foodKIND
FORGE for humanity
Fresh Response
Friends Of Refugees
German Mennonite Peace Committee
Glocal Roots
Greek Council for Refugees
Greek Helsinki Monitor
Griechenland Solidaritätskomitee Köln 
Heimatstern e.V.
Hello My Friend
Help Refugees / Choose Love
Herts for Refugees
HIAS Greece
HIGGS
Hoffnung leben e.V., Bonn, Deutschland
Hope and Aid Direct
HuBB – Humans Before Borders
Human Rights Watch
Humanitas, Centre for Global Education and Cooperation
Humanity Now
HumanRights360
Initiative for an alternative mental health
Initiative for the Detainees' Rights
InterEuropean Human Aid Association
International Centre for Refugees ICERAS
International Federation of Social Workers, European Region (IFSW Europe)
International Rescue Committee
INTERSOS
InterVolve
Iride
Jelscha Dietrich
Jesuit Refugee Service Greece
Khora Community Centre 
La Luna Di Vasilika ONLUS
Latitude Adjustment Podcast
Le Paria
Legal Centre Lesvos
Lesvos Solidarity
Love Welcomes
Make Mothers Matter
MAMbrella
Medecins du Monde/ Greece
Medecins Sans Frontieres -Doctors Without Borders -MSF
Medico International
Melissa: Network of Migrant Women in Greece
Mennonite Mission Network
Mennonitisches Friedenszentrum Berlin/Mennonite Peace Center Berlin
Migrant Voice
Migrations Libres
MiGreat
Mαζί/Together/معاً
Network for Children's Rights
One Family-No Borders
One Happy Family
ONGD CEPAC-IB
Open Cultural Center
Organization Earth
Owl's Watch
Pampiraiki Support Initiative for Refugees & Migrants
Parroquia San Carlos Borromeo
Peaceful Borders
People in motion
Pluspunt Netherlands
Pro Asyl
Project Armonia
Protestant Association for Conscientious Objectors and Peace (EAK), Germany
Rechtsanwältin
Refugee Aid Network Uk
Refugee Compassion
Refugee Education And Learning International
Refugee Law Clinic Berlin e.V.
Refugee Rescue
Refugee Support Aegean ( R.S.A.)
Refugee Support Europe
Refugee Trauma Initiative
Refugee Youth Service
Refugees International
REFUGYM
RefuNet
Reseau Foi & Justice Afrique Europe Antenne France
Respekt für Griechenland e.V.
Rethinking Refugees – Knowledge and Action
Safe Passage UK
SAO Association for displaced women
Seebruecke Wuppertal
ShowerPower Foundation
Side by Side Refugees
SolidarityNow
Still I Rise
Stop Precarite
Support Art Workers (Greece)
Symbiosis-School of Political Studies in Greece
Terre des hommes Hellas
Thalassa of Solidarity
Vasilika Moon
Velos Youth
Verein FAIR
Voice Of Ezidis
Wiltshire For Refugees
Yoga and Sport For Refugees
Youth for Refugees
Youth organization «Protests»
También respaldado por:
Prof. dr. Ilse Derluyn, , Centre for the Social Study of Migration and Refugees (CESSMIR), Departamento de Trabajo Social y Pedagogía Social 
 
Vassilis Pavlopoulos, Profesor Asociado de Psicología Intercultural – Universidad Nacional y Kapodistrian de Atenas 
 
Dr. Antonello D'Elia, Presidente de la Società Italiana di Psichiatria Democratica Onlus 
 
Hellen Gerolymatos McDonald, Trabajadora Social Clínica Licenciada, MSW, Profesora Clínica Asociada, Universidad de Illinois, Urbana-Champaign, Escuela de Trabajo Social, EE.UU. (Las opiniones son de Hellen McDonald's y no de la Universidad de Illinois)
 
Luciano Rondine, Settore immigrazione e inclusione sociale, Centro di prevenzione psicosociale Nodo Sankara
 
Joanna Kato, presidenta del Comité de Derechos Humanos y Responsabilidad Social de la Asociación de Terapia Gestalt a nivel europeo (EAGT)
 
Athina Fragkouli, Presidenta de la Junta de la Board of the Society of Social Psychiatry P. Sakellaropoulos