Recipes from our Colombia Team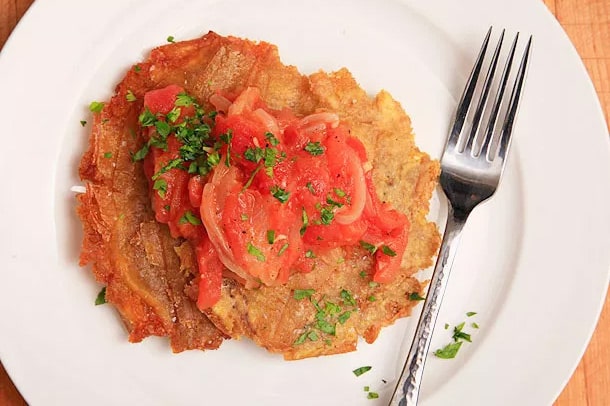 Homemade patacones with hogao
fried plantain with tomato & onion sauce
Ingredients
Hogao
4 to 5 Tomatoes
1 small red bell pepper, finely chopped
3 to 4 chives, top sections chopped
1 large white onion, chopped
4 cloves garlic minced
2 tablespoon olive oil
1/2 teaspoon salt to taste
1/4 cup fresh cilantro, chopped
Patacones
Vegetable oil (enough to deep fry plantain)
2 large green plantains (Important they are green (if they are yellowish they will not be as crunchy)
Salt for seasoning
Directions for Hogao
Remove the seeds from the tomatoes and dice.
Remove seeds and finely chop the red pepper.
Peel and chop the onion.
Chop Chives.
In a skillet, heat the olive oil over medium-low heat. Add the tomatoes, onion, red bell pepper, chives, garlic, and salt. Simmer for 5 minutes over medium heat.
Lower the heat, cover and simmer for 15 minutes, stirring regularly, to make sure the vegetables don't stick to the pan.
Uncover, stir and sauté for the last 5 minutes, uncovered. Taste and adjust salt, as needed. Add a final drizzle of olive oil.

Directions for Patacones
Peel the plantains and cut them into 1 inch chunks.
In a large pot over low-medium heat, pour enough vegetable oil to cover the plantain chunks and let them fry for about 4 to 5 minutes. Do not allow them to get too hard.
Remove the plantains with the help of a slotted spoon and place them on paper towels to absorb excess oil.
Let the chunks cool for about 3 minutes. Put them in a plastic bag and with a wooden cutting board press the plantain pieces well until they are about 0.5 centimeters thick.
Increase the heat of the oil to high so that frying flattened plantain chunks become crispy.
Submerge each patacon in salted lemon water. Then, using tongs, we add all the patacones back into the hot oil and fry them for about 3 minutes making sure both sides are nice and toasted. Careful not to burn.
Remove the patacones with the help of a slotted spoon and put them back on paper towel to absorb the oil. Sprinkle them with salt to taste and that's it. We serve hot.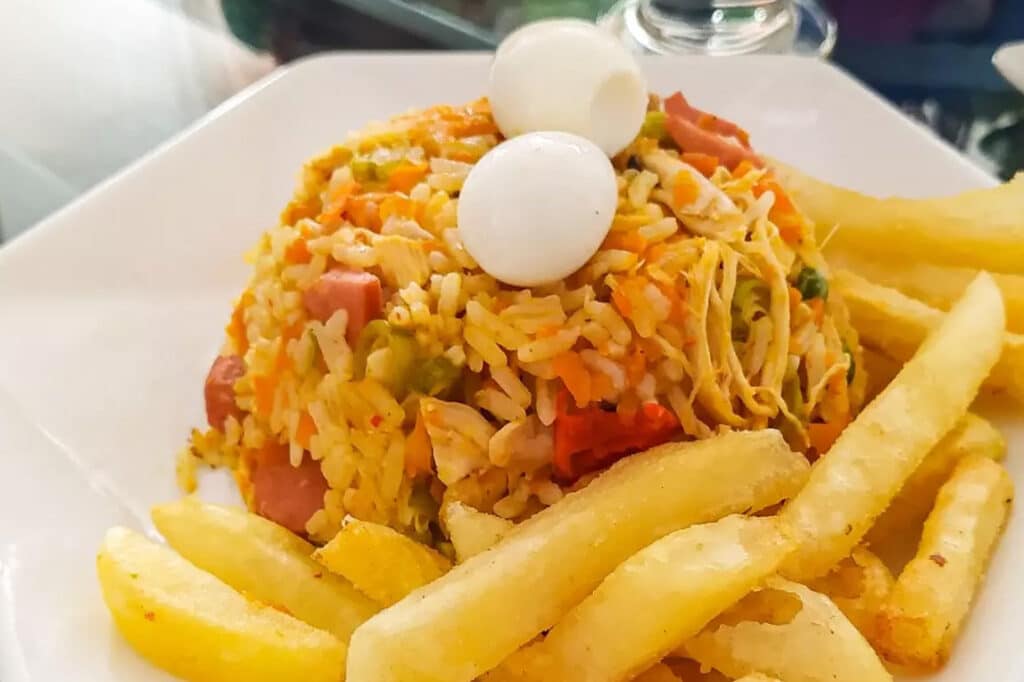 Arroz con pollo
rice with chicken
Note: this dish is often served with french fries.
Ingredients
1 lb of rice
½ lb of green beans
½ lb carrots
½ lb fresh peas
1 large bell pepper
½ lb each of onion and green onion
4 cloves of garlic
1 large whole chicken breast
4 sausages
Vegetable oil
Seasoning:
Salt, black pepper, cumin
Directions
Cook the rice.

Season with saffron and salt.

Debone chicken breast and chop chicken breast into cubes

Chop all the vegetables

Cook carrots and fresh peas till tender

Saute onions (both) garlic, green beans, bell pepper and sausage chicken cubes in oil

Season with salt and pepper and cumin

Sautee until sausage is nicely browned and vegetables are tender.

Mix cooked rice into vegetable and meat with several large scoops at a time.

Mix thoroughly.

Taste for seasoning.

Add as needed
cooking time: 1 hr 30 mins
Ingredients
1 cup washed white rice
4 cinnamon sticks
2 cups of water
4 cups of milk
a pinch of salt
2 tablespoons butter spoons
½ tablespoons vanilla extract
½ cups of sugar
1 12 ounces can of condensed milk
Directions for Hogao
In a small saucepan, add water and cinnamon sticks, bring to a boil and cook for 10 minutes. Discard the cinnamon sticks.

Place the rice and cinnamon water in a large pot over medium heat and cook for 5 minutes.

Add the salt, butter, vanilla extract, 2 cups of milk, and sugar. Stir well to mix and cook uncovered for about 15 minutes.

Reduce heat to medium-low. Add the rest of the milk and the condensed milk. Stir with a wooden spoon. Cook for 1 hour and 15 minutes, or until the rice pudding thickens.

Stir well and remove from heat and allow to cool to room temperature. The consistency should be very creamy. Refrigerate at least 1 hour or overnight.