CPTnet
5 May 2012
COLOMBIA ANALYSIS: Mirage and Reality in Southern Bolivar
by Isaias Rodriguez Arango, Holy Week delegation
member 
 "Colombia is a social state under rule of law, organized in the
form of a unitary, decentralized Republic, autonomous from its territorial
subdivisions, democratic, participatory and pluralistic, founded on respect for
human dignity and on the work and solidarity of the people who belong to it,
and on the prevailing value of the general interest." –Title I,
Article 1, Political Constitution of Colombia (1991) (unofficial translation).
Colombians increasingly see our 1991
Constitution as a mirage.  The
illusion is evident when seen from areas as hard-hit by armed conflict as
southern Bolívar province's San Lucas mountains—a mining area at the epicenter
of a complex war that at times leaves it unclear who pulled the trigger.  The only thing always clear is that the
peasant miner, farmer, or ordinary resident of the region generally is the one
who ends up worse off.  But in
spite of these odds, the locals continue to claim a willingness to pay the
ultimate price to remain on these lands that and their Guamoco and Zenu
ancestors have long inhabited. 
Small-scale gold mining provides a
livelihood to hundreds of families in southern Bolivar.  But the region is now in the sights of
AngloGold Ashanti, one of the world's most aggressive international mining
companies. Communities therefore face threats from the state ranging from
industrial regulation to paramilitary activity designed to force them off the
land.
Without public or private aid, the
small-scale miners cannot meet new environmental and safety standards
supposedly aimed at sustainable exploitation.  At the same time, government agencies overlook deliberate
violations by industry giants.  High
prices of essential goods and services increase the likelihood of economic
displacement.  Taken together,
these practices expose a mining policy that intentionally excludes small-scale
miners.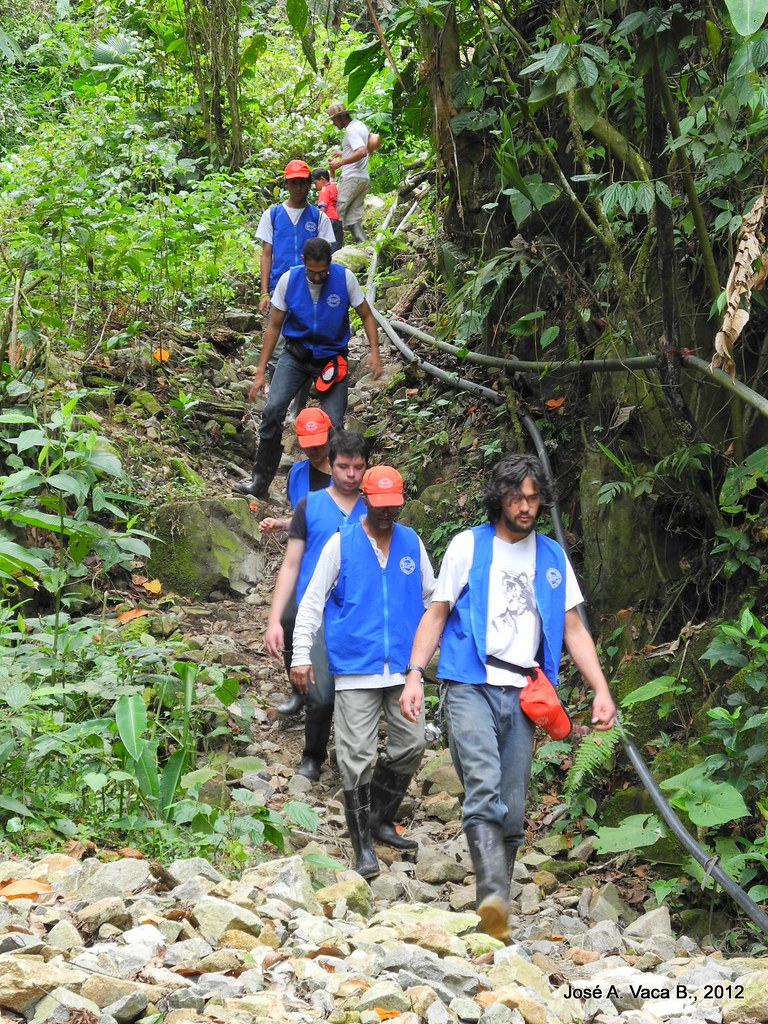 The national delegation hikes into the mining zone
Colombia's gold-mining industry also
faces serious public safety problems.  The previous administration's "Democratic Security"
policy did not achieve its purported aims.  Residents say that paramilitaries, guerrillas, Army, and
police are all active in the region.  Threats against community leaders and spokespeople persist,
as does impunity for crimes against them.
A
look at the numbers
According to the regionally-based
Comprehensive Peace Observatory (Observatorio de Paz Integral, OPI), seven
paramilitary groups are active in the Middle Magdalena region.  Their primary criminal activities are
drug trafficking and extortion.  Their
larger aim is to maintain social, political, economic, and military control of
the area.  In 2006, 6,000
paramilitary members demobilized in the Magdalena Medio region, but during that
same year twenty-six new groups emerged. These criminal organizations have been
accused of committing 1,051 targeted killings between 2006 and 2011.  In 2008, FARC guerrillas and the
Águilas Negras paramilitary group in southern Bolivar formed an unusual
alliance, complicating identification of the perpetrators of violent actions.
Contrasting with the OPI's findings,
media references to the alleged demobilization of 31,000 AUC paramilitaries in
2006 tend to imply that the paramilitary structures have been eradicated.  But the real objective of
demobilizations may have to gain the benefits of the Justice and Peace Law,
including a maximum jail sentence of eight years for demobilized
paramilitaries.  But in many cases
clause 11.4 of the same law—which requires incorporation into civilian life and
the cessation of all illegal activity in order to receive those benefits—went
unenforced.
 Given these facts, we must not be
lulled into believing that Southern Bolivar province and the Middle Magdalena
region are no longer ravaged by internal conflict, or that the armed entities
have abandoned these lands so coveted for their wealth of natural resources and
minerals.