CPTnet
14 December 2013
ABORIGINAL JUSTICE: SWN makes hasty retreat from Signigtog region of New
Brunswick
In an apparent about face, the U.S.-based oil and gas company,
Southwestern Energy Resources Canada ("SWN") has suspended its seismic testing operations in New Brunswick,
announcing it will return in 2015.  The company issued its brief public statement late Friday
afternoon, 6 December.
Previously, the company's stated intention was to finish the
exploration phase of its contract with the provincial government, despite ongoing
opposition by Mi'kmaq, Acadian, and Anglophone protectors of the land.  CPT can confirm that SWN did not finish
testing nor gather all necessary data regarding gas deposits in Kent County.
Protectors had maintained an encampment close to Highway 11 in Kent
County and were not deterred by consistent heavy RCMP presence
accompanying SWN
nor the multiple arrests of protestors made in the last month.  (CPT partner and Elsipogtog resident
Lorraine Clair was one of those arrested. 
See interview.)
After a judge refused to extend the gas company's initial
injunction against protectors on 21 October, SWN filed another injunction on 22
November, which a second judge did grant.  Similar in content to the first injunction, it prohibited
protectors from coming within a certain distance of SWN equipment, and/or
impeding SWN's work.
New Brunswick also officially joined the injunction in support of SWN.  New Brunswick Premier David Alward has
called the protectors' opposition a "beachhead" and refuses to engage in dialogue
with those who oppose shale gas exploration.
While the individual defendants are different from those named in
the first injunction, "Jane Doe" and "John Doe" were again included.  By including these hypothetical names,
New Brunswick has effectively endorsed a Strategic
Litigation Against Public Participation lawsuit ("SLAPPs"), which
are lawsuits brought by deep-pocketed companies with the intent of silencing
resource-poor defendants.  Jane and
John Doe includes anyone residing in New Brunswick.
The injunction granted the Royal Canadian Mounted Police (RCMP) broad
enforcement authority.  However, Elsipogtog's
Band Council Chief Arren Sock affirmed the people of Elsipogtog's efforts to
stop SWN even in the face of this authority.  "We will remain united, our resolve will stay strong," Sock
said, "and together we can stand and accomplish anything."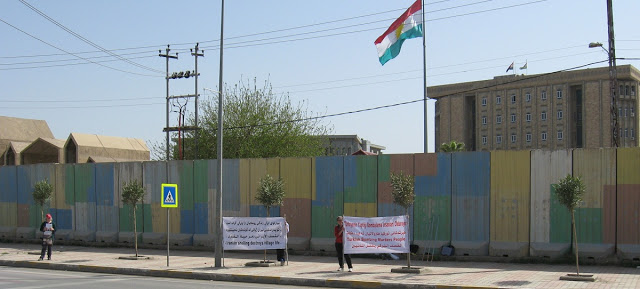 Canada is a signatory of the U.N. Declaration of the Rights of
Indigenous Peoples (UNDRIP.)  UNDRIP
stipulates that indigenous peoples have the right to free, prior, and informed
consent about land usage on their traditional territory.  Elsipogtog First Nation, and the larger
Signigtog District, is on unceded land; this designation means the land falls
wholly under UNDRIP's granted rights and protections.  Premier Alward's contracts with SWN and other resource
exploitation companies are in blatant violation of that declaration.
CPT calls on the Premier to listen to the voices of the people he
claims to lead, to terminate the province's contract with SWN, and to involve
First Peoples in all future plans to exploit New Brunswick's natural resources.
CPT's Aboriginal Justice Team is no longer on site as of October
29, 2013.  It will continue to
monitor the efforts of Mi'kmaq, Acadian, and Anglophone protectors in the
Signigtog region of New Brunswick as they continue to oppose shale gas
exploration.