CPTnet
4 April 2014
COLOMBIA URGENT ACTION: U.S. and Canadian
citizens, ask President Santos to protect member of Organización Femenina
Popular who has received death threats.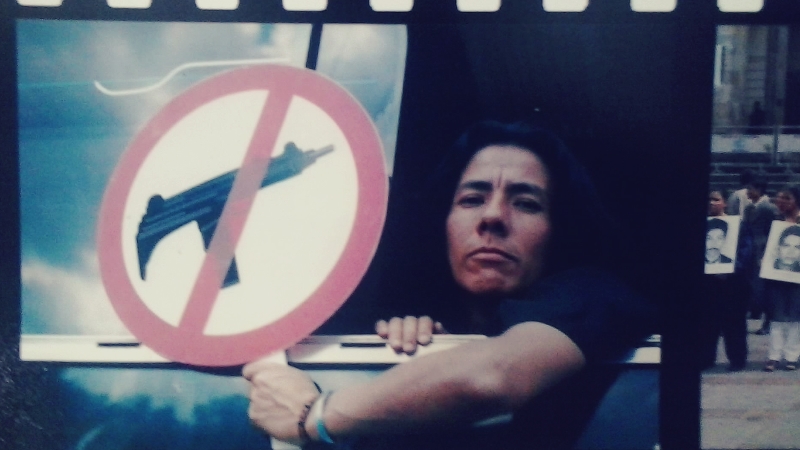 On 3 April 2014 at 10:30 a.m., Sor María Sampayo, a leader of the Organización Femenina
Popular (OFP) received a threatening phone call from someone who identified
himself as Alirio Torresa, commander of the neo-paramilitary group Los
Urabeños.
He began the call by saying, "You should
donate three million pesos [US $1500] to the paramilitary group to mobilize
thirty men from Medellin to carry out a social-cleansing plan to eliminate drug
addicts, prostitutes, and everything that smells like a guerrilla." He
described to Sor Maria her whereabouts, where she and her daughter worked, and the
color of the motorcycle she drove.
When she asked him whether he was demanding
a vacuna—paramilitary protection money—he responded, "No, it's a donation, and
you have 120 days to pay." If she did not donate, he said he would "shoot her,
because he knew where she lived."
Minutes later, he called back demanding to
know why she hung up.  This time,
Yolanda Barreca, the director of the OFP had answered phone. She told him that
threats against Sor María Sampayo are threats against the OFP, to which he responded,
"I know who you are; you bastards are going to die too, you can be sure of
that."
Sor María Sampayo is a community educator
in the south of Barrancabermeja and has been an active advocate for the rights
of victims and reparation processes.
OFP in their denunciations demand "urgent
measures be adopted that guarantee the life, integrity and the free movement of
Sor María Sampayo as a Human Rights Defender, and the implementation of
precautionary measures similar to those granted by the Inter-American
Commission on Human Rights to the OFP. Likewise, the authorities that carry out
the investigation, should show diligence in their efforts to find the
perpetrators and instigators of extortion attempts and threats against the
members of the OFP."
To the international community, they ask
for special attention be paid to the rights of women for peace and security, as
political subjects that need to be guaranteed protection by the national
government as stipulated in Resolution 1325 of the United Nations Security
Council.
Christian Peacemaker Teams (CPT) is gravely
concerned about the security and safety of the women of OFP. They have worked
in the region of the Magdalena Medio for forty years defending women's rights.
As part of their work they have confronted and publicly denounced the state and
illegal armed actors for violations committed against women. Because of their
work, the women and leadership of the organization has suffered numerous
threats, and several of their leaders have been displaced for protective
measures.
Your urgent action is vital.
Please write immediately in Spanish or your
own language:
Salutation: Dear President
Santos / Estimado Sr. Presidente.
Describe briefly who you are or
where you are writing from.
Express serious concern for the
safety of Sor María Sampayo and her daughter, Yolanda Becerra, and other
members of OFP in the light of threats against them.
Ask him to organize for them
any kind of protection they request under Resolution 1325 of the United Nations
Security Council.
Urge him to order a full and
impartial investigation into the threats, to publish the results and to bring
those responsible to justice.
Please note that Canada or the
United States signed a free trade agreement with Colombia; as a citizen of
Canada or the United States you expect your trading partner and your respective
government to treat such threats against human rights defenders as a matter of
the highest priority.
Ask for a reply to let you know
what steps have been taken.
Send the letter
via:
Mr. César Felipe González Hernández
Chargé d'Affaires, Embassy of
Colombia
360 Albert Street, Suite 1002
Ottawa, Ontario K1R 7X7
Fax: (613) 230-4416
E-mail:
ministro@embajadacolombia.ca
 Mr. Andrés Diez
First Secretary, Human Rights and Minorities, Embassy of Colombia
2118 Leroy Place, N.W.
WASHINGTON D.C. 20008
FAX: 1 202 2328643  ext. 226
E-mail: adiez@colombiaemb.org