CPTnet
15 May 2014
ABORIGINAL
JUSTICE REFLECTION: Otters and Oppression
by Michelle Fraser
[Note: The following CPT Aboriginal Delegation release was
adapted for CPTnet. The original may be found on the Aboriginal Justice Team's
Tumblr Page]

One morning during my recent Aboriginal Justice Delegation,
a walk around Lake of the Woods led me to an otter.  I love the slinky agility of otters: their graceful dives,
the cord of bubbles that marks their underwater path, and their effortless
mounting of ice floes.  As a break
from its fishy breakfast, the otter climbed onto a dock and shook itself dry.  It squinted up at me, decided that I
wasn't a threat, and pooped on the dock.  Its defecatory duty done, it glided back into the water and
disappeared.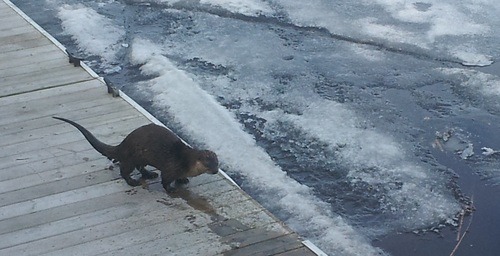 What does the otter have to teach me?
Anishinaabekwe leader and activist Stephanie Landon guided
our team through a series of exercises the previous day that helped me to
better grasp the immense beauty of Anishinaabe culture before contact with
Europeans.  Through the exercises,
I had the sense that the life-ways of the original people of this land was an
intricately woven tapestry.  Each
person had a place, a purpose.  Each
child was surrounded by love—by elders who helped them discover their path
through life, by mothers who nurtured, and by fathers who protected.  The child was the centre.
When Canadian colonial authorities systematically removed
children from their communities and put them in residential schools, they tore
that tapestry, desecrating the immeasurable beauty and wholeness of this life.  Residential schools stole the identity
of children, stripped the meaning from the lives of elders, broke mothers'
hearts, and sparked an unquenchable rage within fathers.  As my teammate put it, the constellation
of traditional life was pulled apart, the sky was falling, and life as the
Anishinaabe people had known it was over.
This terrible consequence of the colonization of Turtle
Island was not a mistake or a coincidence.  It was the predictable outflow of a mindset that views land
as property for exploitation and indigenous people as obstacles in the
acquisition of that land.  Unlike
the cultures it destroys, this perspective is alive and well in Canada today.  It continues to guide interactions
between the Canadian government and Indigenous Nations.
So what does this have to do with the otter?  Stephanie said that when we are open
our relatives—the plants and the animals— they come to teach us and to heal us.
 That the medicine knows what we
need.  Perhaps the otter who
approached me was teaching me about determined resistance.  Of going about life in the in-between of
natural spaces and human constructions. 
Of choosing to poop on the dock and not the ice floe, of making one's
presence known to the powers-that-be while delighting in the beauty that
remains.  So I'll keep mourning the
great loss of pre-contact Indigenous civilization, keep feeling the pain of the
ongoing destruction of the people and the land of Turtle Island, and keep
hoping for a way forward.