CPTnet
9 July 2015

GREECE: The blistered feet of the refugees on Lesbos
by Ramyar Hassani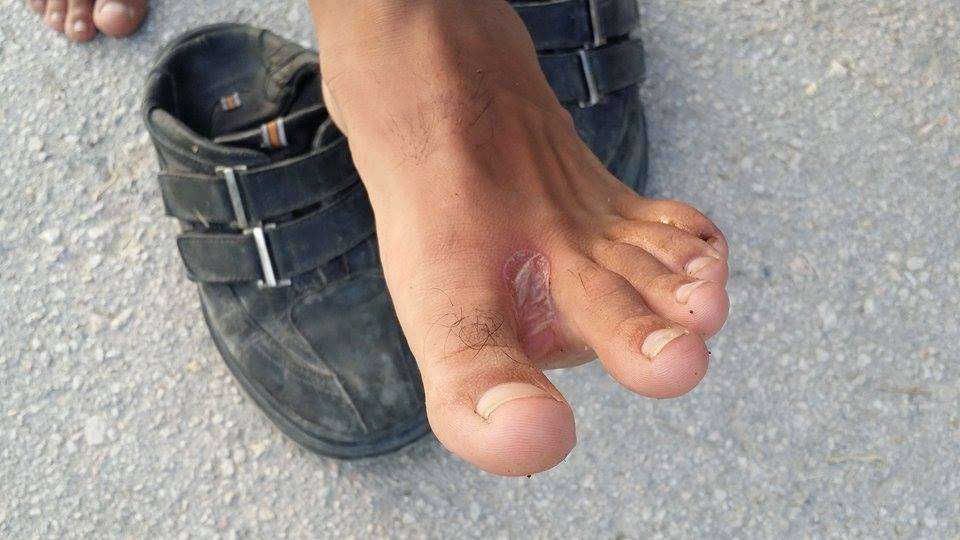 Since the beginning of 2015 the number of asylum seekers
trying to reach Europe via the Mediterranean has continued to increase; the
tiny island of Lesbos alone has received more than 25,000 over the past six
months.
Last year when I was working on the island of Lesbos the
number was high, but nothing compared to this year.  As a consequence, some new issues facing the
refugees and places for dealing with the refugees have sprung up.  It is worth mentioning that many of the new
issues were present last year, just on a smaller scale and some of the new ones
are the result of bad old policies and inhumane laws.
One of the new temporary places for refugees that has sprung
up is called Kara Tepe, an old driving training field on the outskirts of
Mytilene. Mytilene is the capital of the north Aegean island of Lesbos, which
is the only place where refugees who arrive at any spot on the shores of the
island can be registered.
Last week I visited Kara Tepe with some volunteers from the
local group, Village of All Together, in order to distribute some basic needs
to the refugees. Kara Tepe itself deserves a full story to tell you what this
little hell looks like.
On Kara Tepe, I saw too many people who were limping. I
asked them the reason and they told me that they had to walk more than sixty
kilometres to get to Mytilene and register with the police so that they can
continue their journey toward Athens. Those refugees who make it to the shores
of Molyvos on the northern side of the island are the ones who have to walk all
the way down to Mytilene. Their number exceeds several hundred a day on
average.
Due to the migration law of Greece, the Greeks may not provide
any kind of help, including transportation to the unregistered refugees. If
they do, the police will arrest them, charge them with having performed a
criminal act, and put the on trial.
Additionally, Molyvos is a tourist spot and the locals
mostly live on what they earn during the high season. The large number of
refugees and the lack of infrastructure to accommodate them may harm the locals'
businesses through reduced number of the tourists. Therefore, there is a risk
that the locals' anger will increase and unpleasant incidents toward refugees
may occur.
Indeed, there is no rational and humane justification for
this inhumane law. Even with money in their pockets, the refugees must walk for
hours without food and proper shoes under the glaring sun of a Mediterranean
summer.