CPTnet
5 August 2015
IRAQI KURDISTAN: CPT denounces escalation of violence in Turkish-PKK
conflict
We, Christian
Peacemaker Teams Iraqi Kurdistan, denounce the violence that has been resumed
by both sides, Turkey and PKK (Kurdistan Workers' Party).
Since
20 July 2015, the killings "in retaliation" are turning more and more into a
war of retaliation, which is causing deaths of innocent people. Instead of
resolving the conflict, the attacks from both sides are escalating the
situation. The history of the conflict between Turks and Kurds goes too deep
and is too complex to be settled by weapons and blood. This is the reason why
we request both sides, Turkey and PKK, to take a step back, grieve for their
losses, and return to diplomatic ways to resume the peace talks.
In
striving for a solution, coming back to the table can be the only way. Peace is
victory, not war!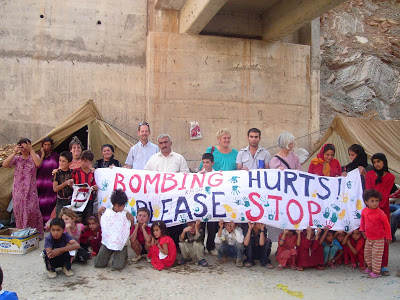 Kurdish villagers  in Zharawa camp displaced by Turkish bombing in 2012