CPTnet
18 September 2015
MEDITERRANEAN: From the womb in exile to
the tomb in exile
By Ronbir Mohammad
[This piece has been adapted for CPTnet;
the original is available on CPT-Europe's blog.]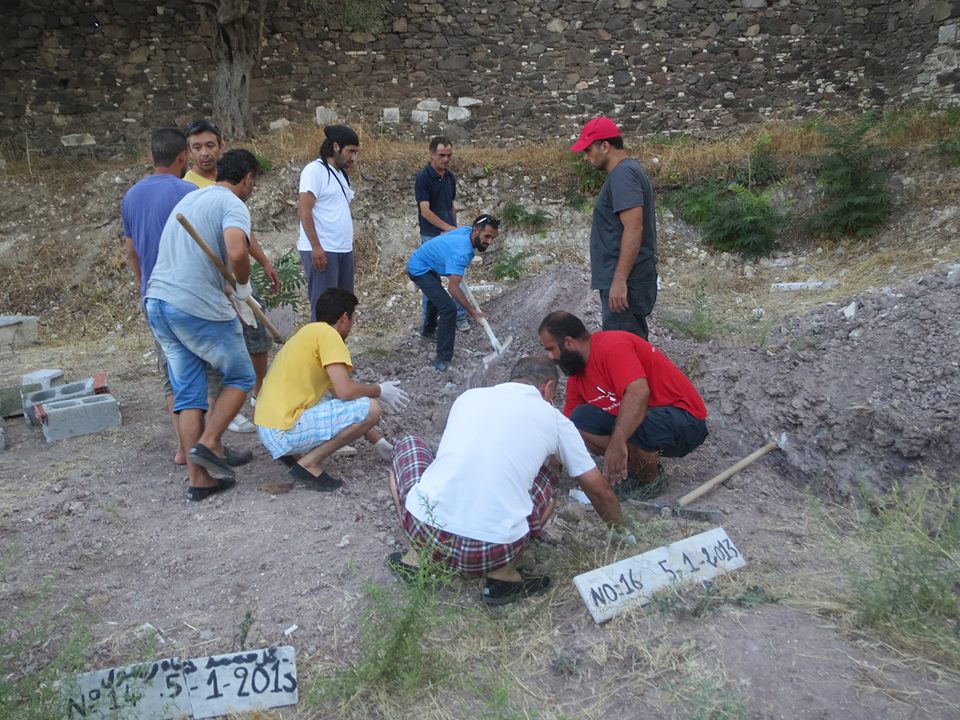 I have seen Mela Qadir, the Muslim
priest of my home village, leading many funerals. "God has taken back your
soul. When we leave now you are going to try to rise up and go back to your
home, but the stones above you are going to prevent your head from rising up
and you will realize that you are dead," he said to the deceased, with his
voice of authority, his edgeless mustache, his ironed Kurdish suit and his
elegantly tied turban.
Mela Qadir guided everyone who died in
my home village in this way, at the confusing point between this earthly life
and eternity. He told all of them that two angels will come, that the grave
becomes like a beautiful garden where the dead person can enjoy him-or herself
until judgment day–if the person was a righteous person. If not, the walls of
the grave would come together and he would feel the suffering he or she had
caused other people a thousand-fold.
The dead persons in my home village had
names. They had life stories, known to the people who attended their funerals.
On this occasion, they shared stories about the dead persons' childhood,
goodness, who they were as fathers or mothers, how good they were at their work
and how funny they were.
Mohammad Abu-Khalid from Quneitra died
in the Aegean Sea one month ago. A couple of weeks later we buried him. We knew
his name because he had a passport with him. He was born in 1952 as a
Palestinian refugee in Syria. His parents were expelled from their homes in
Palestine and forced into exile in Quneitra before Mohammad was born. He was
from a womb in exile and now he lies in the tomb in exile, in a soil that does
not contain the composted bodies of his ancestors. We do not know who loved
him, who was jealous of him and who is missing him now and waiting for a phone call
from him, calling from somewhere in Europe, telling them that he is safe.
But he is not safe. He is dead. No one who attended his funeral was part of the
story of the body–which had started to stink–that we carried to its last
resting place.
The people who attended the funeral were
some activists from Mytilene and some residents from Pipka, the community-run
refugee camp in Mytilene, most of them from Syria. The grave had already been
dug, but we prepared it a little more. Mohammad Abu Khaled would lie there with
his face towards the holy Kaaba. There he would be reunited with the earth. The
only thing we knew about him was his name and the place and the date of his
birth.
The only thing that the survivors from the capsized boat remembered about him
was that he was sad. He died as a sad man. Far away from the co-walkers of his
way from the womb of his mother to this nameless grave on Lesvos island. Far
away from the lips he had kissed, the children he wanted to give a better
future to, far away from the friends that drank coffee with him and extracted
jokes from his inexhaustible fountain of sorrow. We said the prayer of death on
his corpse and tried to make his burial as dignified as we could.
Mela Qadir was not there to guide him.
We did not put any stones above his head so that he would be aware of the
change in his situation, so that he would stay in the grave and wait for the
two angels to come to ask him about what goodness and what evil he achieved in
his earthly life. Maybe he still follows us. Maybe he's going around in
Mytilene, or is on his way to a better place with his body left behind on this
little island in the Aegean Sea, among other nameless bodies.