CPTnet
4 September 2016

MEDITERRANEAN REFLECTION: Being the sidekick
by Juliane Assman
[Note: This release has been adapted for CPTnet.  The original is available on Assman's blog.]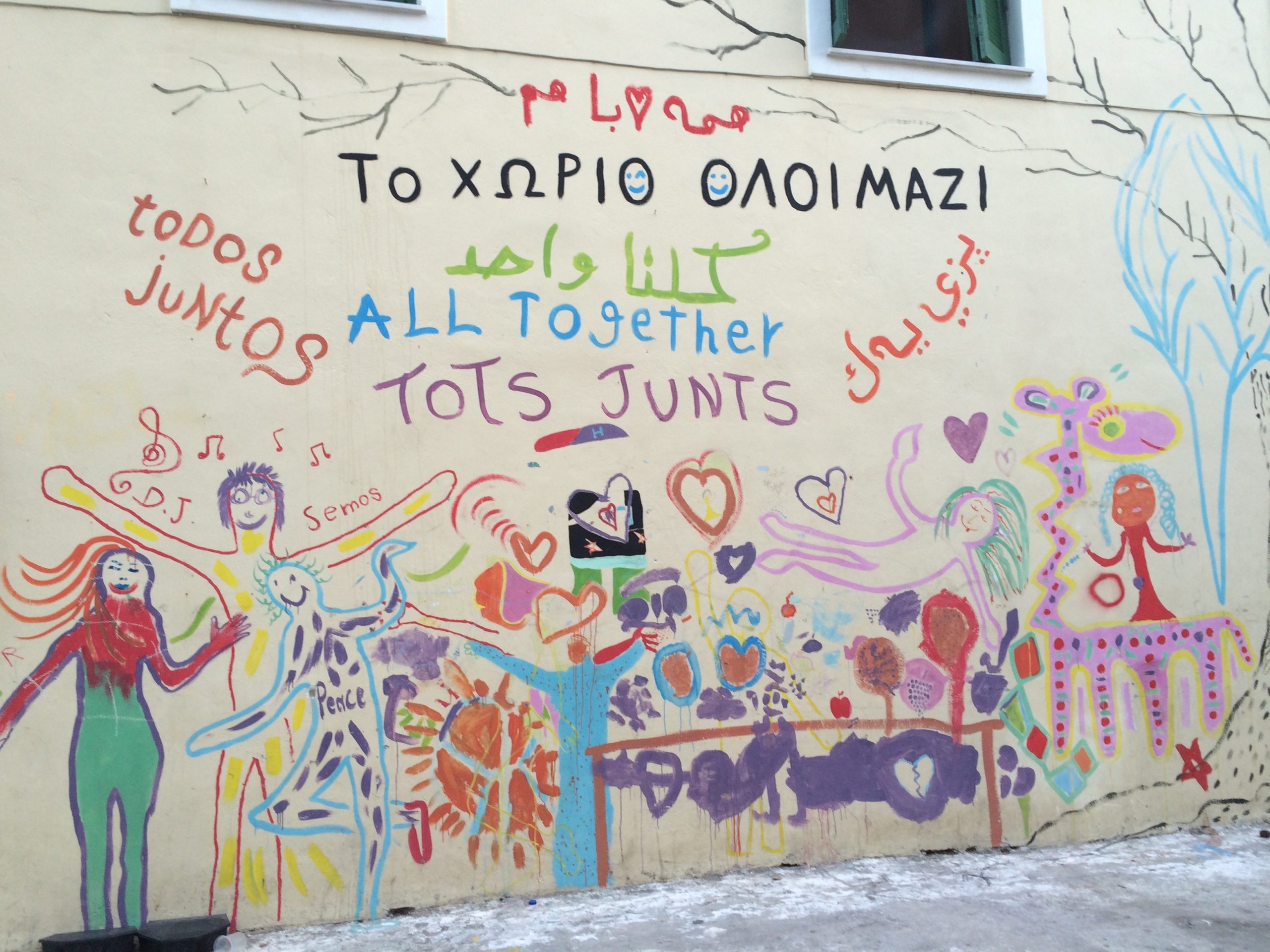 This year seems to be a quiet one in Pikpa. No "masses of refugees flooding"
the island of Lesbos, no extra ferries to bring them to Athens, no more riots
in the humiliating, overcrowded and dignity-depriving camp of Moria. Instead,
there's a big colorful painting on the main building of Pikpa, an organized
schedule for volunteers and voluntourists. Women do their daily washing; kids
and men help with the gardening and the lifeguards run a swimming program
called "reconciliation with the sea."
So what else is there to do for an organization like CPT you
ask? This question, along with the admiration I receive from some for being "brave"
to go into crisis and conflict regions leads me to think that I have some
explaining to do.
Yes, Christian Peacemaker Teams used to be an organization
whose motto was "Getting in the way" of violence, throwing ourselves in front
of the soldiers.  This was twenty years
ago.  CPT was founded after Ron Sider
asked at the Mennonite World Conference in 1984 What would happen if we in
the Christian church developed a new nonviolent peacekeeping force of 100,000
persons ready to move into violent conflicts and stand peacefully between
warring parties in Central America, Northern Ireland, Poland, Southern Africa,
the Middle East, and Afghanistan? 
Sider's speech actually sounds like a war speech, only that
it is supposed to arouse people to a war of peace, a nonviolent war against
direct and indirect violence. But we would just repeat the same colonial
structures that shape our world until today if we went into all these regions
and started fighting the nonviolent fight for the locals. And more importantly,
we would be blind to all the local activists and initiatives already doing
exactly that! Just like the White Man from the 1800's, we would come and tell
everybody "look how it's done!"
This is why CPT has developed into an organization of
sidekicks. The actual heroes are already there. I have met dozens of them. They
are farmers, activists, teachers, mothers, students, sometimes even police or
coast guards. We have taken up the task to stand behind and with these people,
to back them up with the privilege that many of us from CPT have.
So here's what we do: we are there. We are present and we
don't leave when there's no visible violence because the structural violence
and systemic oppression haven't left either.
On Lesbos, amongst other things, we help with chores and
language classes in the camp Pikpa. Some of our team members that speak Farsi,
Kurdish and Arabic regularly help with translating and accompanying refugees to
the hospital or police. As soon as the boats stopped arriving this spring, most
of the media and NGOs left. We didn't. There are still thousands of refugees
stuck in Greece, not knowing what will happen to them. And even more of them
are in Turkey wondering if it wasn't safer to go back even if that means the
danger of persecution, torture or bombing.
The thing with being the sidekick is that you don't leave
your superhero once a crisis is overcome. But you stay and patch up the wounds.
For Europe, this crisis is not over. Our sidekick job will only be done when
asylum seekers have the chance to get asylum without having to undergo these
humiliating processes. Our job will only be done once our superheroes tell us
they don't need us anymore.