CPTnet
20 October 2016
CPT INTERNATIONAL:  Full-time Indigenous Peoples Solidarity field
team member sought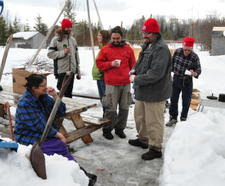 Christian Peacemaker Teams (CPT) is accepting expressions of
interest for the position of: Full-time Field Team Member.  All
members of CPT's Peacemaker Corps and qualified people from outside the corps
are eligible to apply.
Team: Indigenous Peoples Solidarity (IPS)
Reports to Project Support Coordinator
Status: Full-time, stipended, three year term
Stipend: $1000US/month (independent living – no "team
house")
Location: Winnipeg, Manitoba (Canada) – Turtle Island
Start Date: December 1, 2017
Application Deadline: November 6th, 2016
Position Purpose: This full-time position supports
CPT's efforts to amplify the voices of our First Nations partners and engage
supporters in advocacy for peacemaking.  It involves working as part of a
small team to carry out all aspects of the program's strategic plan which
includes: 1) advocating for the basic and collective human rights of indigenous
peoples, 2) becoming effective and visible political allies to indigenous
peoples, and 3) building relationships between settlers, indigenous peoples and
the land.
Qualifications – Position-specific:
·         Familiar
with the history of Indigenous-Settler relations on Turtle Island, especially
Canada
·         Ability to
work collaboratively as part of a team
·        
Self-motivated and able to take initiative
·         Experience
working in solidarity with marginalized communities
·         Solid
written and verbal communication skills
·         Experience
leading groups or willingness to learn
Qualifications – General:
·         Strong
commitment to CPT's mission, vision,
and values
·         Commitment
to the practice of active nonviolent peacemaking as part of a team in settings
of intense conflict and oppression
·         Grounded
in faith/spirituality and open to diverse expressions of faith/spirituality
·         Experience
in and commitment to dismantling racism, sexism, heterosexism and other
oppressions; awareness of ways that oppressions intersect; sensitivity to ways
oppression operates differently in different cultural settings
·        
Demonstrated ability to live and work in a multi-cultural, multi-ethnic, multi-faith
environment
·         Working
knowledge of word processing, e-mail, social media
·        
Successfully completed CPT training*
*If the candidate is ideal in other respects, but has not
completed CPT training, s/he will be expected to attend the January training in
Colombia.
Please send resumé and statement of motivation explaining
why you want to join the Indigenous Peoples Solidarity project to Milena Rincón
program@cpt.org.