By John Heid
The Biblical terrain of Advent is the desert. It's pristine austerity beckons reflection. The prophetic cries, spoken of by Isaiah, were ones of hope against all odds. These cries echo today in the voices of our sisters and brothers in the Sonoran desert in their anguish and radical hope.
On December 7th, in the somber shadow of the U.S.-Mexico border wall in Nogales, AZ, members of La Coalición de Derechos Humanos and No More Deaths presented their latest abuse document. "Deadly Apprehension Methods, The Consequences Of Chase And Scatter In The Wilderness."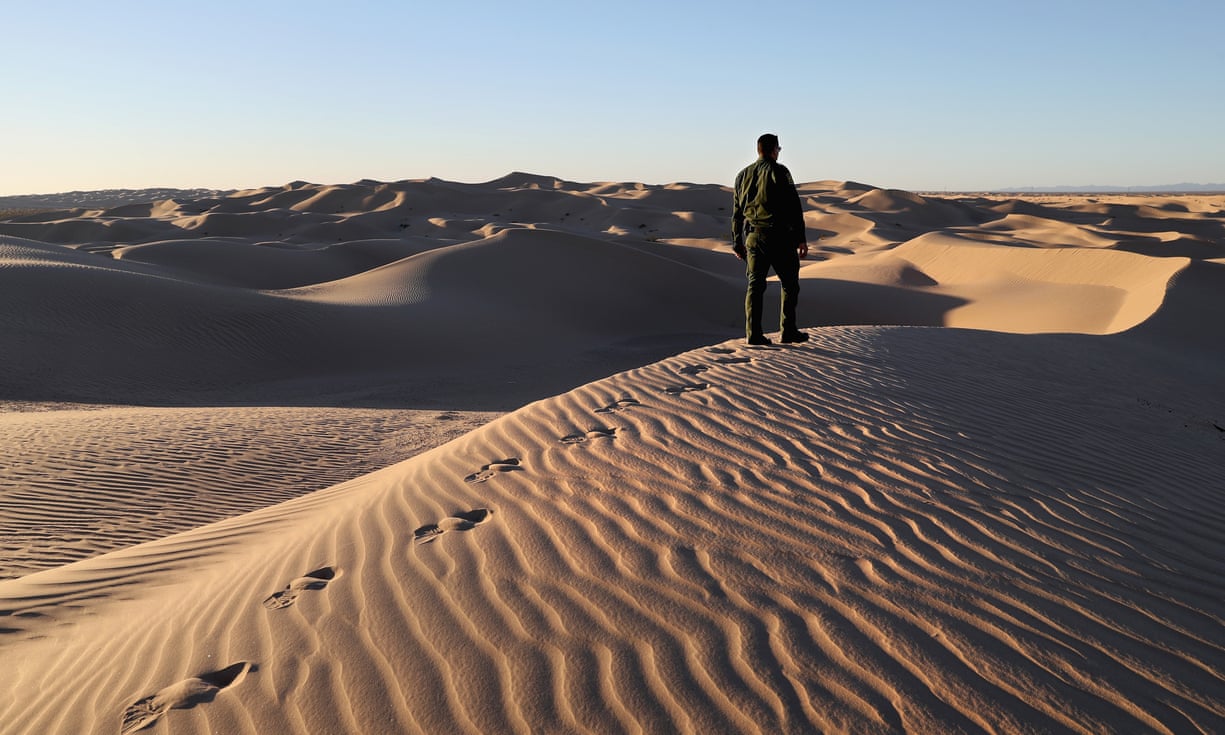 A US Border Patrol agent stands atop a dune along the US-Mexico border last month near Felicity, California. Photograph: John Moore/Getty Images. Published by The Guardian.
This
report carefully details the consequences of the chase and scatter operations
carried out by U.S. Border Patrol agents under the 1994 enforcement doctrine
"Prevention Through Deterrence." This policy has intentionally funneled people
into harsh, isolated regions of the Southwest borderlands. Since the policy's
inception, tens of thousands of people have gone missing in the vast Sonoran
desert. According to the report 1,200 people have disappeared in the last year.
In
addition to the disappearances, the chase and scatter tactics have resulted in
a high incidence of injuries to people crossing the desert.  The U.S. Border Patrol agents use helicopters,
all-terrain vehicles, horses, and dogs in these operations. People frequently
become separated, disoriented, injured, and lost as a result. Many of those
apprehended have been subjected to beatings, teasing, and dog attacks.
The
data for this report comes from over 500 cases collected by the Coalición de
Derechos Humanos' Missing
Migrant Hot Line in 2015 and 58 interviews with people who have attempted
to cross the desert in the past five years. 
The
report calls for the abolition of the strategy of Prevention Through Deterrence
and makes a plea for "the preservation of human life, human rights, and human
dignity as the cornerstone and guiding principle of all Department of Homeland
Security operations." 
During
this Advent season, may we attune our ears to both the cries of the prophets
and the oppressed as we seek that day when we "will not harm or destroy on all
my holy mountain…" (Isaiah 11:9)