CPTnet
11 January 2017

AL-KHALIL (HEBRON): CPT Palestine–Year in Review 2017
Trying to go home
Pictured here: 
Children try to go home after doing family errands but are impeded by heavy  Israeli military presence and Israeli settlers in their streets.
(03/11/2017)
Unwelcome Guests
Pictured here:
 About twenty-five settlers took an uninvited tour through Palestinian backyards and gardens on their weekly incursion into the Old City, accompanied by an equal amount of soldiers. 
(04/08/2017)
Defiance
Pictured here:
 Israeli soldiers advanced far into H1 area (under Palestinian control) on Friday, with several tanks and a water cannon.  Clashes continued much like the day before with dozens of sound bombs, tear gas, and water cannon use against Palestinians.  A woman with her infant were caught in an ATM booth that filled with tear gas, rescued by community members who offered her a ride.  This young man sits in defiance opposite the soldiers during a break between tear gas and water cannon fire.
(04/28/2017)
"Resist With  Prayer"
Pictured here:
The 15th day of Ramadan marked the lunar anniversary of the 1994 massacre in Al-Ibrahimi Mosque, in which twenty-nine Palestinians were killed by a Jewish settler while they were praying inside. On this 24th anniversary, our local partner, Dismantle the Ghetto, organized a public action in memory and resistance, calling for large numbers of people to gather at the mosque to pray. All wearing black t-shirts that read, "Resist with Prayer," the participants were denied access through the checkpoint while the Israeli military threatened to fire tear gas and use other excessive force. The response of the demonstrators was to pray together outside the checkpoint, declaring to the soldiers that they did not wish for there to be violence.  

Photo Credit: Dismantle the Ghetto
(06/13/2017)
Stopped at the Turnstile 
Pictured here:
Palestinian students and teacher stopped at a turnstile at Qitoun checkpoint, where they were forced by Israeli Border Police to wait before they were allowed to walk to school. Over the last weeks, Israeli Border Police have searched through the backpacks of Palestinian students and checked IDs for teachers. Israeli Border Police forced students and teachers to go through Qitoun checkpoint one at a time, creating delays and preventing children from getting to school on time.
(10/10/2017)
A Child's Testimony
Pictured here:
On October 13th, 2017, sixteen children and two adults were arrested by the Israeli military in Hebron. The eighteen arrested were initially detained in a cage in Checkpoint 56, cable-tied, kicked and hit. Two were released, whilst the remaining sixteen were transferred to an Israeli police station where they were subjected to further physical and psychological violence. All sixteen were eventually released without charge, but not before threats were made to their families and the safety of their homes.
(10/13/2017)
Young, Peaceful, & Spirited 
Pictured here:
Al-Khalil based organisation Youth Against Settlements (YAS) peacefully protested the centenary of the Balfour Declaration. The evening consisted of a demonstration, march, and candle light vigil held in the Salaymeh and Gaith community in al-Khalil. 
(11/07/2017)
Right to Play 
Pictured here:
Interruption to a football game in Hebron is due not to rain, a flat ball, or because it is time for dinner.  Here, children cannot freely play because the Israeli military is a constant presence in their lives, taking over their streets and homes.  The right to play is something we believe that every child needs.
(11/13/2017)
A Settler Incursion: Day of Sara
Pictured here:
Every year during the Torah readings of Abraham purchasing the cave in Hebron to bury Sarah, thousands of settler supporters invade Hebron.  This year, in particular, the Hebron Fund advertised it as a political statement in response to UNESCO declaring Hebron an endangered Palestinian world heritage site. Standing behind the gate inside of the military base, Jewish men hurled abuse at passing Palestinians, foreign tourists, and CPTers.
(11/13/2017)
Demolition Order
Pictured here:
A woman looks out of her house in the community of Susiya in the South Hebron Hills, part of which has again come under imminent threat of demolition. On Wednesday, 22 November, the Israeli State Attorney's Office announced that it would demolish twenty buildings in the village within fifteen days. These buildings comprise at least one-fifth of the community and their demolition would affect at least 100 people, including fifty children. Appeals to the demolition orders have been submitted, challenging the claim of the Israeli court that the structures were built illegally. The appeals have potentially delayed the demolitions, though the community still awaits a final decision about the list of homes to be demolished. The community of Susiya has organized several demonstrations and campaigns, including a letter-writing campaign, asking representatives to encourage Israeli Ambassadors to request that the demolitions be cancelled. 
(12/04/2017)
Many Voices, One Cause
Pictured here:
Palestinians from numerous political parties gathered in large numbers in al-Khalil to nonviolently protest the U.S. Administration's contentious recognition of Jerusalem as the capital of Israel. Similar protests have been organised in many cities across the globe in support of Palestine.
(12/08/2017)
Resistance and Abuse 
Pictured here:
In a brave act of nonviolent resistance, a man sits in the intersection outside of Checkpoint 56 with a Palestinian flag. While he sits peacefully, an Israeli soldier throws a sound grenade that lands and detonates under the protestor's leg.
(12/30/2017)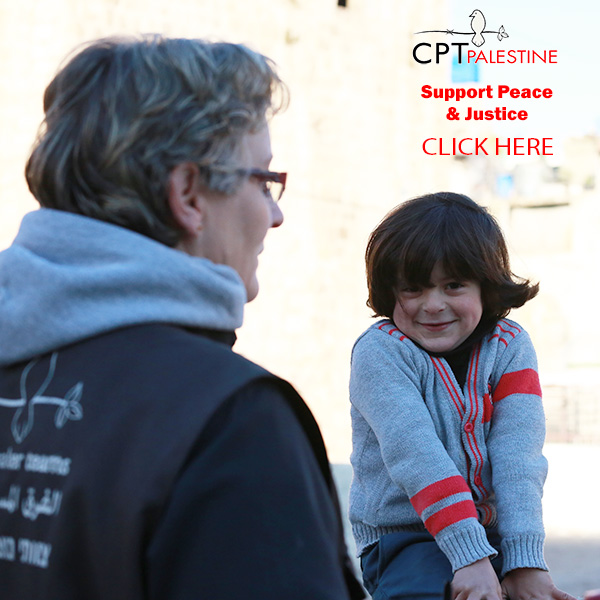 Input caption text here. Use the block's Settings tab to change the caption position and set other styles.