by Runbir Serkepkani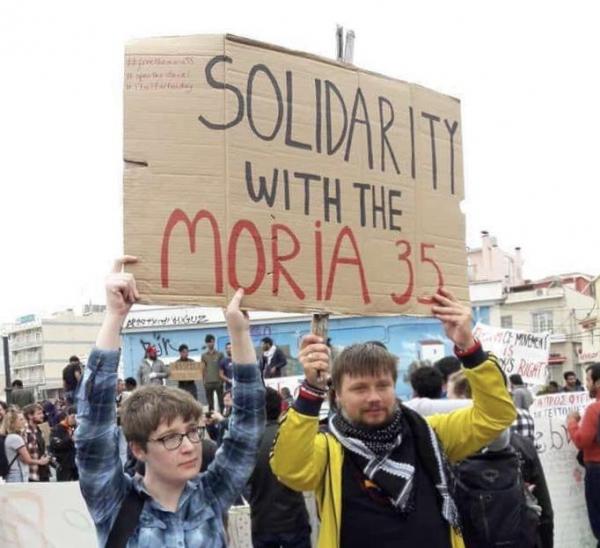 CPTers participate in a nonviolent demonstration in solidarity with incarcerated migrants.
Advent Reflections 2018
Christian Peacemaker Teams wish to celebrate this Advent season by offering reflections on the symbols of each 
Advent candle. Week to week, each of our teams will share a story in honor of the season.
This Sunday, we consider the theme of Love.
Love is unity.
Love is Pikpa, where a safe space is provided to people who need to recover from the violence of borders, where they can rest, and give themselves the time it takes for a broken heart to heal and dance again.
Love is the courageous lawyers of Legal Centre Lesvos and HIAS, who work night and day to aid migrants with their asylum cases, while the nation states of Europe intentionally and systematically break their own laws and conventions to criminalize migration.
Love is No Border Kitchen, giving food to people who have been abandoned by everyone else.
Love is when activists at Deportation Monitoring Aegean work tirelessly, navigating through a system that lacks transparency and denies fundamental rights to migrants, in order to prevent deportations.
Love is the disobedient door that opens for the stranger in a world where more walls are built than trees are planted. Love is the oasis where tired feet and the persecuted children of Mother Earth can rest. Love is when locals, migrants, those who stand in solidarity, and human rights workers come together to resist borders and the oppression that is being imposed by the State and the EU.
Runbir Serkepkani, born 1984 in the village of Serkepkan, northern part of Zagros Mountains. Runbir lives on Lesvos Island in the Northern Aegean. He loves poetry, walking, having nice conversations and fighting injustice and capitalism.