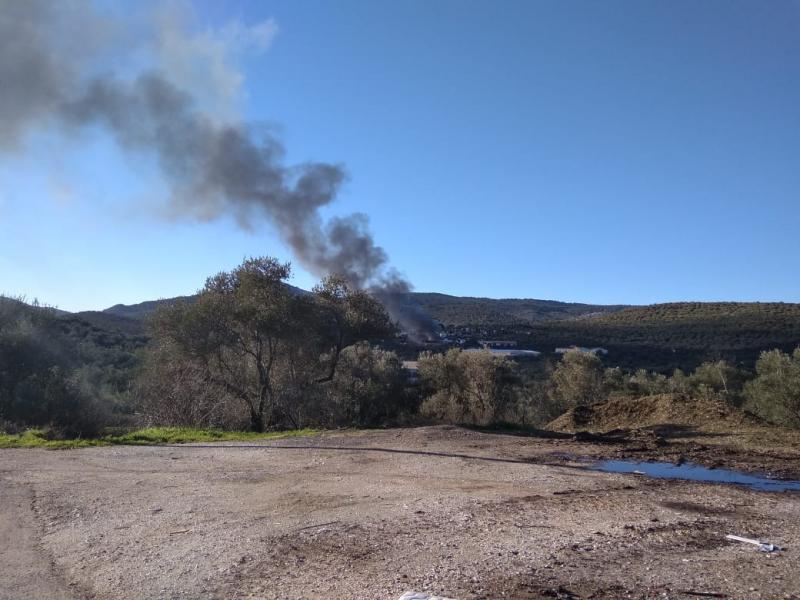 by Rûnbîr Serkepkanî
We were walking through the village of Moria on Lesvos when we saw thick smoke rising in the distance from an area close to the concentration camp of Moria. Along the way we saw migrants, mainly from Afghanistan, who were walking slowly in the opposite direction. I asked some of them where the smoke was coming from. "Some tent that has caught fire I guess," one answered. "Is the fire inside the camp?" I asked another migrant, "I suppose so," he replied. 
 
I guess they are used to these fires and fights that erupt in Moria that we, the people from outside, find spectacular. As we continued to walk, we saw that some villagers from Moria were conversing outside a garage while looking at the smoke, a common scene for those who live close by.
 
The fire was the first thing we saw when we arrived at the concentration camp. A huge number of people had gathered around it. Some were taking photos and others were just standing by to see yet another fire, yet another troubling incident in the "hotspot" (a place where dangerous events or fighting is likely to happen) they had been forced to inhabit by the policies of a whole continent. The fire brigade, the police, and the reporters were also there. As we got closer, we saw a tall blond journalist who was at work trying to harvest the tears of a weeping Cameroonian migrant. A man from an NGO told the journalist in a friendly manner that it was inappropriate to take a photo of a man in distress without his consent. The journalist was probably thinking: "But how can I get consent from a man while he is crying? Why not take the picture now and get his consent once he has calmed down?" Consent to tell yet another story everyone already knows of life within this concentration camp. 
 
Fifty-five people, the majority of whom were from West Africa, inhabited the tent that had burnt down. The Cameroonian man who was crying had lost all his documents. We also saw another man run into the bushes and beat the back of his head with his palms; it's likely he lost all of his documents too. 
 
In this world, you are your documents. Without documents you are a being without a story. You are a "VogelFrei" – free as a bird. Free to be exploited by the market of vampires, free to be incarcerated, beaten and "removed". Everyone on this island who is not white and not from the west is a "VogelFrei" unless they have passports and documents that grant them freedom of movement.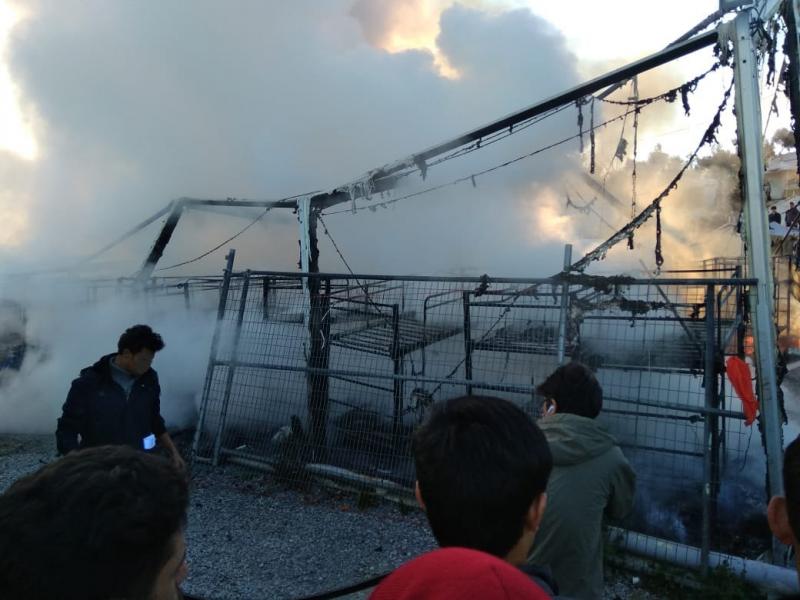 Migrants watch tents burn down
It has become standard practice among the solidarity groups in Mytilini that when taking a photo you do not capture the faces of people who are in the shot, especially if there are migrants present.   Although this strategy raises concerns of turning migrants into a faceless mass who can then be easily generalised and stereotyped, the bigger questions we should be asking ourselves are these: what is a face without a name and a story? Why do we need to attach faces to these stories? When you take a photo and then separate it from the face, from the person, and from the experiences that person came from; to what story or piece of art are you going to attach it? Whose story does that composition represent?
 
Do we want to connect with pictures of people who are oppressed and who are on the move more than we want to connect with their right to freedom of movement, safety, dignity, comfort, and respect? Does a picture offer us an opportunity to reflect on the injustice of borders? Does it present an opportunity for the privileged of Europe, the USA, and the rest of the "West" to question how they benefit and profit from borders, or does it only give us another reason to feel pity or disgust? 
 
One may pose a question about neutrality. To that, I would simply ask, whose neutrality? Moria is not a conflict zone where two sides with equal powers are struggling over something; it is a concentration camp. It is a place where people are forcibly concentrated in a "hotspot". The policeman in Moria is the extended hand of each parliamentarian and politician in the EU. The people incarcerated in Moria are human beings who were born free and who have been dispossessed of their right to migrate wherever they want on this planet. 
 
Each of them owns their own face, their own tears and their own stories.