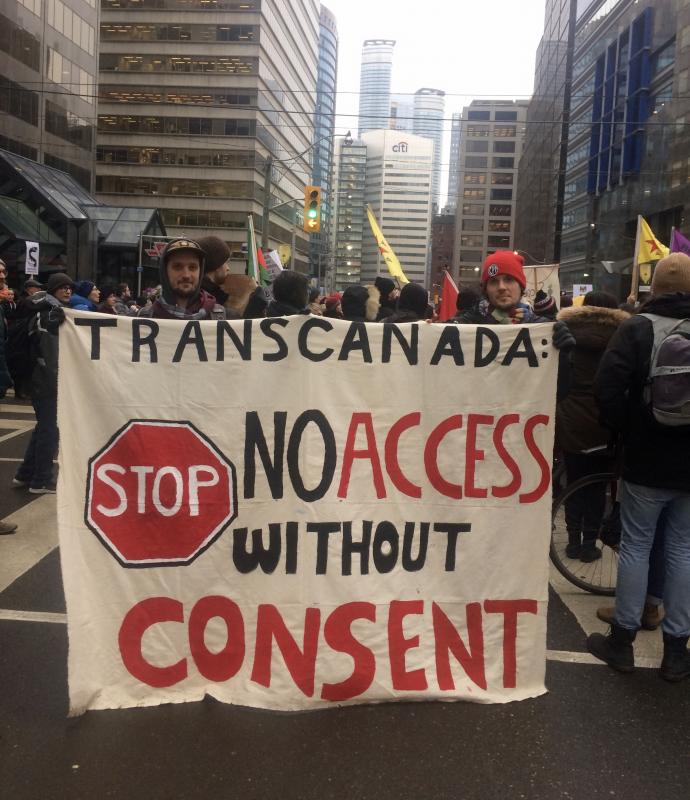 CPTers Dan Huizenga (l) and Peter Haresnape participate in Toronto Rally for Wet'suwet'en
"Divide and rule them" seems more central to Canada's relationship with Indigenous Peoples than ever in northern British Colombia. TransCanada (TC) Energy Corporation touts twenty agreements with Indian Act Band Councils on Wet'suwet'en territory, but last week demonstrated that it is prepared to use force to override the anti-pipeline position taken by Hereditary Chiefs.
The Hereditary Chiefs asserted their sovereign right to jurisdiction over unceded Wet'suwet'en territories, and to free, prior, and informed consent regarding any resource project. The Chiefs had sought, and won, recognition of this right in the Supreme Court of Canada's Delgamuukw decision (1997).
On Monday, 7 January, armed RCMP, including a Tactical and Emergency Response Team, forcibly dismantled the Unist'ot'en Checkpoint established by Hereditary Chiefs and Clan Members to control access to their traditional territories. Police were enforcing a provincial court injunction that would allow Coastal GasLink pipeline workers to enter Wet'suwet'en lands. Fourteen people were arrested.
Following the RCMP attack, Indigenous organizers and their allies in communities across Canada responded with waves of nonviolent direct actions. In Toronto members of Christian Peacemaker Teams (CPT) supported drum circles that shut down major intersections throughout the financial district on 8 January, and the Bloor Street Viaduct on 9 January.
Toronto Rally speaker Isaac Murdoch laid responsibility for right relations in the hands of every settler."I knew I had to be there, because as a settler I have responsibilities, nation-to-nation relationships," said CPT reservist Peter Haresnape. "If the government betrays these relationships, we have to uphold them by showing up and speaking out." 
In Winnipeg, where CPT's Indigenous Peoples Solidarity Project is based, team members Kathy Moorhead Thiessen, Chuck Wright, and Carolina Rodriguez took part in both a Thursday, 10 January art build and the Round Dance that followed to shut down the city's busiest intersection. 
The Chiefs have now agreed to allow pipeline workers onto their territory to conduct pre-construction surveying, calling it a " temporary solution" to safeguard community members from further arrests and trauma. 
"If our people make decisions with our unborn populations in mind, the manipulative tactics by industry and government which are meant to divide our people will not work," said Unist'ot'en spokesperson, Freda Huson, in 2012. "We will prevail as sovereign people on our unceded and protected lands."  Wet'suwet'en Hereditary Chiefs continue to assert sovereignty and invite solidarity, making clear that forced compliance is not consent.
"Our governments speak of reconciliation, offer apologies, and claim to be working towards restoring Indigenous rights," said CPTer Esther Townsend, "and yet once again commit violence against Indigenous land defenders on behalf of fossil fuel corporations. What will our grandchildren say?"
Supporters are asked to send a clear message in support of the Wet'suwet'en Hereditary Chiefs' Right To Say No To Pipelines both by taking part in rolling actions in their communities, and by calling Prime Minister Justin Trudeau (613-992-4211); Minister of Indigenous-Crown Relations, Carolyn Bennett (613-995-9666); Minister of Justice, Jody Wilson-Raybould (613-992-1416); and their local members of Parliament. 
For guiding principles on how to support, and a fact sheet on the Gidimt'en Access Point, visit: https://www.facebook.com/permalink.php?story_fbid=225163691762758&id=212798726332588