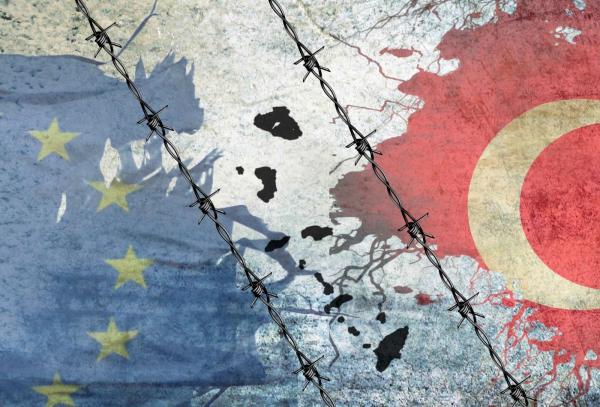 As the third anniversary of the EU-Turkey Deal approaches, we pray for all who lost loved ones, those trapped in concentration camps, and those sent back to countries where they had to face war, hunger and human rights abuses because of the Deal's implementation.  We pray for all migrants everywhere, because intolerance knows no borders.
Three years ago, on 17 March, the EU-Turkey Deal was implemented. The deal stipulates the return of individuals to Turkey arriving irregularly by boat to Greece, in exchange for increased EU resettlement of Syrians from Turkey, large sums of aid to Turkey and the easing of EU visa restrictions for Turkish citizens. People regard the deal as a method to deter migrants from using smuggling routes from Turkey to the Greek islands. Migrants fleeing the situation in their countries face detention upon arrival and receive three months to conduct their asylum claim. If the authorities deny their claim, they are deported to detention centres in Turkey and then sent back to their countries of origin.
These deportations take place regardless of the challenges of living in war-torn countries or post-war social and economic deprivations. They deny migrants access to stable lives and futures.
CPT-Lesvos continues to oppose the EU-Turkey Deal.  Along with other activists on Lesvos, it put out the following statement, this morning, which read, in part:
EU's current asylum and migration policies result in externalising European governments' responsibilities, turning a blind eye to massive human rights violations suffered by migrants in countries like Turkey and Libya, increased loss of life at sea and at the borders and immense suffering in EU hotspots in EU territory. At the same time, the lack of solidarity among EU member states continues to give fertile ground to xenophobic, populist and far-right politicians who increasingly win the support of the public, especially in receiving border countries such as Italy and Greece.

We demand an end to the EU-Turkey deal, which leaves migrants in a hunting ground, vulnerable to criminalization, racist violence and arbitrary punishment.
CPT-Lesvos invites you to:
Remember the host communities and sanctuary cities, and people who advocate for justice of migration and to find ways to support them.
Reflect on the racism growing in our communities, societies, and policies and to discuss this phenomenon in your churches or groups.
Follow the state/police violence at U.S.-Mexico borderlands as well as the European borders. Speak up for people seeking better lives and change.
Strengthen our capacity of for building peace and justice.
Remember the example of the Bethel Church in The Hague, which from November 2018 to January 2019, held a 96-day long non-stop church service to protect a migrant family from forced deportation.