Parakhe village is a quiet village near Zakho in the province of Duhok. Primarily an agricultural town, but in the summer, it is awash with tourists. Hundreds of buses deposit predominantly Arab tourists seeking a respite from the searing heat of the Baghdad and Basra summers in the village's orchards.
On the morning of 20 July 2022, several buses arrived in the village with tourists from central and southern Iraq. As they mingled in the orchards and set up picnics, a nearby Turkish military base opened fire. Witnesses recall at least four mortar rounds landing in and around groups of tourists.
The bombardment killed nine people. Among the victims, three were female children, one-year-old Zahra Khayri Muhammad and two sisters, Sarah Qais Ali (12 years old) and Zahra Qais Ali (16 years old). The other six civilians killed were Ali Sabah Ismaeel (40 years old), whose wife and two children were injured; Abbas Muhammad Jawad (34 years old), who was on his honeymoon trip; Taha Abdul-Rahman Nihma (25 years old), a university graduate; Sajad Muhammad Jasim (24 years old), Abbas Alaa Abdul-Ahmed, (30 years old) and Hussein Abdul-Amir (55 years old). At least 23 civilians, including two children, were injured in the attack.
The attack's civilian death and injury toll was the highest for any single bombardment since 2015. It also meant that 2022 saw the highest annual number of documented civilian casualties by Turkish Armed Forces' operations in Northern Iraq since 2015. This is despite Turkish claims only to target combatants affiliated with Kurdistan Workers' Party (PKK).
The massacre at Parakhe is one of several attacks documented and findings provided in a report released today by CPT alongside the international civil society coalition of the End Cross Border Bombing Campaign (ECBBC)* on Turkish military bombardments in Northern Iraq in 2022. The report is available for download in English, Kurdish and Arabic.
Other findings of the report include:
Between 18 and 20 civilians were killed, including six children, and 57 to 58 civilians were injured in 11 incidents conducted by the Turkish Armed Forces (TAF) in Northern Iraq during 2022.
Six attacks originated from fire from the 60+ bases that the TAF have built inside Iraqi Kurdistan. This makes such civilian harm incidents the majority for the first time since 2015.
In five of six attacks from Turkish bases (excluding Parakhe), a total of six civilians were killed, and four civilians were wounded. The victims included two children, three women participating in community celebrations, and a farmer cultivating his land.
Four incidents saw civilians bombed by Turkish drones: a bombing inside a residential area of Sinune town, which led to ten civilian casualties (including one child killed); multiple airstrikes in a remote mountain area that led to six casualties (one killed and five injured) among foragers of wild plants; and two airstrikes, which resulted in the death of three civilians who were driving vehicles.
In the 11th recorded incident, the TAF conducted multiple airstrikes inside Makhmur refugee camp, killing up to two civilians and wounding 15 others.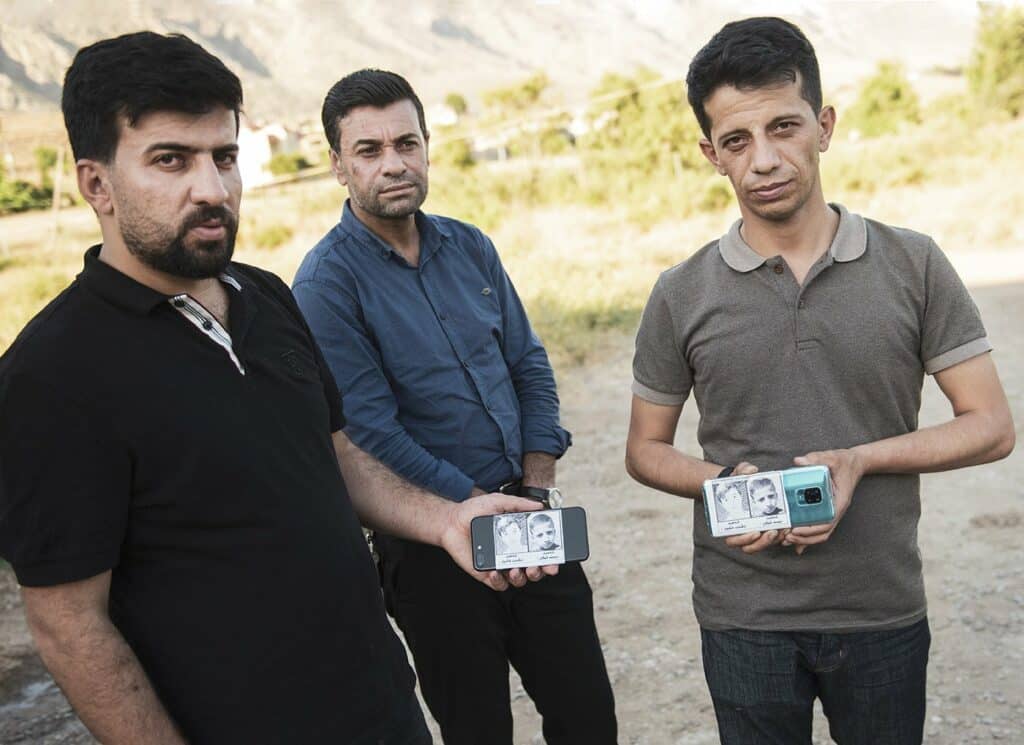 The report also examines bombardments in Iraqi Kurdistan by the Islamic Revolutionary Guard Corps of Iran using ballistic missiles and suicide drones. At least 18 people were killed and 50 injured in the attacks, mostly from Iranian Kurdish armed opposition groups, while numerous houses and civilian infrastructure including a school was destroyed.
Download the report in English, Kurdish and Arabic.
*ECBBC Members include Iraqi Civil Society Solidarity Initiative, Community Peacemaker Teams (CPT), Iraq Body Count, CODEPINK, NOVACT, Un Ponte Per, and Solidarity with Kurdistan/Solkurd.