CPTnet
4 April 2011
COLOMBIA: Colombians
not alone in struggle for Land Rights–Indian Land Reform Movement calls for
South-South Solidarity and Global Action in 2012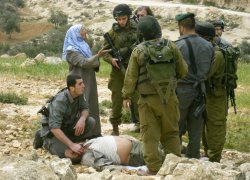 In early March
2011 representatives from around the globe, including Colombia team member Eloy
Garcia, gathered in New Delhi, India for three days.  The event, convened by Ekta Parishad, was a planning session
for forming a global alliance called "South-South Solidarity— Global
Action 2012."  
 Ekta Parishad ("Unity
Forum" in Hindi), is a federation of 11,000 organizations and counts more than one
million supporters in at least fifteen Indian states.  Ekta Parishad espouses the Gandhian principles of nonviolence
and works at the grassroots level so that all Indians can live in dignity with
access to land, forest, and water.
 Rajagopal,
President and founder of Ekta Parishad, said that the agenda of the South-South
campaign will culminate in India with a march of 100,000 people walking for 350
kilometers from Gwalior to Delhi. 
He told the international gathering, "We are not here to change regimes;
we are more committed to changing the system.  2012 will be about changing the social, economic, and
political system.  While we are
acting in India, we are looking for partners in different parts of the
world.  We need to draw the
attention of the world to the levels of poverty and degradation our countries
are facing world wide."
 After the
meeting, representatives from the different continents participated in a local Ekta
Parishad demonstration involving 15,000 landless leaders from throughout India.
 The march started early on 8 March
with an estimated 15,000 leaders from fourteen different states.  The leaders and international delegates
marched side by side to the Indian National Parliament, but were eventually
stopped by police barricades, riot tanks, and police.  Faced with this obstacle, the leaders
determined they would sit in place and block the road.  The group then moved in orderly fashion
and took a seat, row upon row, in the street while waving their flags.  They waited in silence with their legs
crossed in the hot sun for a representative of the government to appear so they
could express their demands for land reform.
The march
participants had been prepared for the long wait on the previous day when Rajagopal
made a plea for determination and sacrifice on their part, saying they must
have discipline and train themselves for the struggles ahead.
The fifteen
thousand people waited until a government official arrived and announced that a
meeting would be held regarding the issue with the Prime Minister that
evening.  The participants then stood
up and in orderly fashion began the march back. 
 ——————————
See Ekta Parishad newsletter: JAN SATYAGRAHA : AN
HISTORIC MEETING TO PREPARE 2 YEARS OF ACTION