CPTnet
29 June 2011
IRAQ: Lawyer shot and injured in Suleimaniya, Iraq
At 11:20 p.m. on 26 June 2011, an unknown man shot lawyer
Karwan Kamal in his foot, breaking two bones, as Kamal was paying for parking.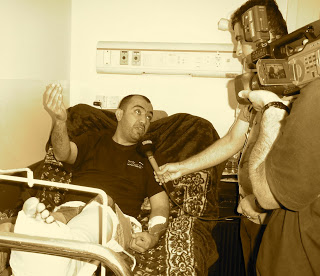 Kamal told CPTers, "When I was paying the money, I
suddenly felt pain in my leg.  I
fell and saw a man with traditional Kurdish clothes aiming at my head with a
handgun.  I jumped over a low wall
to protect myself."  He said
the armed man shot five bullets and left in a private car close by.
 Kamal was an active participant in the demonstrations
against the corruption of Kurdistan Regional Government (KRG), which began in
February and ended on 19 April because of the government's violent response
against the protesters.  After the
crackdown on the demonstrations by the government, some leaders were arrested,
abducted, beaten up, and followed.  Kamal had been trying to collect and document these cases.  Ten days ago, many involved in the
protests heard that KRG security forces had a list of 200 leaders who were to
be arrested or killed.  Kamal
appears to be the first victim from that list.
After surgery on his foot, Kamal was able to receive
visitors.  He is currently still
hospitalized.
The Federation of Civil Society Organizations in
Suleimaniyah put out the following release after the shooting (it has been
edited for length and clarity. The original is available here):
Iraqi-Kurdistan
Region: A Haven for Anti-Freedom Terrorists
 The attempt to assassinate Karwan Kamal, a lawyer, and civil
society activist…  [confirmed] one
more time, the concerns voiced by Human Rights Watch, Amnesty International,
Reporters without Borders, the EU and other international organizations about
the deterioration of the respect for and protection of human rights in Iraqi
Kurdistan Region. …
This recent terrorist attack targeted a young, enthusiastic, and
caring lawyer who volunteered as an unpaid attorney for the families of the
victims of February 17th.  This attack is a terrifying
message for all of the freedom seekers …  This attack underscores the worries of many in the region,
that civil society activists, intellectuals and journalists should be always
expecting the dark, antihuman and tragic forces which took such young and
vibrant lives as Sardashd Othman and Soran MamaHama.
…It is not us (the civil society activists, journalists and
intellectuals) who are the drivers of instability and social turmoil in the
region.  On the contrary, it is
those masked forces that are operating outside the realm of jurisdiction and
the government's power that are controlling life and death … Those forces are
attempting through their actions to silence discontent and anger toward all of
the injustices and crimes committed against the people of the region.
We, in the Federation of Civil Society Organization, which is a
cooperative body of fifteen non-governmental organizations and a number of
independent civil society activists, are startled by these disgusting acts of
terror.  Our civil and humane moral
and consciousness obliges us to identify ourselves with the victims of
terrorist acts by dark forces whoever and wherever they are…
We would like to acknowledge that the Kurdistan Regional
Government and its security forces and institutions are the responsible parties
for this attack until an independent investigation proves otherwise.  We therefore demand an official and
strong condemnation by the government, concrete and immediate actions toward
finding those who committed this act of terror.  Otherwise, it is our unequivocal right to disregard the
Kurdistan Regional Government as that legitimate body which can protect our
lives and safety.  This would mean
a further widening and deepening of the rift between citizens and a government
that presents itself as the protector of civil rights, private liberties and
public interests…
Federation of Civil Society Organizations
27/06/2011
Suleimaniyah