CPTnet
9 July 2011
IRAQ UPDATE: June 2011
On team during this time were
Lukasz Firla, Peggy Gish, David Hovde, Garland Robertson, David, and  Chihchun Yuan.
Kurdish Spring Uprising
Mullah K visited the team on the 3 June.  The security forces arrested him during a demonstration and
then tortured him.  He told the
team that some protestors in Halabja area were still facing harassment after
the two-month-long demonstrations. 
The team contacted one local friend in Halabja, Mr. R, to find out more
of the situation there.  Friend R
knew the authorities arrested some people after the  crackdown on the demonstrations, but he was not aware if the
arrests continued into June.
On 26 June, a gunman attacked
lawyer Karwan Kamal and his friends in a parking lot.  Later a small group tried to gather people at Azadi Square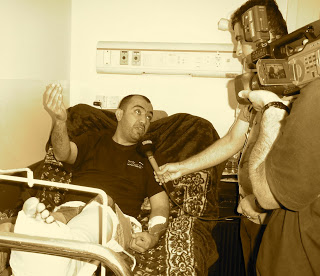 to protest the attack. The Asaish (secret police) got the news and came to the
square.  They reportedly arrested
three people, releasing two after an investigation.  One, Mr.S, is missing. 
(For more about the attack click here.)
Border Bombardment
On 9 June, the team sent two members, Gish and Firla, to Kani Spi, a
village at the border.  On 16 June,
the team members returned to the city of Suleimaniya for rotation.  On the 17 June, the team learned that
seven Iranian soldiers crossed the border.  Some were killed and some injured by landmines.  The shelling started four days after,
in the area where the incident occurred. 
Because of these factors, Firla and Robertson were not allowed to pass
the last checkpoint to enter the village on 20 June.  Told they needed permission from a higher authority, Firla
and Robertson spent three days visiting the different offices of the Asaish
(Security Forces) in Choman District, Soran District and then the Asaish
Headquarters in Erbil. When Firla and Robertson could not get written
permission, they decided to return to Suleimaniya on the 22 June.  Later the team discussed the next steps
and decided to submit request letters to the Ministry of Interior and the
Department of Asaish for meetings to introduce CPT and the idea of the border
project, and listen to the concerns of the authorities.
Iranian Refugee Camp
Team members conducted several interviews at one of the Iranian refugee
camps.  They learned about the
political situation in Iran, the history of the refugee camps, and the life
stories of the activists.  Mr. A
was in an Iranian prison for fives months in 2010 because of his work as a
civil rights activist and narrowly escaped a hanging.  He shared his desire to create a better place for his
children.  This longing gave him
strength to survive from the torture. 
However, he told the team, he was dealing with psychological
trauma.  For example, he can become
very angry when his children make noise, and did not react this way before.