CPTnet
3 March 2012
COLOMBIA:  A cup of coffee sweetened
with justice
by Pierre Shantz
Almost eleven years after coming to Colombia, I finally
visited the famous Eje Cafetero.  It is a coffee region in the central
range of the Andean mountains.  Unlike Barrancabermeja's 35 degree Celsius
weather, the beautiful mountain breeze keeps the Eje Cafetero region at a
perfect 20 to 25 degrees.  It has
beautiful green mountains dotted with its coffee plantations.  The National Coffee Park shows the
history of coffee and how it is grown, and a few amusement rides add to the
fun.  People have told me for years that I should go.  In December of
last year, Juvenal Pacheco, a CPT Colombia team reservist from Armenia, told me
that it would be great to have a full-time member of the team talk about CPT
and promote the Holy Week delegation to the four Mennonite churches of the
area, Armenia, Pereira, Ibague and Girardot.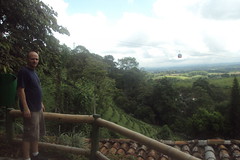 Beautiful view
From the fourth to 13 February, I toured around the
beautiful mountains.  I went to the National Coffee Park, saw the
different lookout points along the roads, and went to a few coffee shops to try
the local brew.  What made the trip even more amazing were the people I
met.  During my ten-day trip I spoke to three youth groups, one bible
study group and spoke in four Sunday services.  I shared about the work of CPT and how they could be
involved.  The Colombia team hosts
one delegation per year (the week before Easter) where we give priority to
Colombians who want to join a CPT delegation.  I encouraged people to
join the Holy Week delegation.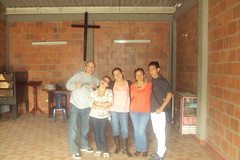 Leaders that will direct workshops on Peace and Nonviolence
The response was overwhelming.  Young in age and young
at heart requested application forms.  They also shared with me the work
for justice and peace they are doing.  The church in Pereira took me to a
low-income neighborhood where they will start workshops on peace and
nonviolence with the local youth and children.  One of the two churches in
Ibague is in a neighborhood built to house people displaced by violence. 
In the midst of churches that preach a message, "If you join us God will
bless you with money," the Mennonite Church tries to be a different voice
to people facing social and economic violence.  
So after trying everything with coffee in it from chocolate
covered  coffee beans, arequipe
(condensed, caramelized milk), wine, cake, and cookies I was feeling a
buzz.  But the buzz wasn't only from the caffeine.  It was also from the feeling of meeting
people who are committed to working for and sharing the gospel of peace,
economic and social justice.  Now the sad part is since we have a twelve-person
limit for the delegation we will probably have to turn a few away. 
Luckily, there is always next year.  And  who knows, they just might need someone to go and back and
share some more about CPT.  By then I'll need some more coffee
too.