CPTnet
22 March 2012
COLOMBIA REFLECTION: The journey of being women
 by Jenny Rodriguez 
 The Popular Women's Organization (OFP) has worked in the
Middle Magdalena region since 1972. 
Its members are women on a constant journey, always proclaiming and working
for their rights.  When they feel
their lives are at risk, they surround themselves with friends to talk about
what is happening.  This is the way
the leadership of the OFP responded upon learning that unidentified men had
been following their friend and coworker, Shayo.  Throughout the days filled with fear and anxiety, they have
not given up.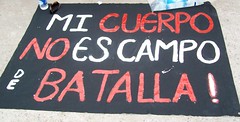 _
My body is not a battlefield!
This event reminded me of a story in the Bible.  The book of Ruth tells of two women who
had family ties, Ruth, and her mother-in-law, Naomi.  After the deaths of their husbands, they decide to leave and
return to Naomi's home village.  It
is a story of solidarity, love, friendship, nobility of soul and profound
humanity.  That is exactly what we
found in the women who have asked CPT to accompany their friend, Shayo.  As Ruth did with Naomi, they have not allowed
Shayo to be alone.  They have not allowed
their companion to walk through places that may be unsafe.  This compassion among women opens up new
horizons that lead us to the place where life itself truly is, that place where
friends and colleagues of Shayo encounter one another.  Ruth's story is an example of dignity,
joy, and great change, all because the two cared for one another.  Mutual counseling and support was their
strength, which allowed them to follow their chosen path.  It is with this same hope that Shayo,
along with her friends and coworkers, continue.
 Women are life and love.  We must persist in denouncing what women will not tolerate,
and bring forth the elements for the transformation of a society where women
are persecuted and treated as bounty of war, into a society where women are
respected and loved.  The virtues
of the OFP women—fidelity, prudence, nobility, and generosity towards their colleagues—are
what Shayo and others have embodied when they feel their lives are threatened.  Let us also offer these to our neighbors.