CPTnet
27 March 2012
MICOAHUMADO, COLOMBIA: Celebrating ten years of community sovereignty 
Ten years of organizing, nine years as a People's Assembly
and a resilient, ongoing presence on the land—these were the achievements
celebrated by the community of Micoahumado in Colombia's Magdalena Medio region
on 14 March 2012.  Student groups
took up microphones, and with song, dance, and other artistic media, created an
ambiance of joy and hope under the theme, "Love Life, Work for Peace."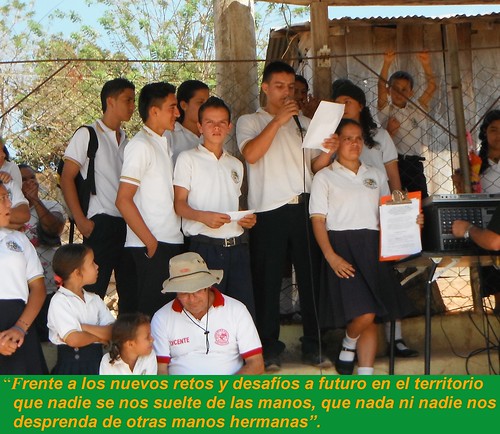 Their elders then took the floor to offer each other thanks for
having accomplished so much.  The
respect for their rights to remain on the territory have not come cheap, but
are fruits of constant dialogue. 
Their words and their actions together have made their unity as a
community evident.  Moments of
self-criticism did not detract from the event's celebrative atmosphere, but
served as a reminder that after ten years of walking the talk, the road
stretches out ahead and the trek goes on.
These joined hands of the women, men and young people shouting,
"Be strong!" are the same hands that rise to stop every looming act
of plunder, threat and endangerment. 
In that spirit, this refrain, uttered with firmness and certainty, rose
throughout the celebration: "In the face of new challenges to our future
on this land, may no one be pulled from our hands, and may nothing nor anyone
separate our hands from those of our neighbors."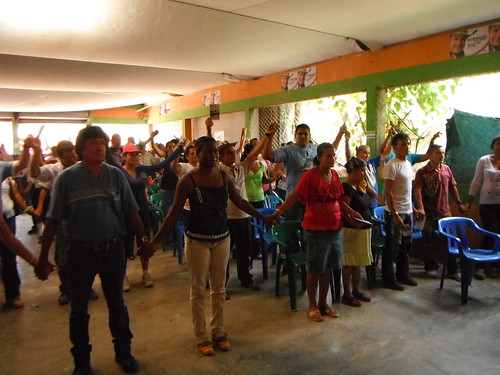 The people of Micoahumado have maintained faith in a God,
who liberates them from the dark night of bombs and battles, who has
accompanied them during these years of fear, who has freed them from death and
kept them on their land.  May it
ever be so for those who love life and work for peace.