CPTnet
9 April 2012
IRAQI KURDISTAN REFLECTION: I am afraid of bombing. (And there is shelling too)
by Kathy
Moorhead Thiessen
[Note: Remember
to sign up for the 24-hour prayer-a-thon for peace to support displaced
Colombians.  In coordination with
the Days of Prayer and Action for Colombia (DOPA), the Colombia
team is seeking prayers from all over the world over the course of a full day. Click here to sign up for an hour, alone or with a group,
between 6:00 pm Saturday 14 April 6:00 Sunday 15 April 2012.  Light a
candle, sing, meditate, read a story, or just sit quietly in the presence of
God.]
Me: I like the
colour blue. What colour do you like?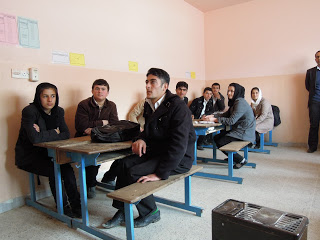 Boy: I like the
colour black.
Boy: I like the
colour yellow.
Me: I like to go
walking for fun.  What do you do
for fun?
Boy: I like to
swim.
Girl: I like to
play guitar.
Me: I am afraid
of very loud thunder. What are you afraid of?
Girl: I am
afraid of snakes.
Girl: I am
afraid of bombing.
Teacher: (And
there is shelling too)
The Iraqi
Kurdistan team had made the three-hour trip to Sunneh, in eastern Iraqi
Kurdistan to teach English.  Not
exactly the mandate of CPT, but we see these monthly trips as a way to become
acquainted with some of the eighty pupils in the school.  We would like them to be part of a video
narrating their life in the mountains of Iraqi Kurdistan, telling what it is
like to be part of a village that is shelled every year from a country on the
other side of the mountains.
Though they have
had to face bombardment many times, the summer and autumn of 2011 brought the
worst shelling that Sunneh and surrounding villages have experienced.  The villagers had to again vacate their homes
and take a few belongings to tent camps out of range of the shells.  At the end of October, the government
authorities came to the camp and informed them that water tanks and generators
would be removed the next day.  They
were to return to their homes as the government deemed the area safe.  However, the authorities did not take
into account the fear of the families or the nightmares of children.
The villagers
had no choice but to go back to the houses and land that should have provided
food for the summer and stored goods for the winter.  One man said that he usually gets fifty to sixty bushels of
produce from his land; the harvest of 2011 provided less than one.  Even though the villages are in the
mountains the weather is still dry and hot.  The gardens and fields need constant irrigation.  When the farmers are in the Internally
Displaced Persons (IDP) camps, the crops dry out and die.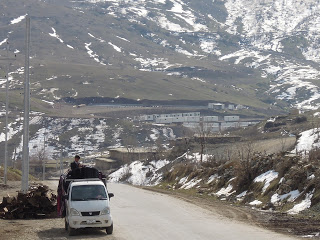 Spring 2012 is
here now.  The mountains of Iraqi
Kurdistan are lush and green and the tiny fragrant narcissi are sprouting
everywhere.  Hope could be here for
a year of freedom from shelling, for the chance to run, play, and grow crops in
peace, for sixty bushels of produce.
 However, government
is building white rectangular cabins in areas beyond the reach of shells: the
IDP camps will not be tents anymore. 
But the construction seems based on the assumption that the cabins will
be used.  The families will still
hear the whistles and the explosions. 
They will still have to run and leave behind houses, fields, and
animals.  For, as one farmer told
the team, "they have built these close to another village.  They will not allow us to bring our
animals because they need the grazing area.  Our goats and cows will have to stay where it is not safe."