CPTnet
30 April 2012
COLOMBIA: Where is
your sting?
by Duane Ediger
 "You have to show them that you won't harm them,"
said Don Misael. He moved his hand toward the wasp nest and gently cradled it
in his palm.  A half-dozen curious
creatures explored his hand for several seconds as he slowly pulled it back
before they flew back to the nest.
Having established this peace, Don Misael, a leader of the
Buenos Aires Farmers Association (ASOCAB), fellow farmers, CPTers and other
accompaniers planted a tree sapling to mark the one-year anniversary of the
return to Las Pavas.
The planting closed anniversary celebrations in which over a
hundred returnees retraced the steps of their risky homecoming.  Their reflections on their struggles
and the scriptures cross-pollinated. They chased down a community animal and
shared a feast of beef and rice. They sang accompanied by accordion, drum, and
guira, rejoicing in God's faithfulness.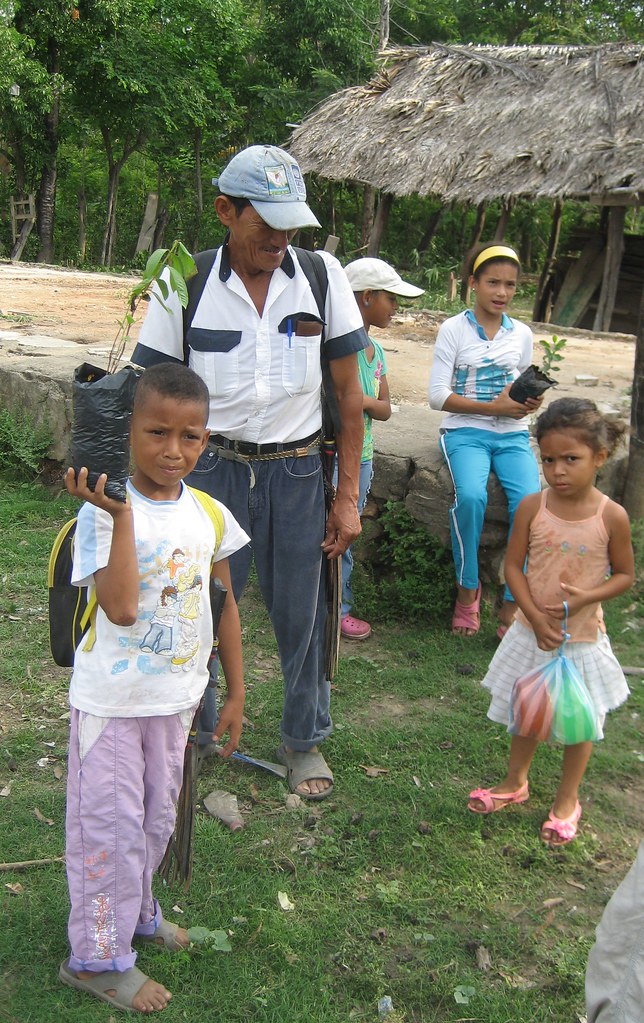 Saplings to
commemorate the anniversary of the Las Pavas return
 "My grandfather came here in 1950. The first displacement was by cattle
ranchers in 1958," Don Misael shared around the evening campfire. Since
the 1990s, drug barons and palm plantation masters have issued threats directly
and through paramilitaries.
Eliud Alvear, a
teacher and community leader continued, "Since ASOCAB formed in 1998,
we've been forced to flee three times by paramilitaries. But we're still here.
Not many Colombian communities can say that. In 2000 we made a firm decision to
rely on God, and not to let any armed group divide us."
"In 2006 we
filed for legal title," he added. "Soon after, paramilitaries forced
us off and the palm companies moved in. After more than a year, despair set in.
We asked God for a sign. 2008 brought floods that destroyed all 14,000 palms.
The workers [temporarily] evacuated. We took this as an answer to our prayer
and returned. When we were wrongfully evicted in 2009, our words were not 'Good
bye,' but 'See you later.'"
One year ago, the Las
Pavas farmers returned in time for spring planting. They maintain an uneasy
truce with palm oil producers who work on separate parts of the same estate.
Soon after last year's return, the Constitutional Court decided that the 2009
eviction of the farmers illegal. But the government rural land agency (INCODER)
has failed to move on many land claims, including ASOCAB's. Under pressure from
the Interior Minister, the INCODER head resigned on 1 April and was replaced by
a former leader of the Magdalena Medio Peace and Development Program, a
church-sponsored organization that provides legal representation to ASOCAB.
The newly planted
anniversary tree is a medlar, which, when full-grown will bear fruit
year-round.  It is rooted in land
that the community has reclaimed and will share the space with yucca, plantain,
and other food crops. 
The medlar also grows
in sight of endless acres of monoculture oil palm, the compound of the palm
companies responsible for the 2009 eviction, and a wasp nest, all of which have
experienced the community's unintimidated, lived commitment to nonviolence.