CPTnet
20 May 2012
UNITED STATES: An invitation to
insurrection. Apply for Wild Goose Festival by 21/5/2012 for 15% CPT discount
by Peter Haresnape
It started with just one or two people refusing to comply. Instead of obeying
instructions, they started asking why some of us acting as soldiers were removing people. More people started to notice, turning from the speaker to
watch the detention of festival attendees, and those detaining them. Some moved
closer, ignoring the authorities' commands to stay away.  Before long, the situation could not be
contained.
As one of the mock soldiers, I was irritated to find listeners denying my
power. We had organised this surprise role-play with the speaker at the 2011
Wild Goose Festival,
planning to interrupt his talk with a security check of the audience who were enjoying
the warm sunshine on the grassy meadow. All the young men were told to report
to our checkpoint, and our uniformed actors assembled them into a line for
processing, off to one side of the field, as the speaker resumed his talk. It
was easy enough to ignore the few people who objected to our interruption.
We had arranged to have a couple of confederates among the crowd, and we pulled
these few out of the line, searched them, and carried them off out of sight, as
we had practiced with them beforehand. 
At this point the crowd went off-script. The role-play slipped out of
our control as festival goers started to surround those of us acting as
soldiers, blocking our access to each other, preventing our abduction attempts,
and, most alarmingly, praying for us. While trying to restore order, Inoticed
the last of our 'captives' escaping the holding area marked out in plastic
cones and realised that retreat was the only remaining solution.
The Wild Goose is a Celtic image for the Holy Spirit 'evoking unpredictability,
beauty and grace.' The way the role-play went evoked all of these things. What
surprised me most was the crowd's unrehearsed nonviolent action, resisting and
disarming an ongoing injustice. The scenario last year was generic, but it
could have been from any of the places where CPT works, and it reminded me of
the way CPT uses role-plays as a training tool.
Wild Goose is a place to explore and develop a culture of peacemaking.
"Embracing the creative and open nature of our faith is perhaps our greatest
asset for re-building and strengthening our relationships with each other [and]
with our enemies," according to the festival website. "In that spirit… and in
the context of creative and respectful relationships, we invite you to imagine
a new world with us."
I think CPT's vision statement, "a world of communities that together embrace
the diversity of the human family and live justly and peaceably with all
creation," is an expression of the same Spirit. The next generation of
peacemakers will be called and equipped through this vision, as the Spirit
moves and calls us to action for peace in our world.
 
Wild Goose 2012 takes place in North Carolina from June 21-24
For more information go to  https://www.wildgoosefestival.org/about-us/wild-goose-invitation.
To get a special CPT discount go to https://wildgoosefestival.eventbrite.com,
click on the 'Enter Promotional Code' link and use the code 'PEACEMAKER'
between Saturday 19 May at 6am and Monday 21 May at midnight, (GMT -5).  This entitles you to a 15% discount
from any full weekend ticket (adult, child, family or student).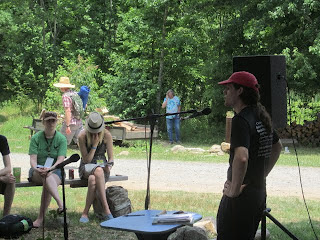 Peter Haresnape leads workshop at Wild Goose 2011