CPTnet
28 May 2012
IRAQ REFLECTION: A moment for the martyrs

by Carrie Peters
This is the story of Sardasht Osman. On 5 May
2010, his body was found, shot, outside the city of Mosul. He had been abducted
from outside his university two days earlier, in front of a crowd of witnesses.
Sardasht, twenty-three, was in his final year
studying English at university in his home city of Hawler (Erbil in Arabic). The prospective journalist
already had articles published in newspapers and websites. His final opinion
piece, "I Am in Love with Massoud Barzani's Daughter," criticized the KRG president's wealth in biting satire. "If
I become Massoud Barzani's son-in-law," he wrote, "we would spend our honeymoon
in Paris and… visit our uncle's mansion in America. I would move… from one of the poorest
areas in Erbil to… [Barzani's palace complex, and]…
be protected by American guard dogs and Israeli bodyguards." He continues, "All
my friends said, 'Saro, let it go and give it up or you will get yourself
killed. The family of Mulla Mustafa Barzani [Massoud Barzani's father] can kill
anyone they want, and they surely will.' "
And it appears they did. The official report, issued later that year, declared
that Sardasht had been in league with an extremist group that killed him after
he could not meet their demands. His relatives and colleagues consider this
rubbish. Sardasht was abducted in Hawler. His body was found handcuffed and
shot in Mosul a city with a lot of violence and an al -Qaeda
presence. Voicing widespread suspicions of official involvement, Kurdish and
international observers have called for an independent investigation, but the
authorities never launched one.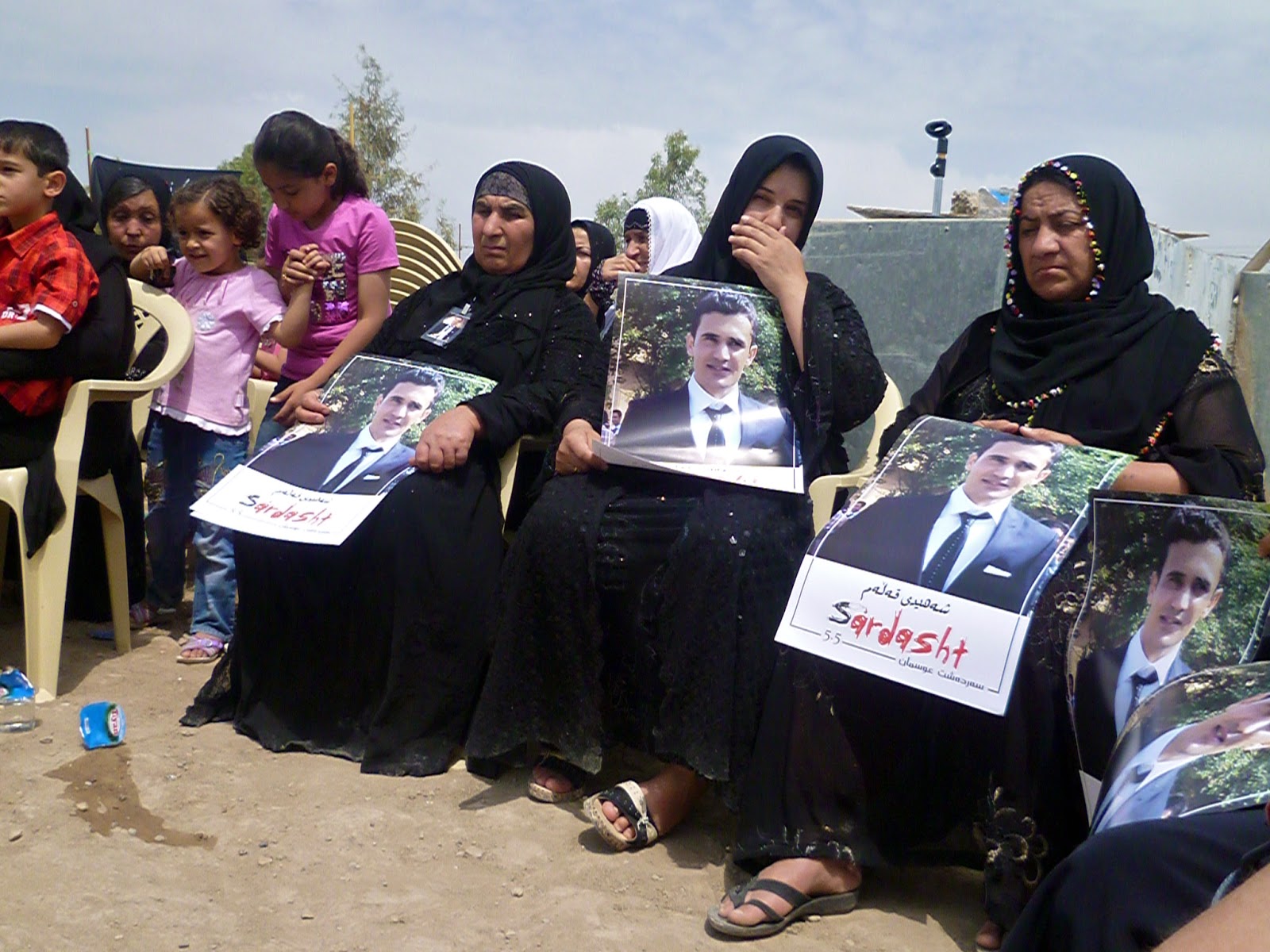 On the second anniversary of Sardasht's murder, CPTers joined 150 people,
including journalists, at his gravesite. Laura and I, the female team members,
met with the family's women.  As I
lightly shook the hands of Sardasht's aunts, sisters, cousins and mother, I
could find no words. I felt like an interloper.
Some of them smiled sadly; all of them met my eyes. I tried to impart through
my gaze the terrible compassion I felt. I tried to say, "I'm so, so sorry, and
your son is not forgotten."  I don't know
how to offer solace for something like that. I don't even know if I should.
Even though, felt like an interloper, I don't think I was perceived as one. After
the services, Sardasht's father and brother said how grateful they were that
we'd come, that there were internationals here watching and remembering, too.
So it occurs to me that I can tell Sardasht's story to an audience that likely
has never heard of him, tell about his life and his death, about how he is
remembered, and how journalists under the KRG are still risking their lives every day
to report the truth.
Here in Iraqi Kurdistan, before a meeting or gathering, it is traditional for
everyone to rise and stand in a moment of silence, a moment for the martyrs.
Let's have a moment, then, for Sardasht Osman.