CPTnet
COLOMBIA ANALYSIS: Other nations deserve to live strong and
free as well
by Pierre Shantz
 On 1 July Canadians celebrate the 1967 creation of an
independent nation.   Their
national anthem refers to, "The True North strong and free."  The United Nations often names Canada is
as one of the best countries in the world to live in because of its public
healthcare, public education, good infrastructure, friendly and welcoming
people—everything a healthy society needs to develop and flourish.  If
only Colombians could enjoy the same thing.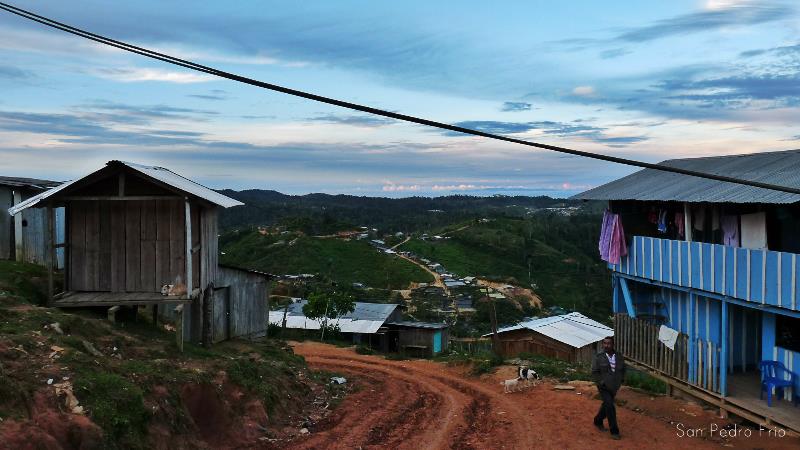 San Pedro Frio
From 27-29 June 2013 San Pedro Frio, a mining town in the hilly southern region
of the province of Bolivar hosted approximately three hundred people from local
communities and fifty people from the provinces of Nariño, Cauca, Chocó, Huila
and Antioquia for the second preparatory hearing of the "Ethical and Political
Trial against Dispossession." They gathered to share and document their stories
about how multinational mining company AngloGold Ashanti has committed or supported
grave human rights violations to acquire mining rights in these different
territories. The community of Bolivar talked about the Exodo Campesino (Farmers
Exodus) of 1998 where a mass mobilization of farming and mining communities
from the south of Bolivar rose up, demanding their rights of access to
healthcare, education, potable water, roads and the right to work the land or
mines without the threat from right wing paramilitary groups. This mobilization
led to agreements signed with then President Andres Pastrana. 
Unfortunately instead of fulfilling the agreements, the army and paramilitary
groups began a harsh campaign of repression against the communities and the now
identified leaders who had negotiated the agreements.
The 'Colombia Nunca Más' (Colombia No More) project, documented 330
assassinations, 80 forced disappearances, 88 cases of torture and more than
57,000 people displaced by paramilitary violence. Paramilitary groups and the
Colombian army assassinated key community leaders Luis Orlando Camaño in June
1997 and Alejandro Uribe Chacon in September 2006.  A military intelligence report said that Alejandro Uribe as a
leader was organizing and instigating the masses to fight against
multinationals, especially against AngloGold Ashanti.   Other leaders also have been threatened
with judicial persecution.  Teófilo Acuña, president of FEDEAGROMISBOL,
who is leading the resistance against large corporate mining and mass evictions
from the territory was wrongfully detained in 2007 because of a military
intelligence report that named him as a member of a guerrilla group.
Leaders from the other provinces also shared similar stories about how
AngloGold Ashanti is attempting to take over the land to make way for large
open pit gold mines.  A young man
from San Pedro Frio commented, "This is happening all over the place. For those
of us who hardly ever leave the area we sometimes think that we are the only
ones living this situation."
So how does Canada come into all of this?  A past CPT Colombia article,  "The Deadly
Cost of Gold Mining" showed how Canadian gold mining companies have
invested many resources to get access to Colombia's gold, including in southern
Bolivar.  These companies have directly and indirectly fueled the economic
and armed violence that continues to kill and forcefully displace hundreds of
people each year. In October 2010 the Canadian parliament voted down Bill
C-300, a law that would have held Canadian mining companies to higher
environmental and human rights standards around the world. When asked why the
parliament struck down the law, the Canadian embassy representative responded
that this law would have kept Canadian companies from being economically
competitive.  So it would appear
that the Canadian government believes that only Canadians are allowed to live
"Strong and Free" and that Colombians must suffer the consequences of the
competition for their gold.
So as Canadians sing "God Keep our land Glorious and Free, O Canada we stand on
guard for thee," let us remember that all nations deserve to live "strong and free."
Click here
for a more complete article about the gathering in San Pedro Frio.