CPTnet
11 January, 2014
COLOMBIA REFLECTION: Christmas Vigil in El Garzal

by Stewart Vriesinga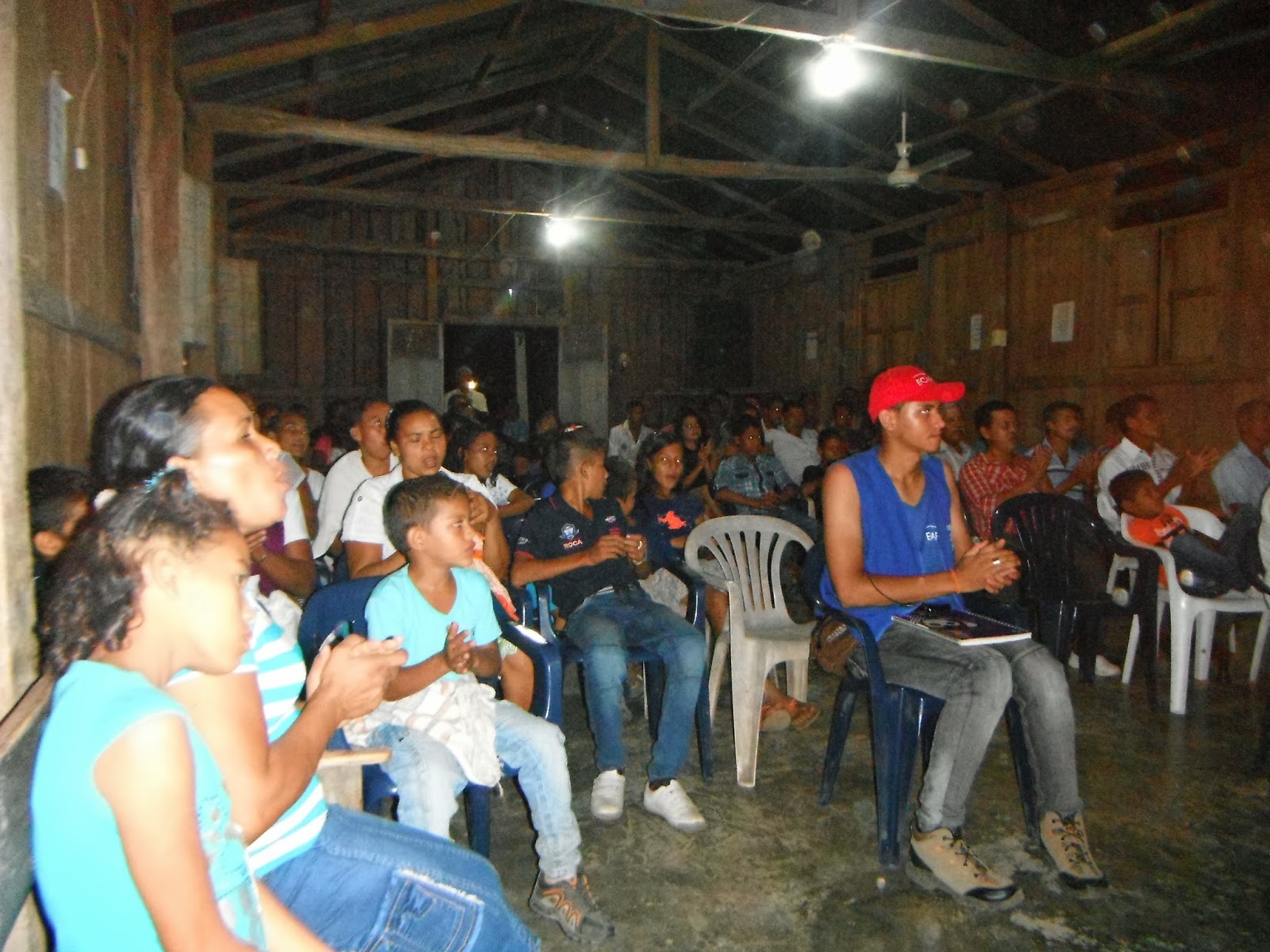 [NOTE: The following release has been edited for length. The Original is available here.]
It was a Christmas perhaps
more akin to that first one in Bethlehem than the ones I am used to in Canada.
No fancy lights—no electricity except for a diesel generator that gets used
occasionally at night. No Christmas tree, nor gifts under it. No alcohol. No
turkey. And, thankfully, without the cacophony of extremely loud music around
our house here in Barrancabermeja, where neighbours set up humongous competing
sound systems in front of their houses to celebrate the season.
Our main reason for
visiting was to accompany Garzal's twice-displaced leader and pastor, Reverend
Salvador Alcántara and his family, so they could spend Christmas with family
and loved ones in Garzal. Salvador and his family had to leave the area again
last May because of death threats. They miss Garzal very very much! Salvador
described the feeling of being back, albeit for only three days, as like being
re-born.
The vigil went on until
past midnight, with song and sharing. Afterwards people went outside to share
sancocho—a delicious chicken stew/soup often served at large gatherings made
with plantain, yucca, corn, carrots, onions, and other vegetables cooked slowly
in a humungous pot over an open fire. 
Unlike
my new Colombian teammate Jhon Henry, I only lasted for about
three hours of the vigil. But it made me reflect once again on the whole
Bethlehem story. I suppose the celebration is really about the birth of a King,
and, logically therefore, the good news of a new Kingdom. An upside-down
Kingdom whose King wasn't born in a palace, but in modest surroundings much
more like those we experienced in Garzal—an alternative King and an alternative
Kingdom! A Kingdom that Jesus' own mother predicted would bring down mighty kings from their thrones, and lift up the lowly (Luke 1:52). A Kingdom in which those now first in line for benefits and attention
would be last, and those now last would be first (Luke 13:29-39).
Paradoxically our host
Reverend Salvador (whose name translates to 'Savior' in English), like King
Jesus and his family (Matthew 2:13-14), ended up have to flee their homes as refugees from death-squads.
Jesus ultimately ended up being assassinated by his adversaries. Hopefully Rev.
Salvador will not. We can try to reduce the odds, but there are no guarantees.
We can expect lethal opposition. Nevertheless, if we are truly desirous of an
alternative Kingdom and world order we will persevere and follow the example of
the wise men who attended the
birth of King Jesus. They opted out of pre-existing kingdoms; they did not go
back to King Herod as he had requested, but instead 'went home by some other
road' (Matthew 2:12),
Like these wise men I concluded that celebrating the birth of this King without
also welcoming the advent of a peaceable and just Kingdom would miss the main
point! 
Despite hardships Garzal
continues find reasons to celebrate: the birth of a King and the long-awaited
alternative Kingdom; the return of 63 land titles last spring that were taken
from them by corrupt officials and life itself.  But they are still
awaiting 214 land titles they were promised. Salvador and his family are
awaiting conditions that will allow them to return to Garzal. The vigil
continues…