CPTnet
2 September 2014
COLOMBIA: El Guayabo calls for justice and transparency in
Puerto Wilches
by Cassandra Bangay
[Note: The following release has been adapted for
CPTnet.  The original is available
on CPT Colombia's team blog.] 
In his 1984 address at Mennonite World Conference that
served as the catalyst for the formation of Christian Peacemaker Teams, Ron
Sider described shalom as "being in right relationship with God, neighbor and
the earth."  Shalom, he says,
"means not only the absence of war, but also…the fair division of land so that
all families can earn their own way.  It…means the Jubilee and sabbatical release of debts so that
great extremes of wealth and poverty do not develop among God's people."
 When I walk through the community of El Guayabo on a
peaceful day, shalom is what I see. 
People live together, worship together, farm together, and welcome
strangers into their homes.  There
is food for everyone, even a surplus to feed the neighboring towns.  The recent illegal eviction attempt that
violently disrupted peace in this community was not only unethical, but also
tainted a lifestyle that is holy, a lifestyle that I believe is pleasing to
God.
 On 11 August 2014, the communities of El Guayabo and Bella
Union gathered to pray publicly and call for political transparency in the town
of Puerto Wilches.  They used
songs, Bible verses, speeches, and a dramatic action to bring attention to
the recent
illegal eviction attempt made by riot police.  During the planning stage, El Guayabo
leader Eric told the Christian Peacemaker Team delegation that the goal of the
action was to spread awareness about the eviction attempt (the origins of which
developed under suspicious circumstances) in Puerto Wilches, the largest town
in their municipality.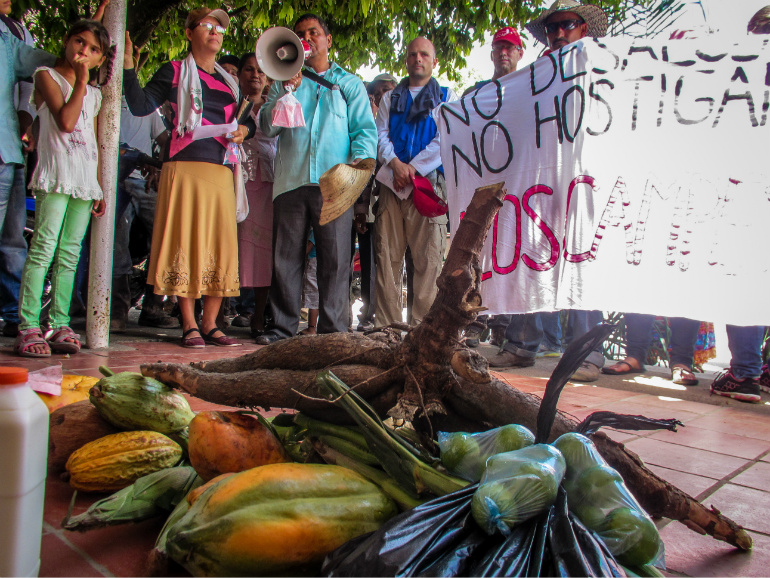 Edinson Garcia speaks during the laying down of the recent harvest
When they arrived at the Mayor's office, the farmers knelt,
each placing a different crop from the most recent harvest on the pavement
outside the entrance.  CPTers moved
forward with palm branches and symbolically covered the crops, as a delegate
listed aloud the harmful consequences that a lack of transparency about the
eviction process would have for the community.  The delegation then publicly stated their support for the
community as the Mayor looked on.  At
the conclusion of the action, a delegation leader gave a petition to
the Mayor signed by 180 international partners.
The petition called for the police inspector to adhere to
the legal eviction process and to ensure that each stage was clearly
documented.  The Mayor then invited
ten people to meet with him in his office.  Unwilling to yield immediately, Eric took the microphone and
named specific complaints that the community had regarding who signed the
eviction notice, so that everyone could hear. 
The community learned through the meeting that the Mayor had
not signed the document allowing riot police to attack the community; an
unknown palm oil company had.  This
news was bad for a number a number of different reasons, from what it says
about the power of corporations in the region to the fact that palm trees sap
nutrients from the soil, rendering it useless for subsistence farming.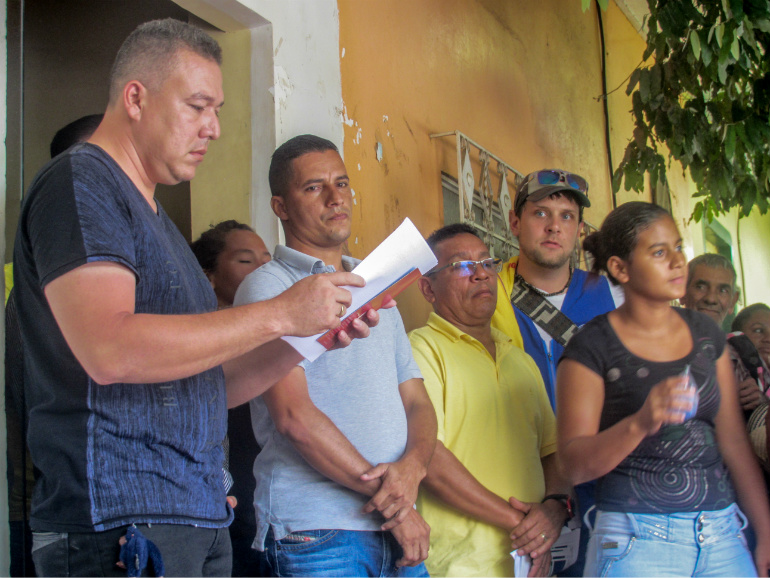 The Mayor of Puerto Wilches reads aloud the petition
Nevertheless, the community members were pleased with the
progress they had made.  They have
lived on the land for thirty years and are not going to give up without a fight.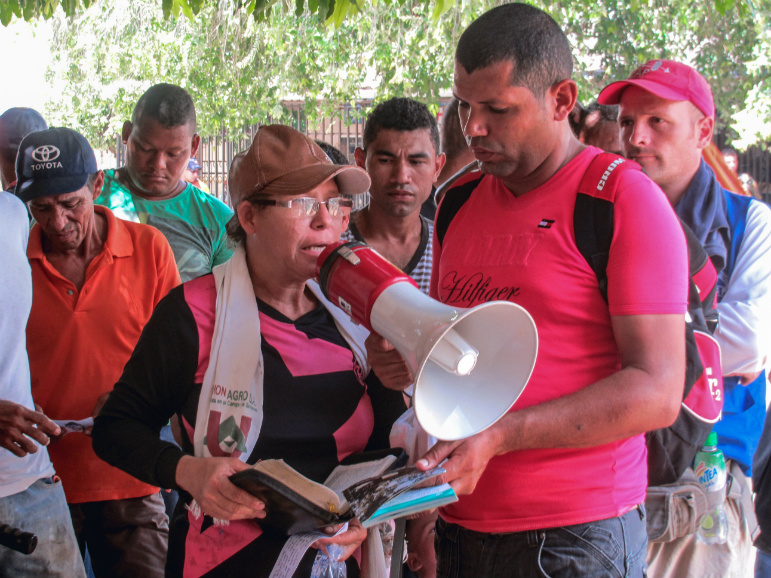 Mariela Badillio reads from John 1
---