CPTnet
31 October 2015
COLOMBIA: Shots fired in El Guayabo;
community responds with nonviolent action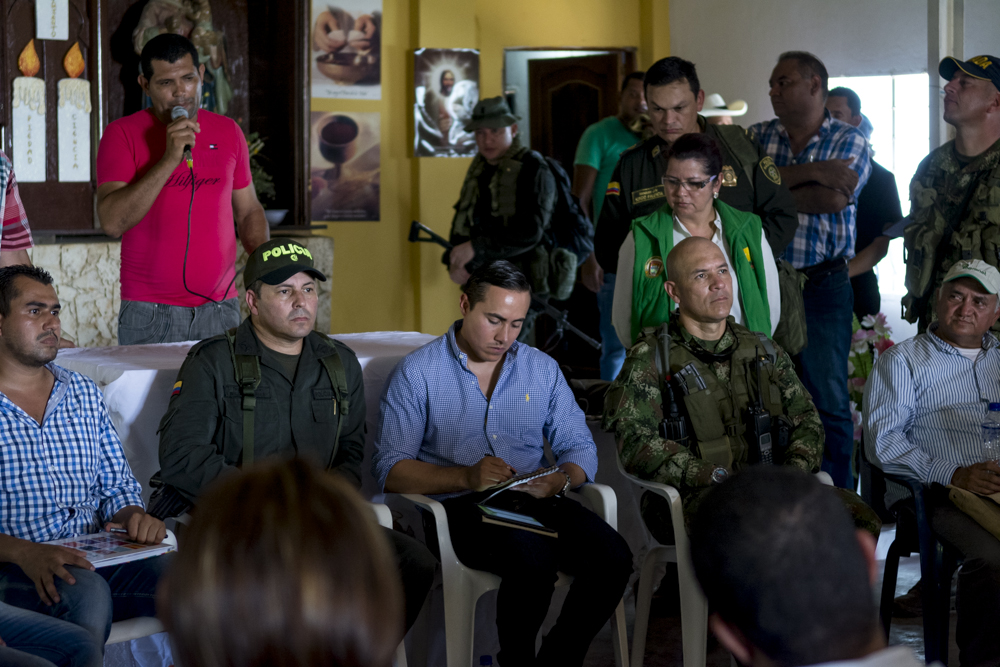 Eric Payeres (behind) presents Guayabo's case to the
 Governor of Santander (middle).
Yesterday, Eric Payares—a leader of Guayabo's legal struggle
to claim its land—along with three other community members heard shots coming
from the direction of the neighboring plot currently occupied by armed men
working for Rodrigo Henao.
"They're attacking us once again," Payares said. "This time
they're firing shots at us." Over the last year since the eviction
on October 29, 2014, this five-hectare plot of land has been a location of
continual attacks. Two days ago, similar to numerous previous occasions, Henao's
men cut fence wiring, which allowed cattle to enter and graze on Payares's
crops.
Henao claims that the community displaced his father with
the help of guerillas in the 1980s, claiming victimhood through the current
Victim's Law demanding that the land be returned to him. On the other hand, the
community has proven to have had no ties to armed groups and claims rightful
ownership through occupation and use of the land for over twenty five years,
after Henao's father, Octavio Henao, abandoned the land due to an unpaid debt.
This is Henao's second attempt on claiming ownership. In the early 2000s he
arrived accompanied by the notorious Bolivar Central Block, of the now
demobilised paramilitary group, the Self-Defence
Forces of Colombia (AUC) demanding the community abandon its land.
This abuse of the recent victim and land restitution laws, written to bring
reparation to victims of conflict, in addition to assassinations
and death threats has sent a chilly warning to land rights activists
and persons who resist displacement and claim ownership of land.
The police from Puerto Wilches, the municipal capital said
they were unable to respond and instead asked the community to leave the area.
Ten months ago, the Defensoria del Pueblo, the Office of the Human Rights
Ombudsman, issued an Alerta Temprana, an early warning system that requires local
law enforcement to respond immediately due to an elevated risk in the area. The
bitter irony however, lies in the police accompaniment of Henao for all of his
trips to Guayabo. 
The community's strength lies in their organization. Because
of constantly having to defend their territory—not only against attacks from
Henao's men but also from a biased response by the police and military—they
have resorted to nonviolent public actions.
Immediately after the shots rang out, community
members flocked to Payares's plot on motorbikes and horses.
Show your support for El Guayabo's grassroots nonviolence by supporting the Colombia team's accompaniment of the community