Prayers for
Peacemakers, November 16, 2016
Give thanks that campesino land struggle leaders of El
Guayabo and Bella Union are now free pending trial.  Eric Payares, Santos Peña and Jhon Freddy have been in hiding
because of false charges leveled against them by a large landowner Rodrigo
Lopez Henao. Pray for Alvaro Garcia, who remains in jail, and his
family.  Pray that the Holy one will
soften Lopez Henao's heart and bend it toward justice.  Pray also that the new peace agreement between the Colombian government and FARC will be signed in early December, so that rural
communities like El Guayabo and Bella Union, which have born the brunt of the Colombian civil war's violence, may at last find some sort of peace with justice.
*Epixel for Peacemakers  November 20, 2016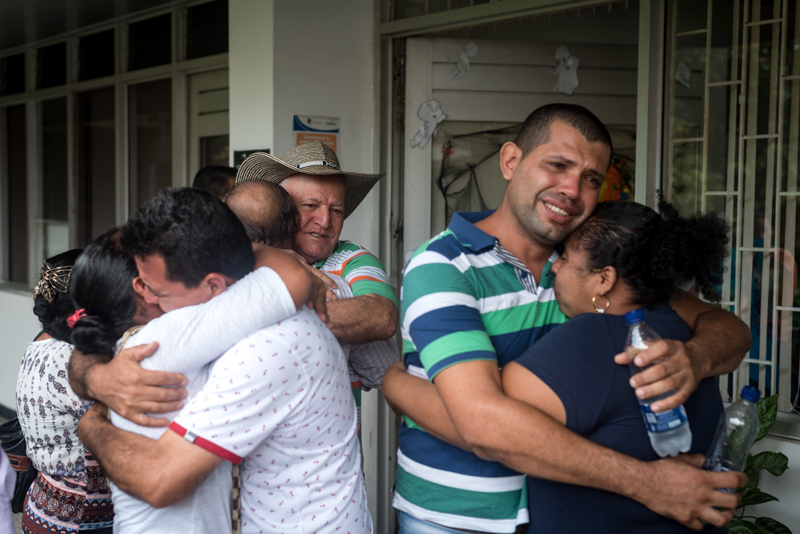 Erik Payares, Santos Peña and Jhon Fredy Ortega embrace their family in celebration outside the court in Barrancabermeja. (CPT/Caldwell Manners)
Woe to the shepherds who destroy and scatter the sheep of my pasture! says the LORD.
Therefore thus says the LORD, the God of Israel, concerning the shepherds who shepherd my people: It is you who have scattered my flock, and have driven them away, and you have not attended to them. So I will attend to you for your evil doings, says the LORD.
Then I myself will gather the remnant of my flock out of all the lands where I have driven them, and I will bring them back to their fold, and they shall be fruitful and multiply.
I will raise up shepherds over them who will shepherd them, and they shall not fear any longer, or be dismayed, nor shall any be missing, says the LORD. Jeremiah 23:1-4
*epixel: a snapshot-epistle to the churches related to and appearing  

with a text from the upcoming Sunday's 
Revised Common 
Lectionary readings. Psalm 17:1-2, 8-9