CPTnet
21 November 2016
IRAQI KURDISTAN NEWSLETTER: October 2016–Turkish bombing, government corruption, teachers' demonstrations and more!
We feel we are living in a jungle
By Latif Hars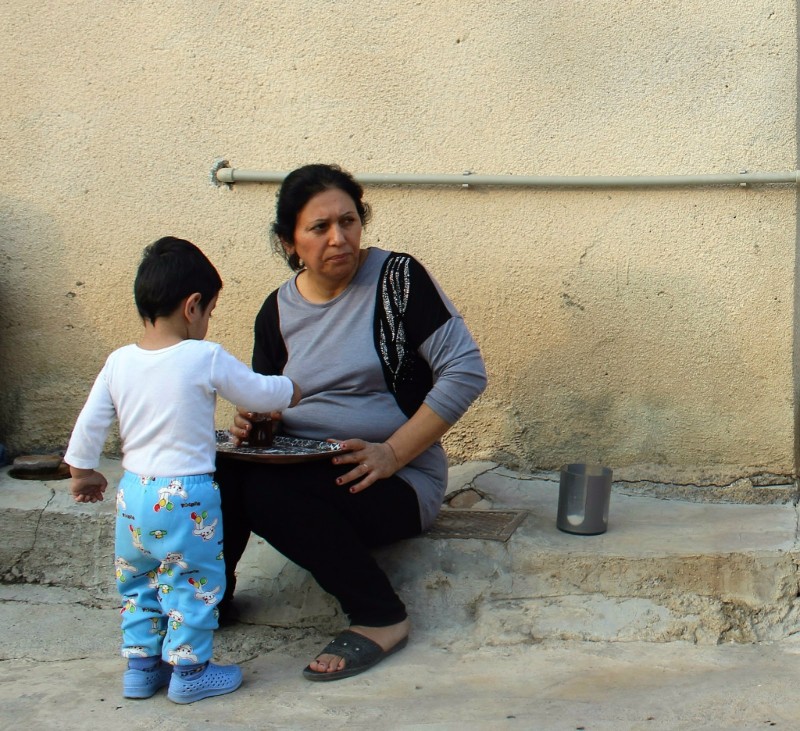 A women from Kashkawa talking to the team about their situation. Photo by: Kasia Protz
A women who was sitting with us said, "We haven't any guarantee of our safety and life under the Turkish bombings." We noticed the fear on the faces of children and women, even after three months since the last bombing. While we were listening to them, Sliwa Zaya who has come with us from Kashkawa village said, "We are living in a jungle because we haven't any assurance for our life".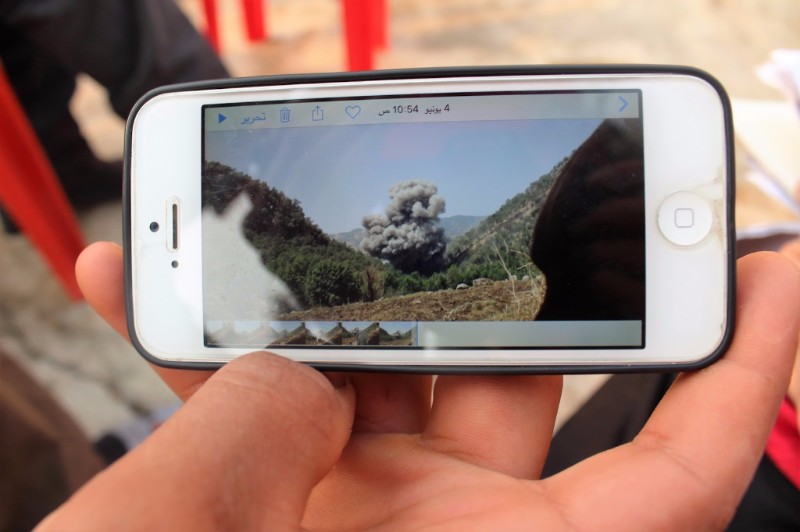 One of the villagers showing the team the photo of the last bombing. Photo by Kasia Protz
We are not going to leave, this is our home and our land it belongs to us. 
By Kasia Protz
Before the bombing started, there were twenty-three families living in Muruke, now only nine are left. Many families left after June the 4th when the last bombing happened, very close to the village and at 10 in the morning it was especially traumatic and a frightening experience, some of the villagers had to run to the nearby forest to hide. Luckily nobody was hurt, because at this time of the day many people were outside of their homes.
Demonstrations in Iraqi Kurdistan
Updates from Hemin and his family
Hemin is a human rights activist whom CPT accompanied for more than three weeks. Hemin was beaten by the security forces in the city of Erbil; his head and eyebrows were shaved. He managed to come to the city of Sulaimani, he then asked CPT to accompany him and his family. CPT visited his family in the city of Erbil where no one was able to visit them or speak to them, because they were threatened by the security forces. Hemin and his family had no choice but to leave their home and move to the city of Sulaimani. After two weeks of living in fear, his family managed to move to the city of Sulaimani. 
Read CPT's full report to learn more about Hemin and his family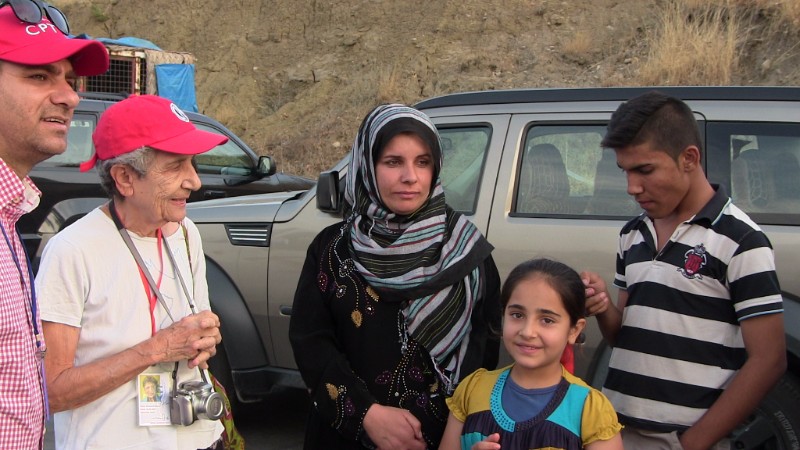 CPTers welcoming Hemin's family to the city of Sulaimani. Photo by Julie Brown
Government workers continue to demonstrate in the city of Sulaimani
During the month of October, the teachers in Sulaimani organized many more peaceful demonstrations against the corruption in the government sector and to demand for their full wages to be paid. The teachers in Sulaimani haven't received their full salaries since the last year. Throughout the month of October the schools and Universities remained closed, leaving children and students without the access to education. The teachers were not the only ones demonstrating; they often were joined by school children, students, retired Peshmerga (Kurdish army) who had not received their pensions for the last couple of months and various people from different governmental institutions. Many teachers gave speeches asking the government to stop the corruption. Some students spoke as well. On October 23rd, a group of teachers instead of demonstrating on the streets chose to donate blood in solidarity with people who have lost their lives because of war.
CPT has accompanied them during those demonstrations and will continue to do so, as CPT has been invited by the government workers. We will update you more in our upcoming newsletter.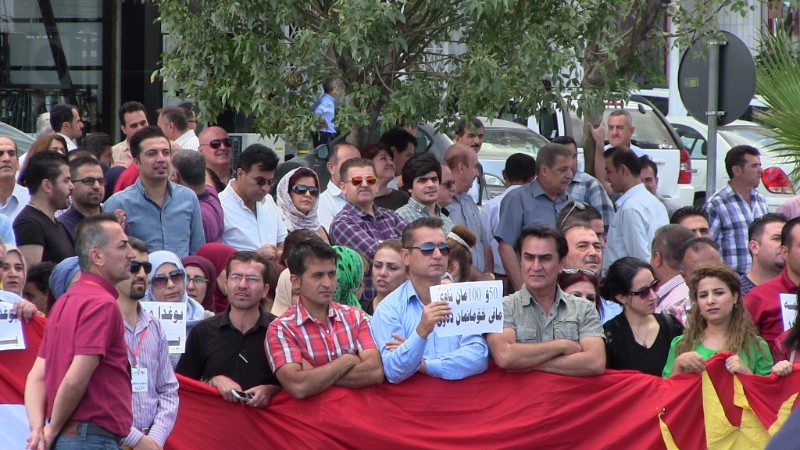 Teachers demonstration in the city of Sulaimani in demand for their full salaries and to stop corruption in public sector. Photo by Rezhiar Fakhir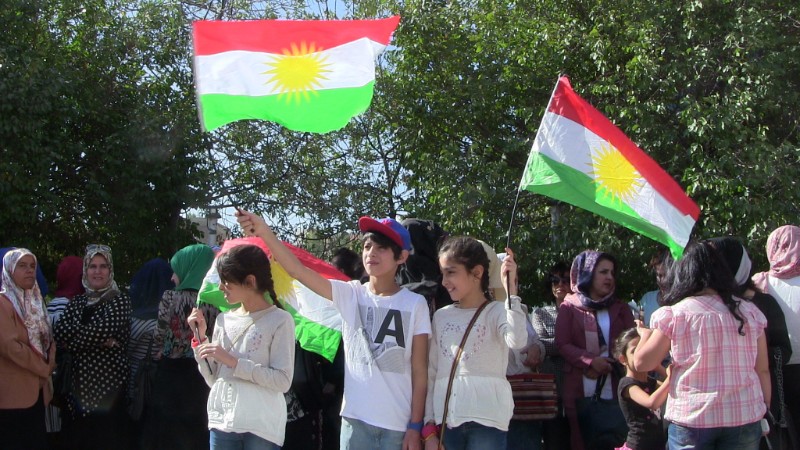 Many students joined teachers demonstrations in demand for their full salaries to be paid and to stop corruption in the public sector. Photo by Rezhiar Fakhir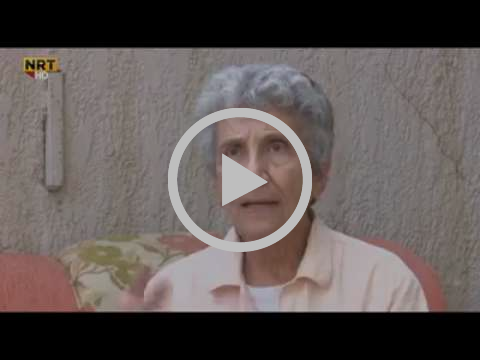 Rosemarie's interview with NRT TV in Iraqi Kurdistan. Video by: NRT tv.
Rosemarie Milazzo's Interview. 
By NRT tv
Our teammate Rosemarie was interviewed by NRT tv about her life and her work with CPT. She briefly talked about the demonstrations organized by the government workers, especially the teachers. Furthermore, She talked about the importance of education for children and the rights of teachers and other government workers. 
Click on the photo to watch the full video.
ڕۆزمێری، ئەندامی ڕێکخراوەکەمان لە چاوپێکەوتنێکیدا لەگەڵ تەلەفزیۆنێکی سەربەخۆی کوردیدا باسی ژیان و کاری خۆی دەکات لەگەڵ رێکخراوەکەمان. هەروەها بەکورتیش باسی خۆپیشاندانەکانی مامۆستایان و فەرمانبەران، بەتایبەتی مامۆستیان دەکات لە هەرێمی کوردستانی عێراق. هەر لە درێژەی چاوپێکەوتنەکەیدا باسی گرنگی پەروەردە بۆ منداڵان و مافەکانی مامۆستایان و فەرمانبەران دەکات. 
بۆ بینینی تەواوی چاوپێکەوتنەکەی ڕۆزمێری، تکایە کلیک لەسەر ئەو وێنەیەیی سەرەوە بکەن. 
Pondering
By Rosemarie Milazzo
"There are inner bars cutting me up"

Mrs. H told us, "My heart is shackled; where is daddy" cries my son. "When will he be home again"

Kak J said, "I walk on my land and see shrapnel, huge bomb remnants where I once saw my animals grazing."

Mrs. H: "I don't sleep nights for fear my children may be abducted; I live in fear knowing I, myself may be abducted."
Rosemarie is a popular woman in Kurdistan. She is known for her warm-hearted personality and openness towards others. She has been a reservist with the CPT Iraqi Kurdistan team since 2010. This stint was her sixth time with the team. In the two months that she spend with us she led a delegation, accompanied our partners who are affected by bombing, accompanied teachers who are resisting the government in demanding their rights, and took on some tasks to run the office. Her happy and friendly presence will be missed.
CONNECT WITH US AND GET INVOLVED
We need your support to continue doing this work. Please consider donating to cover: 
$5 – Food for a CPTer for one day
$35 – Support for our team members to learn the local language.
$50 – Day trip to a village