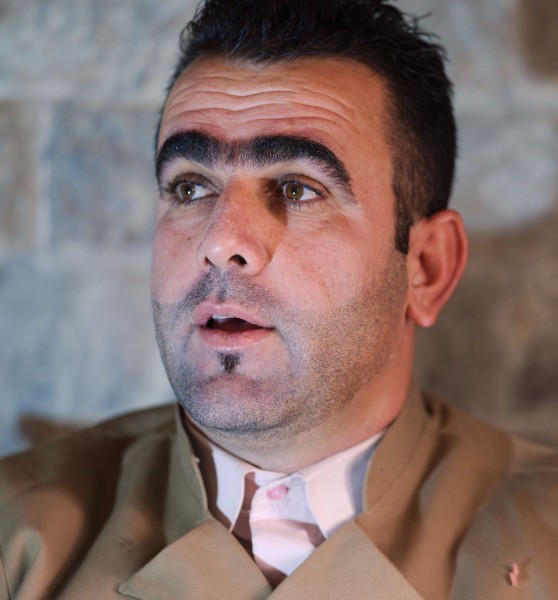 Awat Hassan talking to CPTers at his home. Photo by: Gabe 
CPT started around the clock accompaniment for Awat Hassan
Teachers' demonstrations in the city of Sulaimani continued in January 2017 as people demanded that their full salaries be paid and for a stop to corruption in the public sector. During those protests many of the organizers and human rights defenders were arrested and harshly treated by the security forces. Awat Hassan was one of the main faces of the protests and was severely beaten, detained, and his car was burned. His wife, brother, and eleven year old daughter were also detained. In addition, his younger children were traumatized after seeing those incidents. He invited CPT to accompany him and his family during the demonstrations.

Towards the end of January, the government forced the teachers to end the demonstrations but the threats towards the organizers continued. Due to this, CPT recieved a request by Awat Hassan for around the clock CPT accompaniment for him and his family that lasted over a month. CPT also ran an international campaign to ask the government to provide security for Awat Hassan and his family.  
CPT accompanies BBC reporter and Claire Thomas to meet some of the main organizers of the demonstrations in Sulaimani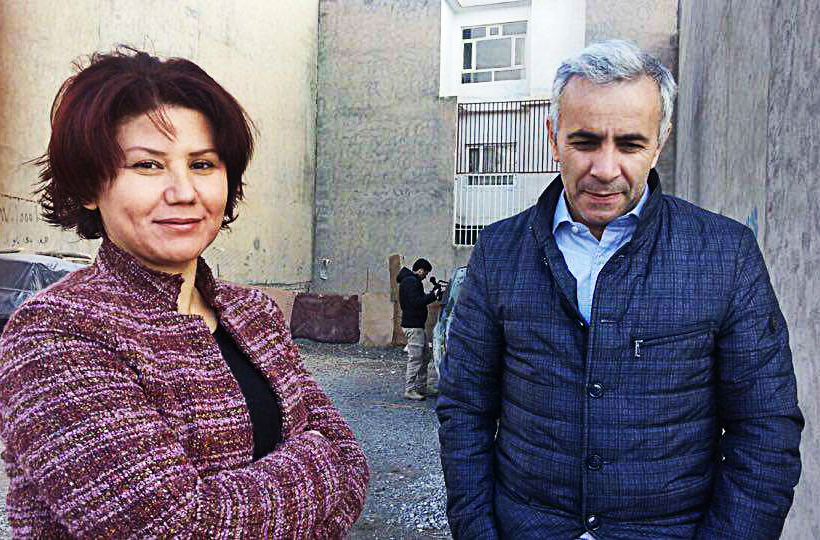 Gulala Sdiq talking to BBC reporter about her time in prison and how her car was burnt. Photo by: Rezhiar Fakhir
BBC World News and BBC Persian visited the city of Sulaimani to meet the main organizers of the teachers' and workers' protests. CPT was invited to accompany them to meet Gulala Sdiq and Awat Hassan to learn about the demonstrations and current situation of Iraqi Kurdistan.

CPT was also invited by Claire Thomas, independent journalist and photographer, to accompany her to meet Awat Hassan and his family. Claire Thomas's aim was to write a report about the teachers' demonstrations and human rights violations against the main organizers in the city of Sulaimani.
 
Awat Hassan and Gulala Sdiq have been arrested, threatened by the security forces and their cars have been burned in the past. CPT has accompanied them and written reports.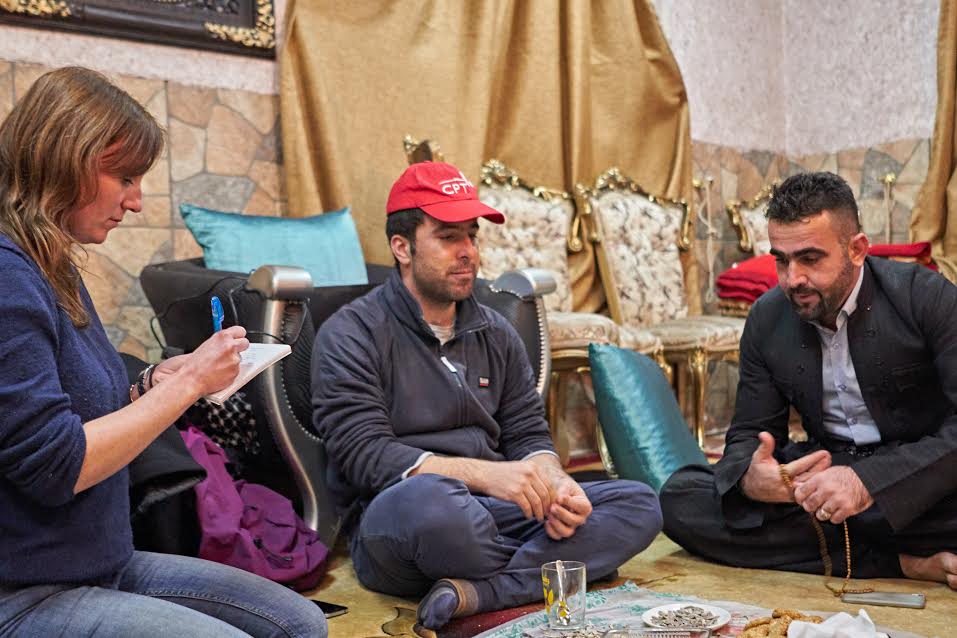 Awat Hassan talking to Claire Thomas about his struggle and the teachers' demonstrations in Sulaimani. Photo by: Gabe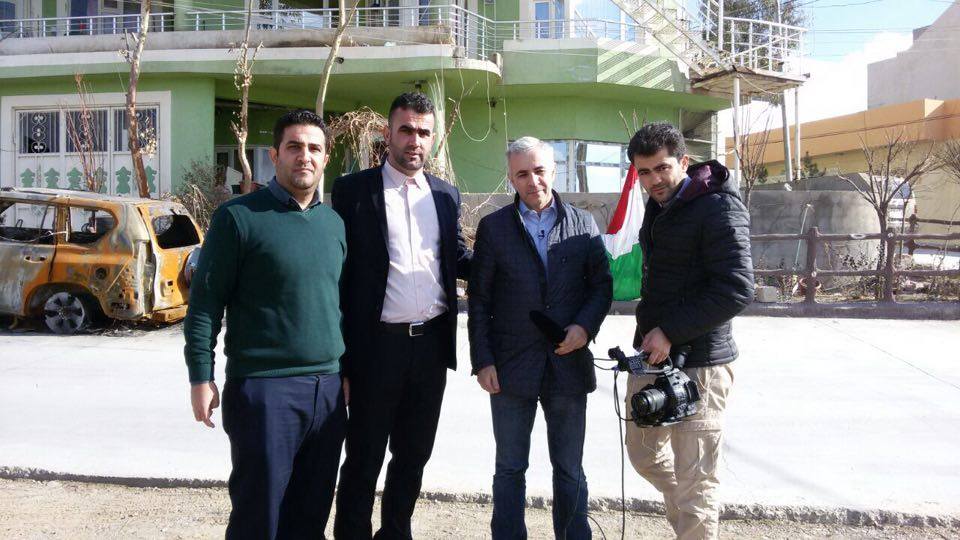 Awat Hassan and his brother talking to BBC at their home. Photo by: Rezhiar Fakhir
CPT accompanies Awat Hassan to meet the Prime Minster and his deputy of Iraqi Kurdistan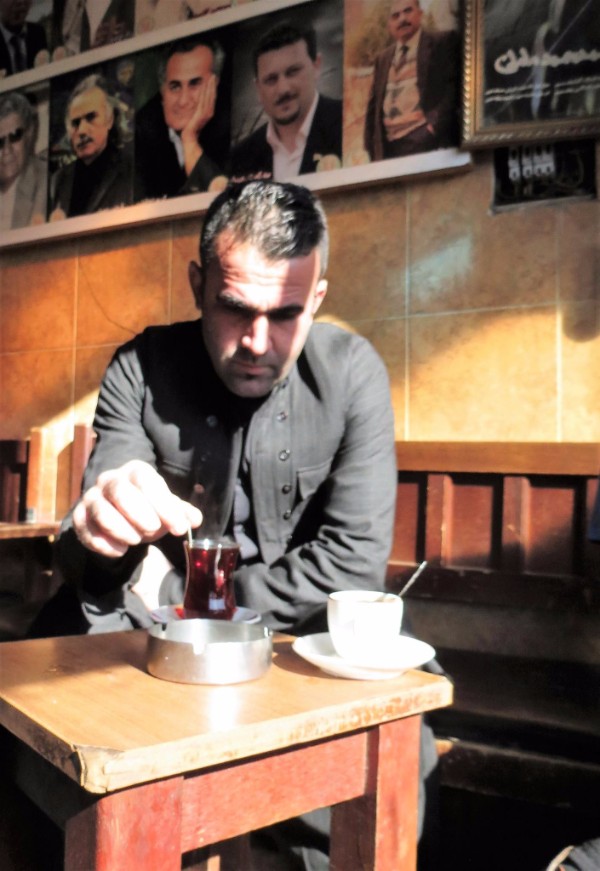 Awat Hassan drinking tea during his trip to Erbil. Photo by: Julie Brown 
In January 2017, Awat Hassan and five other organizers of the teacher's demonstrations were invited to sit down with the Prime Minister of Iraqi Kurdistan (IK), Nechirvan Barzani, his deputy Qubad Talabani, and other high ranking members of the government to discuss the ongoing teachers' demonstrations throughout South Eastern Iraqi Kurdistan. Awat has been one of the active organizers in these demonstrations for over a year and as a result, he has been a target of violence and threats by local authorities as well as unnamed actors. The meeting took place in Hawler (Erbil), IK, about two hours away from his home city of Sulaimani. Awat asked CPT to accompany him to Hawler due to past threats against his safety. There was also an increased chance that he may be detained at any one of the many checkpoints because he had no government form of identification. In November his vehicle was set ablaze in front of his home and his identification was inside.
Awat arrived to his meeting without incident along with several other members of the organizing council. After a lengthy meeting with the Prime Minister and his deputy no agreement was reached. 
Teachers in South Eastern IK had been engaged in demonstrations and a strike leaving many local schools closed for months. In mid January, with schools reopened for the second half of the year by governmental order, many teachers still attended demonstrations on their days off while others remained on strike and risked loosing their jobs. The demonstrations stem from nonpayment of salaries for several months followed by a percentage cut in contractual wages once payments resumed. CPT has been reporting on the demonstrations and accompanying several organizers over the past year.
Demonstrations in Iraqi Kurdistan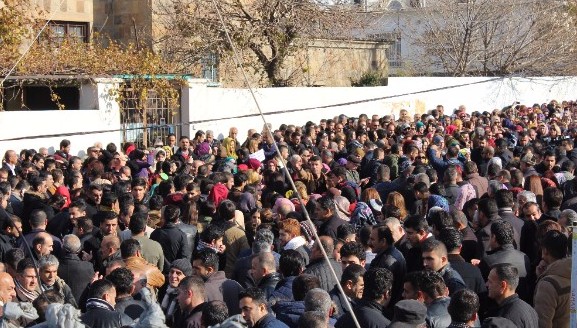 Teachers gathered in front of the Education Directory in Sulaimani. 
Photo by:Rezhiar Fakhir 
Teachers ended their protests under the pressure of the government and security forces
Teachers and other workers from other governmental institutions started the new year by stating that they would continue their protests until their demands are met. However, the government responded very harshly and threatened many of them. The government also forced many of those teachers and workers to go back to their work. Nevertheless, the teachers tried to approach the political parties and have an open dialogue about their demands. One of the organizers told CPT that the government has told them that they cannot respond to their demands, and it is in their interest to end the demonstrations.

In mid January, the teachers announced that they would end protests and go back to their schools. However, the threats continued from the security forces against the main faces of the demonstrations and the problems remained unresolved.  CPT, on request of the teachers, has been present at the demonstrations and has documented human rights violations. To learn more about the protests and violations from the security forces, please visit our website.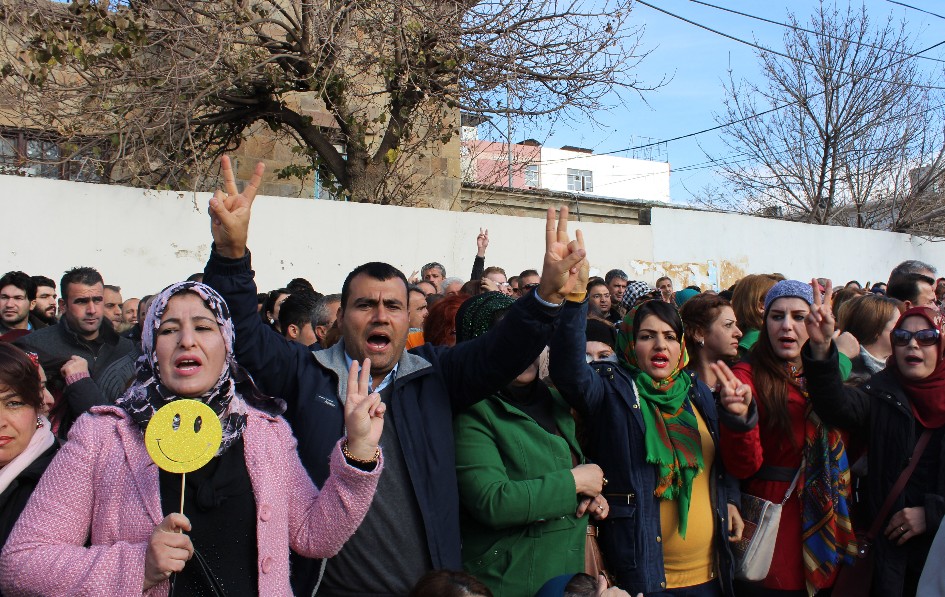 Teachers chanting, "Freedom and justice!" Photo by: Kasia Protz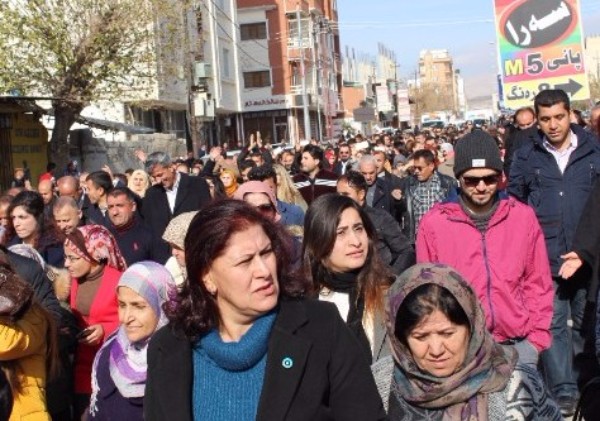 Teachers marching towards a cemetery in Sulaimani. Photo by: Kasia Protz  
United We Stand, No Hate, No Ban!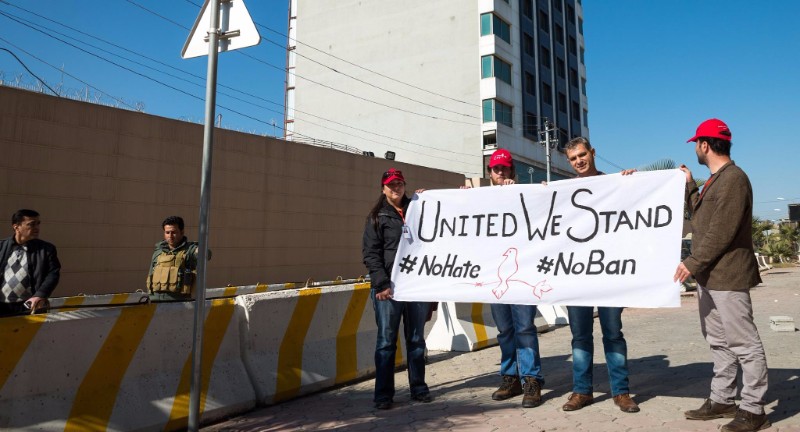 CPTers in front of the US consulate in Erbil. Photo by: Claire Thomas 
Members of CPT along with photographer and journalist Claire Thomas visited the US Consulate in Erbil, Iraqi Kurdistan to voice concern about the recent travel ban that President Trump is continuing to try to implement in the United States. The Five people in attendance entered the US Consulate grounds and delivered a letter expressing their concerns and asked that the US Ambassador stands in solidarity with the people of Iraq. After the letter was delivered, there was a short vigil in front of the US Consulate until guards asked us to leave the property.

Since this vigil we have learned that in the new travel ban order issued by President Trump, Iraq has been excluded. Although it may provide some relief for the people of Iraq and the Kurdish region of Iraq, we condemn his order and stand in solidarity with people from the six remaining countries still on the list. We hope that everyone will stand united behind those six countries to reject President Trump's order.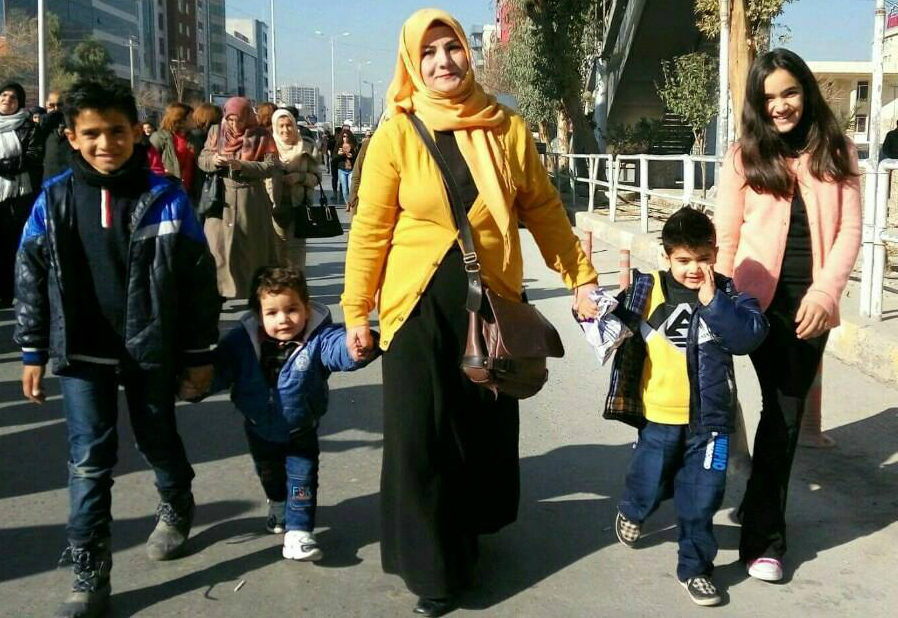 Sazgar and her children marching at one of the protests in the city of Sulaimani. Photo by: CPTers
Activism and family, a mother story


By Julie Brown
Sazgar is an 8th grade Arabic teacher, mother of four, and wife of Awat Hassan who was one of the main organizers of the teacher's demonstrations in Sulaimani.  She has been part of the teacher's movement since the beginning and has seen it evolve from something that once gave her great hope to something that has ultimately put her family in danger. Read her full story here.
The far right's got it all wrong
By Rezhiar Fakhir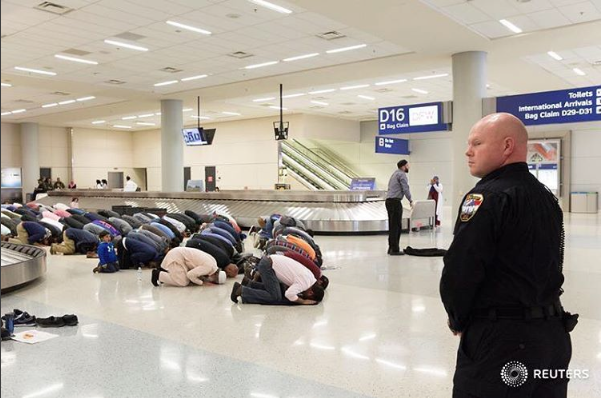 Photo Credit: Reuters/Laura Buckman.
I am not sure whether people really know that the simple reason that terrorist groups exist in this region is because of the US invasion. As the US officials claimed, ''The US invasion was to bring democracy to the country,'' not to tear it up along with the whole Middle East. Due to the US invasion, hundreds of thousands of people have been killed in Iraq and we inherited all these terrorist groups. It is just nonsense to me to portray the Middle Eastern people as terrorists but ignore the fact that US invasion has led to mass destruction and mass displacement. In addition, it has created a space for terrorist groups to come here and create this chaos that we see now. Please read the full reflection here.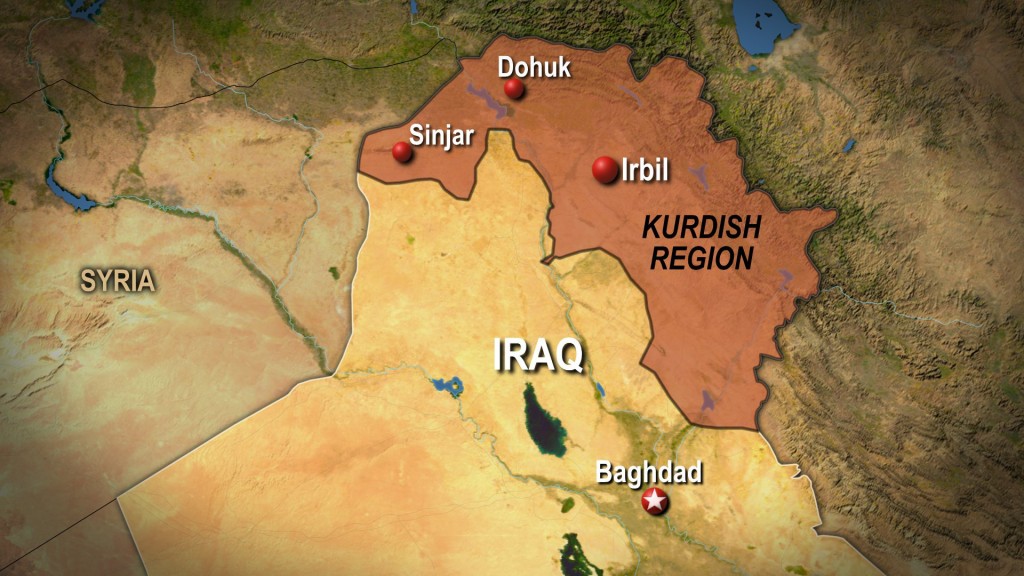 On the cycle of oppression in Iraqi Kurdistan


By Gabe Soares
The Kurdish Question was born out of the process of the disintegration of the Old Political Order centered in Empires, like the Ottoman and the Persian Empires. The onset of the Nation States in the Middle East came in the aftermath of the First World War, during which not only new borders were drawn, but people were forced to conform to them or be forcibly removed from their spaces within those borders, even through genocide, like the one against the Armenians and Assyrians. Ironically, this genocide had the support of tribes among the Kurdish people, who later would suffer the hardships of these same policies that aimed for Kurdish suppression and disappearance of the Kurdish people in the different States in which the Kurds were divided. In Iraq, the peak of this repression was during Saddam Hussein's Anfal Campaign and led to immense destruction. It was followed a few years later by an uprising that finally lead to Kurdish autonomy in the country. Unfortunately, so far conflicts, internal divisions and repression have plagued the dream of Kurdish self-determination in Iraq. Please read Gabe's full reflection here.
CPT in collaboration with grassroots initiatives, international NGOs and local NGOs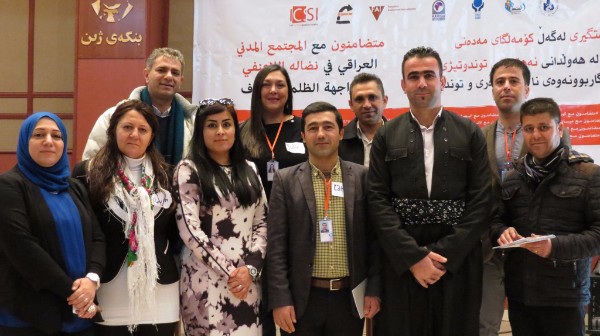 CPT partners from different corners of the region at the ICSSI conference. Photo by: Ann J Ward
Partners of CPT bring their frustrations to the Iraqi Civil Society Conference in the city of Sulaimani
On January 18, 2017, Iraqi Civil Society Solidarity Initiative (ICSSI), Un Ponte per (UPP), Global Youth Organization (GYO) along with many others organized a conference in the city of Sulaimani. The conference gathered many activists, organizations, and grassroots organizations from Iraq, Kurdistan and overseas. This was organized to underline the struggle of people in Iraq and Kurdistan such as women rights, war and peace, non-violent actions, civil society, demonstrations in Sulaimani, Border bombing, oil and environmental issues as well as reconstruction after ISIS (Daesh) and ways to take actions to move forward.
Christian Peacemaker Teams (CPT) brought many of its partners from the villages and cities to talk about their struggles. The partners did not just talk about their struggles but also helped to design new ways of how to move forward and work collaboratively to overcome their issues.
''The Iraqi Civil Society Solidarity Initiative (ICSSI) is dedicated to bringing together Iraqi and international civil societies through concrete actions to build together another Iraq, with peace and Human Rights for all.'' From ICSSI website.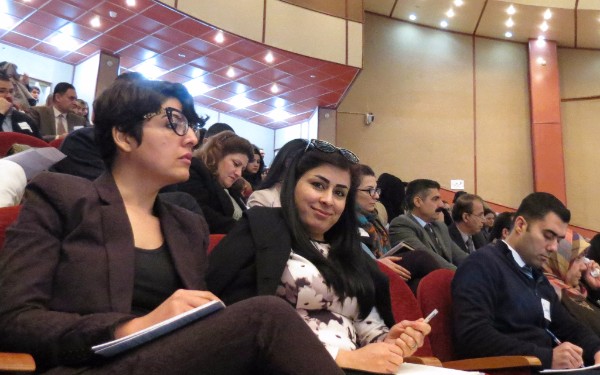 Rubar Yusif, CPT partner and Women's Rights Activist from Ranya, at the ICSSI conference.  Photo by: Julie Brown.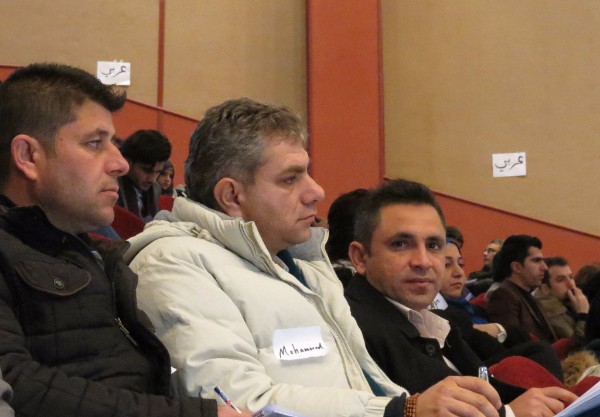 Three CPT partners whom talked about human rights, border bombing and oil issues in KRG. Photo by: Julie Brown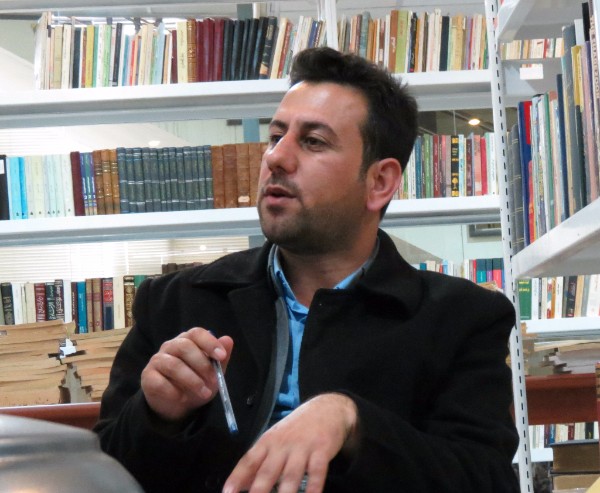 Dllshad Warty, CPT partner from Qandil mountains, talks about how border bombing has affected his village.                  Photo by: Julie Brown.
Kurdish Journalist Apprehended and Beaten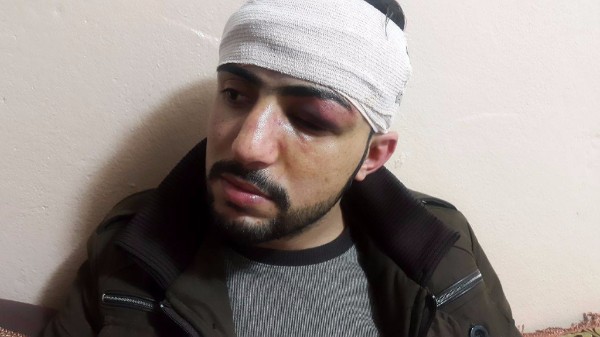 This is Karwan Haji Shamo's account of the even of that day
"I was told at the hospital that I could not receive treatment without a report from the police. When I went to police station one police officer recognized me. He told me that I had slandered the KDP and he was also a member of this party. This same officer had also threatened me a few days before and had also asked me to delete my Facebook post. Because of this man, I couldn't get paper from police station. I had to go to another hospital in another town to receive medical treatment for my injuries. This time I had media with me. Once we arrived to the second hospital a police officer there told me that I should not talk to the media about what had happened to me."
The Alternatives to Violence Project (AVP)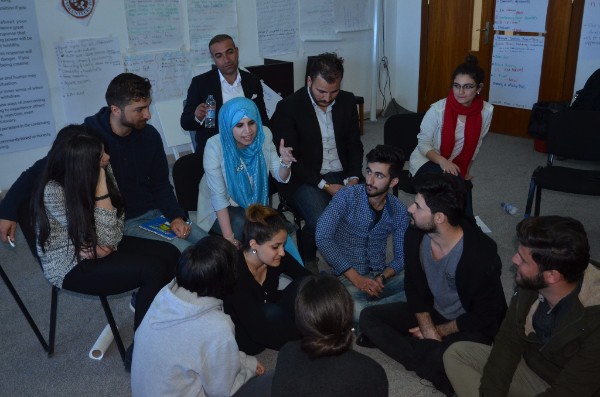 Participants in solidarity with each other during a speak-out exercise. Photo by: Ann J Ward.
The last week of February 2017, Christian Peacemaker Teams – Iraqi Kurdistan, in collaboration with Ann J Ward (Peace-building adviser to Un Ponte Per), facilitated the Alternatives Violence Project (AVP) at the University of Duhok. This workshop was organized by the University of Duhok Center for Peace and Conflict Resolution Studies. And it was funded by UNDP.
We had previously facilitated a Basic workshop at University of Duhok. This time we were asked to facilitate the Advance workshops to give the opportunity to youth there to facilitate this workshop with other people in Duhok and surrounding areas. This time sixteen students and non students from various backgrounds, ages, ethnic groups and religions came back to take part in the AVP advance workshop. Many participants told us that "this workshop has been different from all the other workshops that we have been part of it before." 
In this workshop, we focused on community building, transforming power, communication skills, power and oppression. It was very emotional and productive. The participants tried to learn and recognize the oppression towards, women, LGBT/Q community and minority groups. They also created a space where people from some the above mentioned groups spoke out and asked the rest to be united and stand in solidarity with them.
Through out the workshop, participants did many exercises and activities to make oppression more tangible and visible. They also tried to come up with specific ways to be in solidarity. Furthermore, they engaged in activities that gave them a chance to enhance their skills in problem solving, anger management, assertiveness and non-violent methods to tackle violence. CPT, Ann, and the Center for Peace and Conflict Resolution will be facilitating the Training Of Trainers workshop in the end of March 2017.
Alternative to Violence Project (AVP) is a workshop that teaches participants through real life experiences to resolve conflicts without violence and manipulation as well as helps people to discover their internal causes for violence and anger.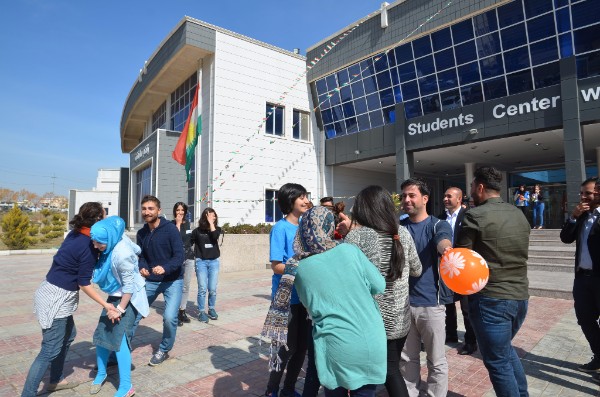 Face to Face. Light and Lively exercise at the University of Duhok. Photo by Ann J Ward.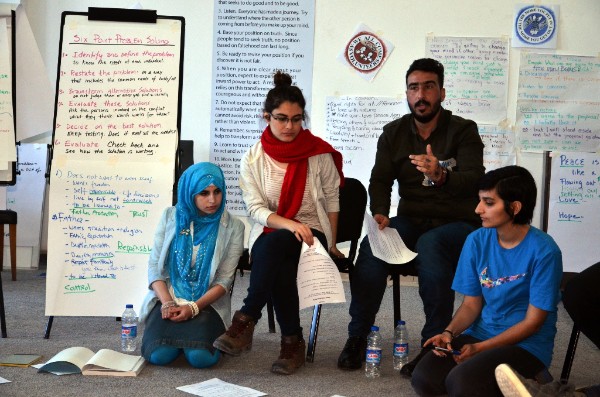 The participants trying to enhance their problem solving skills. Photo by: Ann J Ward.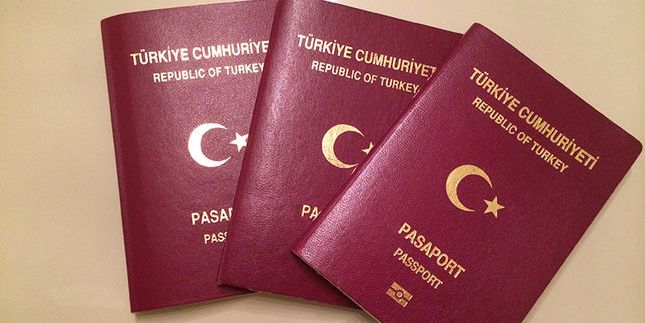 Photo Credit: Istnabul Global 
How Erdogan is redefining who is a Turk
By Pinar Tremblay 
AL MONITOR 
Ayhan Bilgen, the spokesman for the Peoples' Democratic Party and a member of the parliamentarian commission on human rights, told Al-Monitor, "To limit citizenship rights arbitrarily or use them as a tool to pressure or threaten individuals is a sign that a country is moving away from the rule of law. In Turkey, we are used to military coup administrations utilizing such methods. We must also caution that high numbers of academics and journalists are under threat with this law. If this is applied to individuals who are clearly not involved with the coup attempt, then we can conclude the purpose of the law is not to punish the putschists." Please read the full article here.
CONNECT WITH US AND GET INVOLVED
We need your support to continue doing this work. Please consider donating to cover:
$5 – Food for a CPTer for one day
$35 – Support for our team members to learn the local language.
$50 – Day trip to a village