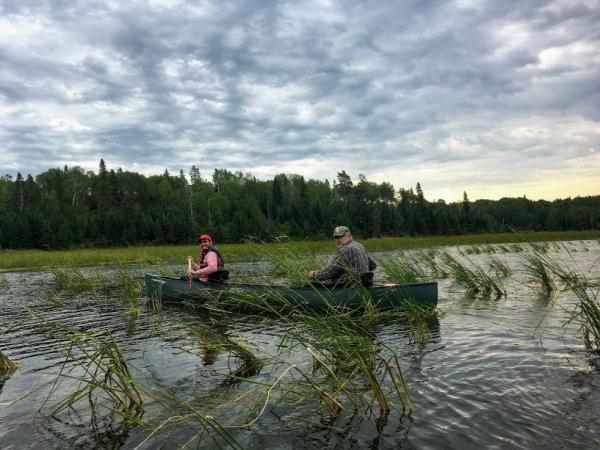 Advent Reflections 2018
Christian Peacemaker Teams wish to celebrate this Advent season by offering reflections on the symbols of each 
Advent candle. Week to week, each of our teams will share a story in honor of the season.
This Sunday, we consider the theme of Joy.
JOY of the Manoomin* Harvest
by Kathy Moorhead Thiessen
JOY
Of running my fingers through the black kernels of manoomin.
Of remembering the five days of harvest with our good friend Shoon Keewatin.
Riding in the motorboat over the string of lake and rivers, high winds causing waves to churn into the boat and soak our clothes. Sunshine and warm winds drying us out as we set up camp.
Shoon told us: "This is where my family came every year: twelve tents set up with all generations. The children played and worked, the adults worked hard. We spent weeks here, gathering and processing the manoomin, for our family to eat, and to sell."  
Manoomin: Carbs, complete protein, vitamin B6, folate, magnesium, phosphorus, zinc, copper, manganese. Nutrient-rich food. Free except for the hard work. Growing in the shallow edges of the waterways of the Anishinaabe traditional territory. Now, it is rare to find anyone coming to harvest. So Shoon was happy to take three non-Indigenous persons out on his boat to look for the kernel-laden plants.
After a day of harvest, we head back to Grassy Narrows through the lake and river system. The sun shone, and jackets came off, as Shoon taught us to ignite a slow fire and use an old paddle to stir the kernels in a large pot until the husks became brown and the fine tails were roasted off.
Then, the dancing began. A hole in the ground with tarps. Rice dancing moccasins on our feet. Sliding over the kernels and dislodging the husks.
Using the breeze to blow away the outside coverings, revealing the dark, brown, long, slim kernels.
Then it is time to cook and eat.
JOY
Of being on the land, to learn the ways that the harvest of manoonim has been done for centuries.
* Manoomin is the Ojibwe word for wild rice. But although it grows in the water like rice, manoomin is actually a species of grass that produces edible seeds.
—
Kathy Moorhead Thiessen has worked with CPT since training in summer 2010. She served on the Iraqi Kurdistan team until 2015, and then joined the Indigenous Peoples Solidarity team. She has learned so much while out on the land from our Anishinaabe friends and partners.