by Sr. Rosemary Williamson, OLM
In the 1960's the Dryden pulp and paper mill dumped ten tons of mercury into the Wabigoon River system upstream from Grassy Narrows.  This contaminated the walleye fish that the people ate, resulting in slurred speech, tremors, impaired hearing, tunnel vision and lost muscle coordination— all signs of Minamata disease.  It also destroyed their fishing tourism industry.
In the 1980s the government set up a Mercury Disability Board to compensate those affected but it proved ineffective with 70% of the applicants turned down for compensation.  Officials for years said the mercury would fade away.  This claim has been proven to be false.  Scientists strongly suspect that old mercury still contaminates the mill site and continues to pollute the river.  The adults continue to exhibit record high levels of mercury in hair, blood and umbilical cord blood.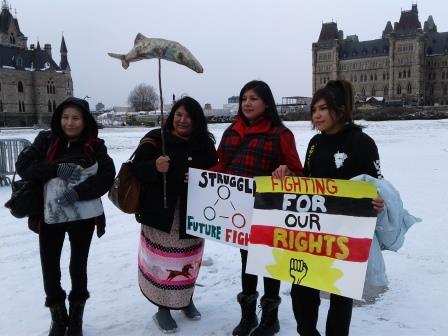 The most recent study clearly indicates the on-going impacts of mercury poisoning and an article from the December 5 Toronto Starnotes, "Children age 4 to 11 have a higher reported rate of ear infections, speech problems, and learning disabilities compared to that of other First Nations children." "Grassy teens are struggling in school, with shorter attention spans than other First Nations teens the research found." Last year the provincial government did commit to $85 million clean up of the river and the federal government has pledged to help build a mercury care home that will help but neither project has yet begun. Will the people of Grassy Narrows receive Justice after all these years?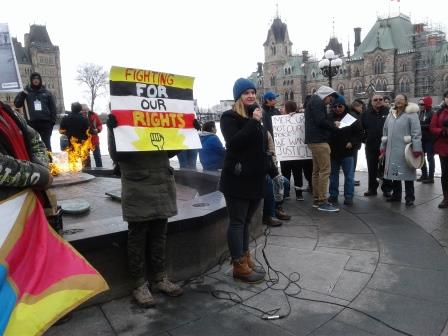 The day after the release of this report, a rally was held in Ottawa at the foot of Parliament Hill.  Indigenous peoples from across Canada attended to support the efforts of Grassy Narrows along with settlers.
Canada has signed two relevant United Nations documents:
1."The United Nations  Declaration on the Rights of Indigenous Peoples."
2. "Minamata Convention on Mercury" which is a United Nations Environmental Document.
Both of these documents are legally binding.
Judy da Silva, a long-term activist for Grassy said, , "We are proud of our kids…They amaze me every day with their humour, their pride, and their strength. They should not have to fight again and again for basic justice that others in Canada take for granted.