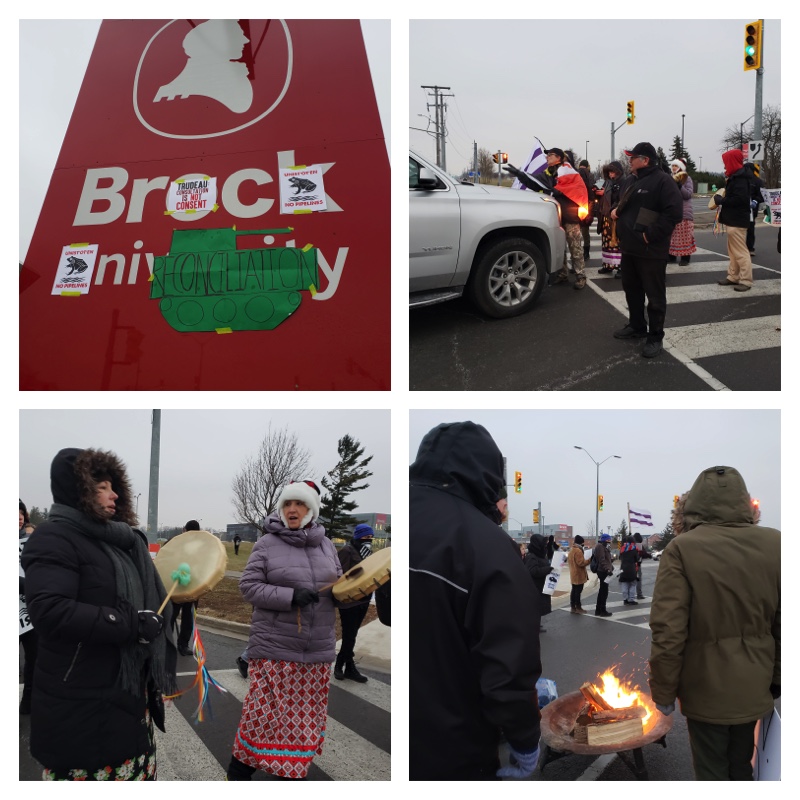 As part of a series of public actions opposed to the Canadian invasion of sovereign Indigenous nations and in solidarity with the Wet'suwet'en Nation, Niagara regional community members, including members of Christian Peacemaker Teams, and the Six Nations Men's Fire blocked an entrance to Brock University where the Prime Minister was speaking. The recent RCMP raids against the Unist'ot'en Camp, enforcing a court injunction to clear the way for construction of the Coastal Gaslink pipeline, have drawn outrage and condemnation across Turtle Island.
From 3:00 p.m. onwards, a coalition of local Indigenous people and their allies, anchored by the Men's Fire of the nearby Six Nations Reserve, assembled and lit a fire on the entrance road, redirecting traffic of those seeking to participate in the Prime Minister's event. Those protesting included students and faculty of Brock, workers, unions and parents, many of whom brought their own signs expressing their opposition to the Federal government's support for pipelines without the consent of the traditional governments of affected Indigenous nations.
Members of Christian Peacemaker Teams participated in today's action in ongoing support of the rights of all Indigenous Peoples to exist on their ancestral lands and to refuse projects that imperil their lands and waters. In response to the action, CPTer Rachelle Friesen said, "The Prime Minister was elected on a platform of reconciliation. His party voted in support of Bill C262, yet the government's words are in direct opposition to their actions. The invasion of Unist'ot'en Camp is being described as an act of war and is a clear message that the violence of settler colonialism continues to be modus operandi of the Canadian government."
In the days since the RCMP tore down the Gidumt'en checkpoint and arrested over a dozen community members in violation of Indigenous sovereignty, the Prime Minister has given a series of 'town hall' question-and-answer sessions in Canadian cities. Canada is a signatory to the United Nations Declaration on the Rights of Indigenous Peoples, which clearly states that Indigenous Peoples shall not be forcibly removed from their lands (Article 10). When challenged on this breach of human rights, in light of his government's supposed agenda of reconciliation, the Prime Minister has failed to offer an explanation.
(FPIC) are the foundation for a respectful relationship between Canada and Indigenous Nations, but Canadian history is full of such egregious violations of these relationships in favour of the extraction economy. The protest featured the powerful images created by Métis artist Christi Belcourt and shared for the use of Water Protectors, making the connection between clean water, the health of future generations, and the right to refuse consent and to have this refusal respected.