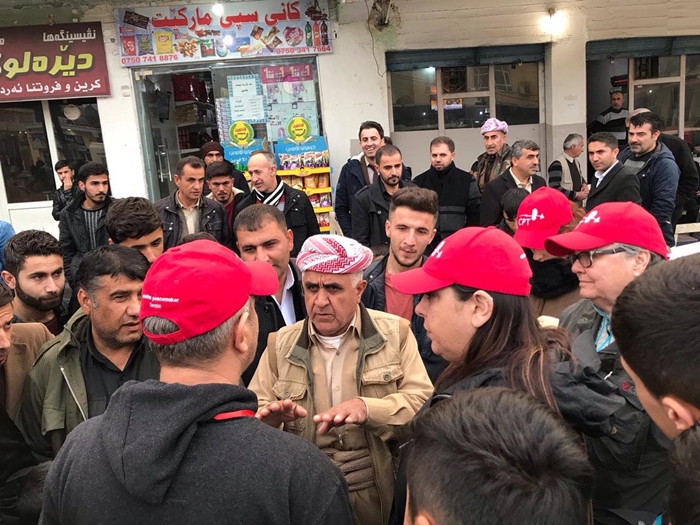 CPTers at the demonstration in Deraluk
by a member of CPT Iraqi Kurdistan
On 25 January 2019, we were on our way to visit Halania, a Kurdish village where a Turkish bombing ended 19-year-old Dunya Rasheed's life. Our team has been to Halania many times over the past months and written several articles trying to raise the voices of Dunya's family in hopes that something will help stop these acts of violence against the people of Iraqi Kurdistan. Each time we visit, we are welcomed warmly however the mood is always somber. As the team's translator and also one of our Kurdish team members, these visits are especially hard on me. I have to soak in every word because I want to translate for my team in a way that is both accurate, but also conveys the emotion of the speaker. I want people to be able to retell these stories in a way that will make others care about our partners' struggle and my country's pain.
Our team had decided that after meeting with Dunya's family, we should also visit Deraluk, another town in Iraqi Kurdistan. Local media had reported that a Turkish aircraft dropped rockets killing four innocent men near Deraluk on 23 January, just two days before.
Kak Rasheed, Dunya's father, always says, "I am not only thinking about my daughter. We have to make sure this never happens to other people's children." Once back on the road, the team discussed our proposed visit to Deraluk. It had been a very tough morning in Halania and there was a long drive ahead, however, we all agreed that it was still extremely important to
We entered Deraluk at 4:00 pm and immediately I saw a crowd of men gathered in the middle of the town. We parked our car and another teammate and I went to find out what was happening. What we saw as the two of us approached the square was a protest just starting against the recent Turkish bombing.
Before entering the crowd, an Asaish (local security forces) wearing civilian clothing stopped us and asked who we were and why we were there.  After we introduced ourselves he let us pass. As we made our way through the crowd, we started to take photos and videos to document the scene. People asked us, "Who are you and what does CPT stand for?" They welcomed us and they stared in curiosity at this strange group wearing bright red hats in a sea of mourners in black. We could see sadness and anger in their eyes.
Two of the organizers walked toward us, they introduced themselves as lawyers as well as relatives of the six people killed. I was shocked when they said six! We heard on news that the Turkish bombing had killed four people. One of the men said,
"Yes, in the beginning there were four: Two bodies that had been found and two that were missing. While we were trying to find the bodies of our family members we found two other people who had also been killed…. we still can't find the other two bodies." We were shocked.   One of the lawyers told us that four of the martyrs were his relatives and the other two were his friend's relatives. 
One of the protesters called the two men over to read their statement because the media was waiting and ready for them. The two men asked us to join them. We stood behind the protesters while the family members began to read their statement in front of the group.
After a few minutes three Asaish approached our team and asked for IDs and passports. A fourth security member made a call on his cell phone. We showed our identification, and then one security member asked if we had a document that proved CPT is registered with the Kurdistan Regional Government. The registration was in the car so I had to leave the demonstration and go and retrieve it. After I showed them our registration he looked at it, then said,  "Okay, okay…" and gave it back to me. 
It was hard for us to hear what was in the public statement from the family and villagers: partly due to the large crowd but mostly because of the time we had to spend dealing with the Asaish. I had missed almost the entire thing. 
Not hearing the speech really upset me because I feel like local security is always trying to censor our voices as Kurdish people—especially activists and those who are trying to bring peaceful change in our country.
Unfortunately, we had to leave them with a lot of unanswered questions. Some men invited us to drink tea with them at one of the teashops along the side of the street, but sadly, we had to leave. It was almost dark. Some of the people who were gathered shared their contact information with us and wished us a safe drive.
During our three-hour drive back to the place we were spending the night most of the time was spent in silence.
The next day, after visiting another partner who is also impacted by Turkish bombing and Iranian shelling, we began a seven-hour drive home to Sulimani. Just as we were almost home and I was looking forward to relaxing after these three very hard days on the border, local news had a breaking story. There was a demonstration happening in Shiladze (the neighboring town of Deraluk) and according to news sources, protesters and family members of those killed were marching toward the main Turkish military base in the town. There were many breaking news stories on local channels; "Turkish soldiers are shooting at the demonstrators.", "Two protesters killed and several wounded".
The violent reaction from the Turkish military towards the protesters in the march sparked people to throw stones at the soldiers and eventually led to villagers taking over the base. Villagers then burned tanks and military supplies and then handed over the Turkish soldiers to the local police unharmed.
An hour later, just as I arrived home, there was yet more heartbreaking news; I watched on local television footage of a Turkish F16 flying extremely low over the town of Shiladze. It was producing sonic booms and throwing flares to terrify the villagers. In the video you could hear a small child screaming in terror. Two of my team members were watching local news with me. I shared with them what was happening and we posted it on our team's Facebook page. I asked myself, " Why is my government so silent?" I answered myself, "They are silent like the others… there are many common goals among them all, the top one is to make money through war."