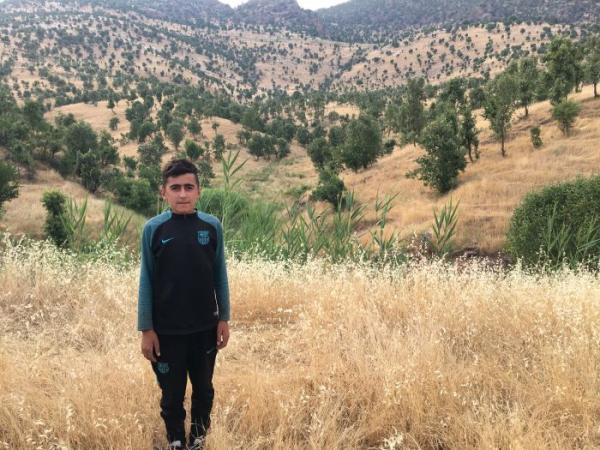 Aihan was looking after his family's flock of sheep when the Turkish bombing began.
As villagers from Bagova led our CPT-Iraqi Kurdistan team down the road we were all keenly aware of the large Turkish outpost lined with razor wire and bunkers of sandbags looming just over the next hill to the left. We were also aware of the large mountain to the right, a suspected area of operations for the PKK. We scanned the hilltops for military movement, but it wasn't until we stopped that we noticed the young boy tending his family's sheep in the field between these two forces. He was in that same field three weeks earlier, unnoticed by fighter jets, as Turkish bombs rained down.
On 7 June 2019 an armed clash between the Kurdistan Workers Party (PKK) and Turkish soldiers stationed at a Turkish outpost near Zakho, Iraqi Kurdistan broke out. As a response, the Turkish military sent planes and drones to bomb the surrounding hills and valleys. The bombs sent deadly shrapnel flying throughout the area and the impact caused windows to break in neighboring villages.
Aihan, age 13, was with his mother tending to their flock of sheep that day. When the Turkish Air Force began to bomb, the two of them were stuck on the side of the mountain. Aihan told CPT that, with their herd, they made their way as fast as they could down to the main road. Aihan told CPTers that he was so terrified by the falling bombs that he passed out in the field. Aihan's father, Kak Sanhan, quickly drove from their home in Bagova to help his family escape. Kak Sanhan told CPT that as they began to flee the area, a bomb fell near their truck. The explosion killed seventy-two of their animals and forced their truck off the road where it flipped over four times. Kak Sanhan's wife, Shems Khan, was badly injured as the truck rolled. She had a severe wound on her head requiring several stitches and sustained injuries to her arm. Three weeks later Shem's injuries are still visible.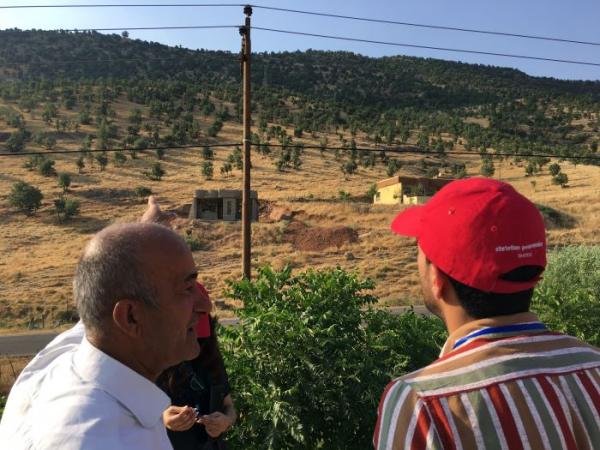 A local villager pointing out an area that is frequently bombed.
Residents of four neighboring villages spoke to CPT on June 20, 2019. In this area raising cattle provides an important source of income. All the villagers had stories of shepherds trapped in fields, animals dying and people taking cover behind rocks during Turkish bombings. "We only need peace" one man told CPTers. Villagers said that either the Turkish outpost or the PKK needed to leave. All the villagers agreed on one thing, that a diplomatic and peaceful agreement needed to be reached soon. Kak Sanhan added, "Until we have peace, we can not live comfortably."