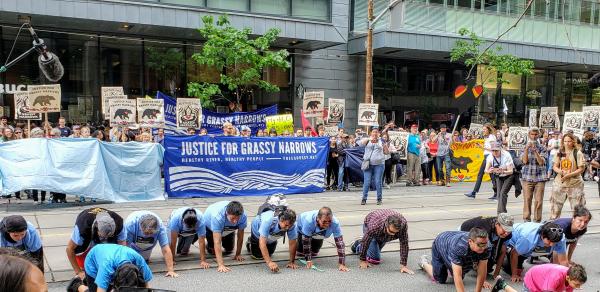 Photo: Murray Lumley
by David Milne
On 20 June, several members from Grassy Narrows First Nation crawled across Bay Street in downtown Toronto toward the front doors of the building holding the office of Indian and Northern Affairs Canada. Their chief and elders, many in wheel chairs, looked on. They were enacting how the Canadian government forced them to beg for help and restitution from the effects of mercury poisoning.  Once they reached the entrance on their hands and knees, they collapsed, demonstrating how even when they crawl and beg, they are left in the street to die.  This action took place in the middle of the 2019 River Run, in which hundreds of people joined the members of Grassy Narrows march through the streets of Toronto demanding justice.
Between 1960 and the early 70s the Reed International Paper Company in Dryden, Ontario dumped 9 thousand kilograms of methylmercury into the English-Wabigoon river system.
Mercury poisoning, also known as Minamata disease, has terrible effects that include hearing and vision loss, muscle weakness, and neurological impairment, among others. Mental illness and suicide accompany the physical effects of the disease.
A recent study determined that 90% of the Grassy Narrows First Nation population and its neighbour, Whitedog First Nation, suffer some effects of mercury poisoning.  That percentage includes youth as well as the elderly.
For decades the provincial and federal governments stalled, trying to suppress the facts of the deadly effects of mercury poisoning. They pointed fingers at each other but took little action.
The current Canadian Federal government promised to build a treatment home for the sick in the community of Grassy Narrows but to date only 1% of the money has reached the community.  Some money has been set aside for compensation but the community members have seen little of it.
When the mercury poisoning came to light in the 1970s, the commercial fishery, a source of employment for many in the community, shut down. Fish, a staple of the Grassy Narrows diet, became toxic.
As a settler and one of over 450 supporters taking part in the 2019 River Run, I could feel only shame that members from Grassy Narrows felt they had to beg for help. Yet they have been coming to Queen's Park for a decade and petitioning the current Prime Minister and his predecessors to take action.
Despite the shame, I still found hope in the respectful silence and attentiveness of onlookers as the march wound its way through downtown Toronto on a busy Thursday afternoon.
I hope too that some of you will visit Grassy Narrows' Facebook page, sign the petition, and/or call or write our Prime Minister demanding justice and redress for the people of Grassy Narrows First Nation.  A donation to help defray their expenses would also be appreciated.
Photo: Murray Lumley