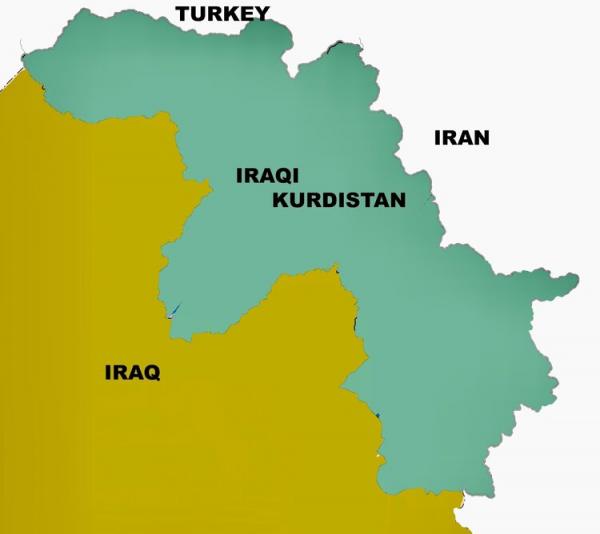 Introduction
CPT-Iraqi Kurdistan has documented multiple bombardments conducted by the Turkish and Iranian militaries against families living in villages and seasonal settlements along Iraqi Kurdistan's borders with Turkey and Iran. Turkish and Iranian bombardments have escalated within the last year, killing and injuring numerous civilians, some of whom these militaries directly targeted.  CPT and its partners call on the governments of Turkey, Iran, Iraq, and Iraqi Kurdistan, as well as armed resistance groups, to engage in diplomatic peace negotiations as a means of resolving conflict in the region.
Located in the northern part of Iraq, Iraqi Kurdistan (IK) is an autonomous region, bordering Turkey to the north, Iran to the east, and Syria to the west.
For over 30 years, the governments of Turkey and the Islamic Republic of Iran have engaged in cross-border bombing campaigns against multiple armed groups operating from within Iraqi Kurdistan. Groups including the Kurdistan Workers' Party (PKK) and the Kurdistan Democratic Party-Iran (KDP-I) claim to have formed because they were struggling for self-determination and against political marginalization and oppression of Kurdish people inside Turkey and Iran. 
Armed conflicts, as well as constant bombardments of Iraqi Kurdistan, severely impact the lives of villagers and migrant communities. Decades of war continue to cause loss of livestock and land as well as civilian injury and death.
Injury and Death
Turkish and Iranian bombardments have taken the lives of many families within Iraqi Kurdistan. Though the Turkish and Iranian governments deny that these assaults are targeting civilians, CPT has documented multiple instances that prove their claims are false. Since 2018, Turkish and Iranian targeted bombings have escalated, and civilian casualties continue to rise.
On June 28, 2018, the Turkish military targeted villagers and their children near Halania village. Within clear view of a military base inside Iraqi Kurdistan, the Turkish military fired upon families as they harvested nuts and killed an adolescent girl. Dunya Rasheed was only 19 years old, standing among a group of children when the Turkish military launched a mortar directly at the group, killing her instantly. Villagers then reported that Turkish soldiers descended from the base, collected the shell that killed Dunya and instructed the witnesses to say she had stepped on a landmine.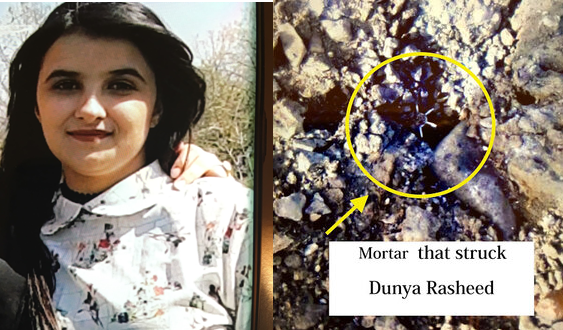 Dunya Rasheed
In the Ranya district, similar Turkish airstrikes killed four friends and relatives: Bezhan Mustafa, Muhammad Ismail, Darbaz Muhammed, and Sharo Mahmood. The men were celebrating Newroz* together at their summerhouse in the village of Ballayan Sarkan. At 1:15 a.m. on 22 March 2018, a Turkish warplane dropped bombs on the house killing these four young men. 
On 23 January 2019, in Deraluk sub-district, Turkish jets bombed Matin Mountain and the lands surrounding. This bombardment lasted for more than an hour, killing four civilians. Two additional civilians also disappeared after the bombing, their whereabouts still unknown to their families today.   
CPT has also documented incidents in which families have been killed by targeted bombings as they were merely driving down roads within Iraqi Kurdistan.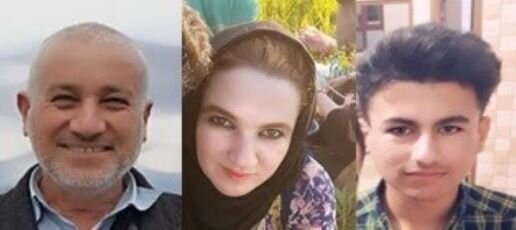 Abdullah Aali Mina, his daughter Kurdistan and son Haryad
On 27 June 2019, the Turkish military fired a rocket at the vehicle of Abdullah Aali Mina killing him along with his daughter, Kurdistan, and his 17-year-old son, Haryad. The blast also wounded five additional family members, including his wife. They were returning home after a day-trip to their family lands in Ashqolka village near Sangasar. Initial reports claim that there was a PKK vehicle in the area and the Turkish military fired upon both vehicles.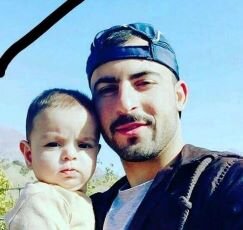 Himda'at Othman with his son.
On 13 November 2017, Himda'at Othman was killed by Turkish bombardments as he was driving to his family's village of Barmiza, miles away from armed resistance fighters who fight against Turkey in mountains behind Barmiza. Himda'at was in his early twenties when he was killed, leaving behind his parents, wife, and infant son.
Armies and occupation 
The governments of Turkey and Iran have both constructed numerous military bases along the Iraqi Kurdistan border as a means to launch strikes at armed groups in this mountainous region. In addition, the Turkish military has constructed outposts tens of kilometers beyond the border into Iraqi Kurdistan. Sources have told Christian Peacemaker teams that there are more than 110 villages in Iraqi Kurdistan living under Turkish military occupation. Villagers and migrant farmers have reported that they cannot go into their fields because of this Turkish armed presence. One partner described his village as a prison and added, "We cannot go to take care of our fields or animals. We cannot go to our land." In addition to villagers not being able to access land, villages under Turkish military occupation are assaulted by artillery and mortar attacks.
The presence of Turkish bases in close proximity to villages has brought the conflict with the PKK closer to civilians. On 7 June 2019, an armed clash between the Kurdistan Workers' Party (PKK) and Turkish soldiers stationed at an outpost near Zakho broke out. As a response, the Turkish military sent planes and drones to bomb the surrounding hills and valleys surrounding the outpost.   One airstrike hit a family fleeing the bombed area and bombs sent deadly shrapnel flying throughout the same area. The impact caused windows to break in neighboring villages.
Displacement
Photo of the bombings taken by a villager.
As the Turkish and Iran militaries continue to bomb the border areas of Iraqi Kurdistan, families are displaced from their lands for decades and sometimes for a lifetime. Because the Kurdish Regional Government documents only a limited number of displaced persons, oral history from affected families is often the sole record that exists. 
Heavy Iranian shelling in Sidakan during June 2019 forced numerous families to relocate, while past Turkish airstrikes in Sherwan Mazin have left the subdistrict with over 90% of its lands designated as banned areas. 
Many families cannot afford to leave or are determined to stay on land that has been in their families for generations. Those who have the ability to establish a new settlement are still not safe. Often newly created villages, such as Sargali in Amedi district, experience bombardments and civilians continue to live under the threat of violence.
Trauma 
In all cases of cross-border bombings that CPT-Iraqi Kurdistan has documented there has been a noticeable and severe traumatic impact on civilians. The starkest effects are on families who have sustained casualties as well as on children who have been through active bombings. Warplanes, drones and the close proximity of villages to Turkish and Iranian military bases have forced many families to live in fear of future attacks.
For over twelve years, Christian Peacemaker Teams has documented these traumatic effects in the Pishdar district. One villager told the team that he would settle for just one year of peace. He said the children didn't know what it is like to live without warplanes and parents who are afraid that they will die in the night. Villagers report that not knowing when the next attack will occur has resulted in intense levels of anxiety. Numerous villagers told CPT that even slight sounds make them jump or think they are about to endure another bombing raid.
Conclusion 
As evidenced by this generation-long conflict, current military tactics remain an ineffective way to bring sustainable peace to the region. Civilians caught within these cross-border conflicts have sustained considerable casualties, deaths of their relatives, damages to property, loss of livelihoods as well as lasting traumatic effects. The targeting of villages and farmland is in violation of international laws and incompatible with healthy lives for civilians in the border areas. In addition, agricultural losses cause a burden on the already troubled financial sector of the region, affecting all Iraqi Kurdistan.
No reliable system to assist in times of crisis and active bombing, as well as no plans to help resettle displaced persons, exist for victims of cross-border attacks in Iraqi Kurdistan. In addition to a lack of support from the KRG, displaced villagers caught in the cross-border conflict do not qualify for international aid programs as funds are mainly allocated for those harmed by the war with Islamic State (IS).  Christian Peacemaker Teams calls upon the KRG and other governmental and non-governmental organizations, both local and international, to assess the impacts on the local villagers in these border areas with the goal of providing immediate assistance and assuring protection.
This report clearly demonstrates an urgent need for diplomatic peace talks between the involved parties in these conflicts. Furthermore, Christian Peacemaker Teams urges the international community, including countries with diplomatic to the involved parties to help foster a climate where these talks can take place.
*The Kurdish celebration of the New Year in spring.