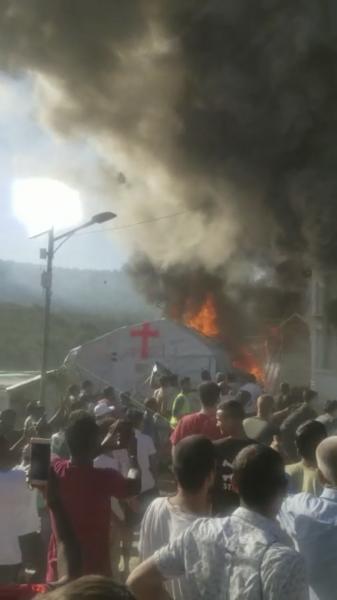 In late afternoon Sunday 29 September 2019, two fires broke out around Moria camp. One reportedly started outside the camp, and was put out within minutes. The other happened in the camp, either inside or close to a container, and rapidly escalated. At the time of this writing, 49-year-old Faride Tajik is confirmed to have died, and the number of injured stands at least at 17.
Video footage shows migrants attempting to escape the camp as containers are on fire behind them. Despite the relative frequency of fires in Moria camp, the authorities seemed to have provided no evacuation plan. One video shows thousands of people attempting to exit through a single narrow open gate, leading to panic, and causing people on both sides of the wire mesh fence attempting to break it down.
Police blocked the road leading towards the camp, which witnesses say prevented the arrival of those attempting to provide aid, and later used tear gas to disperse migrants. News reports claimed that migrants began to 'riot' after news of the deaths had spread, and that the visiting fire department was attacked with missiles. At 5:00 p.m., prior to any official investigation into the cause of the fire, police sources told the Associated Press that migrants had started the two fires.
However, eyewitnesses on the scene, including members of the Lesvos NGO Workers' Assembly, said that migrants attempted to put out the fire themselves and that unrest began after frustration at the length of time taken for fire units to respond. Police chose that moment to disperse the migrants with tear gas. Early reports from an investigation by the Fire Department also suggest that short-circuited electrical equipment caused the fire. If so, it will be the second time this year that faulty electronics, operating above capacity, have played a role in a death inside Moria: on 8 January, a 24-year-old man died in extreme weather conditions after persistent power cuts rendered heating units useless.
In the aftermath, many camp residents had to sleep in tents without adequate warm clothing. Throughout the night, members of Christian Peacemaker Teams Lesvos observed families leaving the camp with all their belongings, choosing to sleep on the street rather than spend another night inside.
This summer, Moria, a camp designed for a maximum capacity of 3,000 people now 'hosts' 13,000, both in the camp and the surrounding overspill Olive Grove. In early September, those in the unaccompanied minors' section of Moria protested following the death of a 15-year-old boy. New people are arriving on the Aegean islands at the fastest rate since 2015, yet relocation efforts to mainland Greece have been deplorably inadequate. In early September, the authorities transferred around 1,000 people to the isolated and under-resourced Nea Kavala camp. Meanwhile, the New Democracy government—elected on an anti-migrant, law-and-order platform—has stepped up its eviction agenda against solidarity spaces that host migrants in dignified conditions.