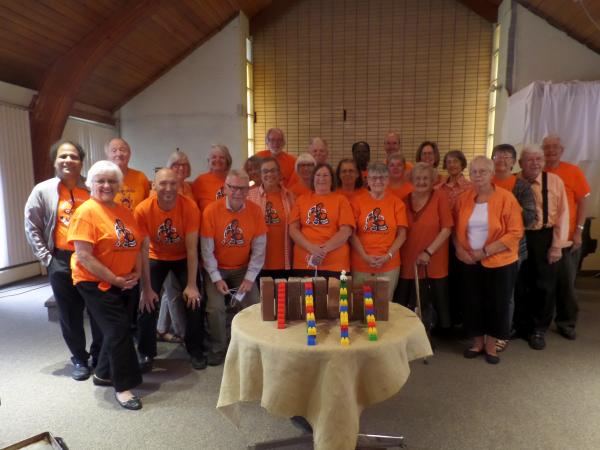 Esther Kern (front row, far left) and other congregants at Valleyview Mennonite Church
by Esther Kern
Indigenous people and their allies commemorate "Orange Shirt Day" on 30 September, which marks the time of year when colonial authorities took Indigenous children in Canada from their homes and families and placed them in residential schools from the 1860s to the 1990s.  After the authorities removed them from their families, educators forced the children to speak English or French instead of their ancestral languages, disconnected them from their culture and traditions, and coerced them to adopt Christianity in order to assimilate into Canadian society.  Our government has since acknowledged that this system was wrong, cruel, ineffective, and in 2008, offered an apology to the Indigenous peoples of Canada.  By wearing orange shirts at Valleyview Mennonite Church on Sunday, September 29, we joined in the message initiated in 2013 by an Indigenous woman, Phyllis Webstad, who had her pretty new orange shirt taken away from her by a settler adult on the first day of residential school attendance.  "Every Child Matters" is her hope for generations of children to come, and wearing orange shirts was our way of coming together in solidarity and a collective spirit of reconciliation and support.
Our theme for the Sunday service was "Overcoming Barriers:  What walls do we need to tear down?  What bridges do we need to build?" 
We used the story of Phyllis as a focal point for the children's time during the worship service.  The structure in front of the photograph was built with a brick wall and Lego bridges crossing over the wall.