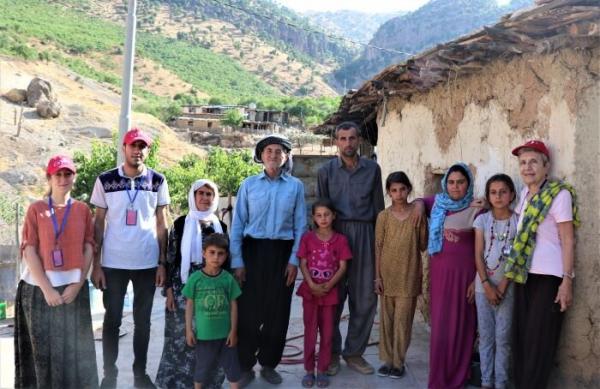 Kak Hassan and his family standing with the CPT team outside of his home in Galala
The following is a reflection by Sr. Rosemarie Milazzo, a Maryknoll Sister, who has been a CPT reservist since 2007 and has served on the Iraqi Kurdistan team since 2010.
In the Bible, when a lawyer asks Jesus, "Who is my neighbor?" (Luke 10:29), he tells the parable of the Good Samaritan. Jesus teaches us to be like the Samaritan and treat all those we see in need and distress as our neighbors. 
Kak Hassan told us the same thing, "It doesn't matter who you are or where you are from; in this world God only cares that you know Him and that you care for humanity." 
But what does it mean to care for humanity, to be a neighbor and bearer of God's love?
Villagers reported that last year, in one night, 102 Turkish bombs struck near the village of Galala. "We could feel it. The ground was shaking," Kak Hassan told us, pointing out the cracks running through the 1⁄2-meter thick walls of his living room. The situation was so bad that 78 of the village households fled; only two families remained. Kak Hassan told us they had to sell off their animals and trees very cheaply in their hurry to leave.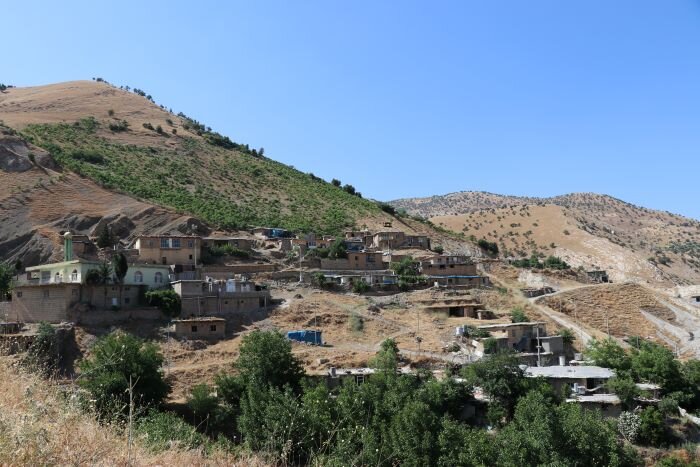 The village of Galala
A villager from Galala explained that even before the bombing, village life was difficult. As we sat in his family home and ate lunch, he told us stories of snakes entering their house, locusts swarming the sumac trees, and his mother waking at 4:00 a.m. every day to milk the cows. But, despite these hardships, people have made a living and maintained a loving home on this land for generations. "Since God created the world," according to Kak Hassan. But with the bombings their way of life is changing. 
In spite of this fear of increasing Turkish bombings, Kak Hassan's faith has remained strong. He spoke to us about God's role in his and our lives, "You know God. That is why you are here. You have empathy, and God put that in your heart."
Kak Hassan told us the story of how neighboring villages offered up their own homes to those fleeing from Galala last year. "You are our neighbours, our responsibility; come to us," they said, vacating their own homes to make room. "It is these acts that remind us of the presence of God," Kak Hasan said to us.
Our Iraqi Kurdistan team experiences this neighbor love every day. In Galala, Hassan and his family offered us their homes anytime we visited, "You are welcome. My home is your home," he said. In Qamesh, another village impacted by Turkish bombings, Kak Aso's family cooked CPTers a special meal and offered us their beds to sleep in.
Before we left, Kak Hassan told our team, "We are grateful that God brought you here to listen to us."  A CPTer responded, "We have one God, one human family; when one hurts we all hurt." 
——————–
Hundreds of farming and shepherd/pastoral communities in Iraqi Kurdistan live under threat of the Turkish bombings that also target their homes, schools, fields and livestock. For three decades, the Turkish military has bombed Iraqi Kurdistan in attempts to suppress the Kurdistan Workers Party (PKK), an armed group fighting for more political and cultural rights for Kurdish people within Turkey. Since the 1990s the PKK has been based in the mountains of Iraqi Kurdistan along the Turkish border. In May 2019, the Turkish military announced the beginning of "Operation Claw", a military effort aimed at eradicating the PKK. Many villagers within Iraqi Kurdistan have been killed or had their lives severely impacted since the start of Operation Claw.