Turkish Bombs Destroy Village Life in Kurdistan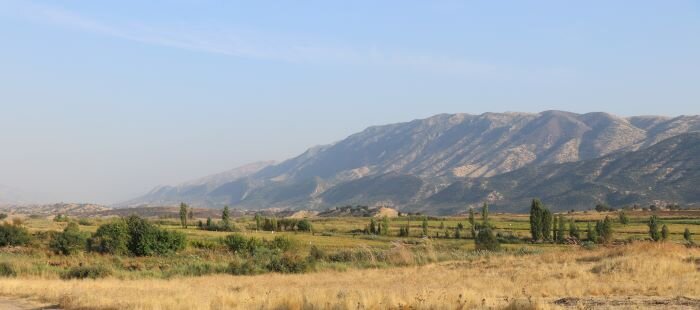 Rice and sesame fields where two months ago a Turkish bomb struck.
The farming communities of Nahla Valley exist in an idyllic setting. A gorgeous mountain river runs through the valley, winding through rice paddies, orchards and sesame fields. As autumn unfolds you see families in the field harvesting crops daily, using combine harvesters, tractors, and animals. Scarecrows dot the landscape and dogs wander up the dirt roads. Homes are bustling with activity and guests are served fresh yogurt and bread, homemade butter and fig jam with tea. Generations of farming families have lived peacefully on this land.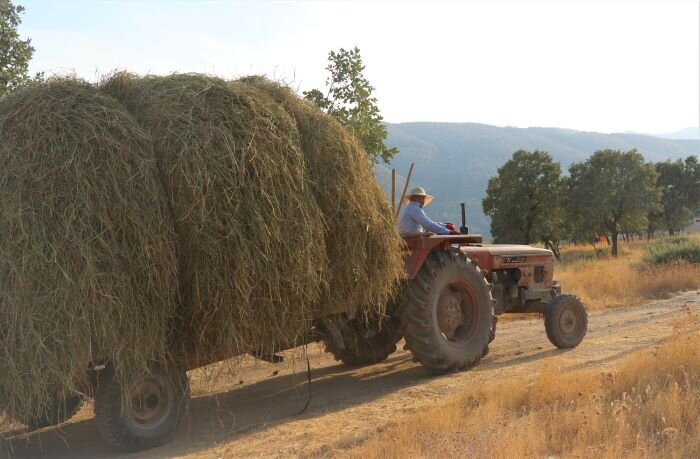 One of the men from Hezanke harvesting hay to feed the animals.
Turkish military operations are destroying this peace. 
For over 25 years the Turkish military has been bombing Iraqi Kurdistan. Towns and villages have emptied as thousands of villagers been forced to move further and further away from the borders. 
Then, five years ago the Turkish military began bombing closer to the villages of the Nahla Valley, about one-and-a-half hours north of the city of Akre. Since then, families and communities have been torn apart as people flee. Those who remained hoped that things would get better, but have instead seen them worsen.
Sarmad Bnyamin, a teacher from the Hezanke School and resident there, the CPT Iraqi Kurdistan team. "This [bombing by Turkish military] has been happening since 1992, but in the last five years it has been getting closer, and this year it is much more frequent… We are always aware they may bomb us, even when we are sleeping, so we don't sleep well anymore… We just want to leave Kurdistan now, we cannot stay here anymore while week-by-week it is getting worse…After every bombing we say, 'God we are grateful that we were not killed today,' but we know that tomorrow we might be."
"After every bombing we say, 'God we are grateful that we were not killed today,' but we know that tomorrow we might be."
Many of the people who have already left are those with children traumatized by the bombings. Sarmad told CPT that the students at his school are scared every time they hear a door close or a loud noise. The valley is on a major flight path, but the students can't always tell the difference between the sounds made by passenger planes those made by fighter jets and drones. So every time they hear planes overhead, they are scared and begin shaking. "It is not only the children," Kak Auetr said, "It is us as well, when we hear planes and we mistake them for drones."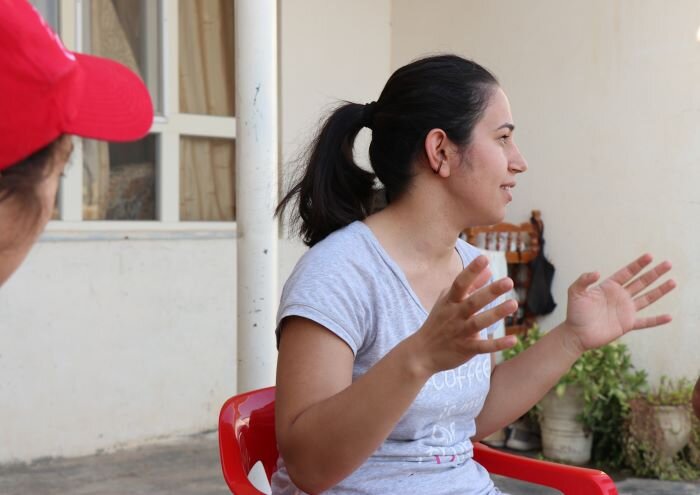 Suglta explains to CPT how the noise of the bombing terrifies her.
Suglta Bnyamin Yago, is 17 years old and a student in the Hezanke School. When the recent bombing happened on Sunday morning, October 6, Suglta was walking in the street and fainted.  She told CPT about the terror she suffers because of the bombings. Every time she hears a bomb exploding, she cries and her whole body shakes. 
Her family and community pray for Suglta and all their terrified children. But her brother, Sarmad, told CPT this trauma is not the problem people should focus on; the problem is the Turkish military bombing. "Please stop the bombings…After five years we are so tired; our minds are exhausted."